Railway Board Circular: Declaration of Holiday on 14th April, 2020 (Tuesday)- Birthday of Dr. B.R. Ambedkar
भारत सरकार/GOVERNMENT OF INDIA
रेल मंत्रालय /MINISTRY OF RAILWAYS
(रेलवे बोर्ड / RAILWAY BOARD)
CIRCULAR
Sub:- Declaration of Holiday on 14th April, 2020 (Tuesday)- Birthday of Dr. B.R. Ambedkar.
A copy of Ministry of Personnel, Public Grievances & Pensions (Department of Personnel & Training)'s O.M. No.12/4/2020-JCA2 dated 08th April, 2020 regarding declaration of Tuesday, the 14th April, 2020, as a public holiday on account of the birthday of Dr. B.R. Ambedkar, for all Central Government Offices including Industrial Establishments throughout India, is enclosed herewith for information.
(Manoj Kumar)
Director(GA)
Railway Board
No.2020/G/35/1
Dated:09.04.2020
To:
All Officers and Branches in Board's Office including those working in Pragati
Maidan Metro Station Building Complex and Dayabasti RPSF Camp.
Enclosure: Declaration of Holiday on 14th April 2020 on Birthday of Dr. B.R. Ambedkar: List of Holidays 2020 – DoPT Order 08.04.2020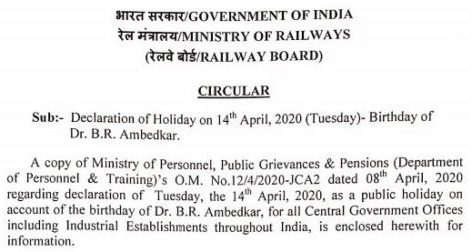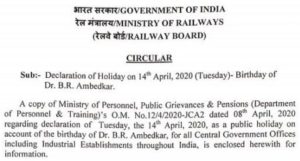 Source: http://www.indianrailways.gov.in/railwayboard/uploads/directorate/secretary_branches/G_Branch/Boards_Order%2014th_April_Holiday.pdf