Absence during COVID-19 Lockdown Period: BPMS writes to MoD for clarification on various situation in this regard.
Bharatiya Pratiraksha Mazdoor Sangh
(AN ALL INDIA FEDERATION OF DEFENCE WORKERS)
(AN INDUSTRIAL UNIT OF B.M.S.)
(RECOGNISED BY MINISTRY OF DEFENCE, GOVT. OF INDIA)
CENTRAL OFFICE : 2-A, NAVIN MARKET, KANPUR-1 PH.: (0512) 2332222 FAX : (0512) 2296229
REF NO :BPMS/MOD/Leave/57(7/3/L)
Dated : 04th Jul 2020
The Joint Secretary(E),
Government of India, Min of Def
South Block, DHQ PO,
New Delhi-110 011
Subject :- SEEKING CLARIFICATION REGARDING ABSENCE DURING COVID-19 LOCK DOWN PERIOD
Sir,
1. With due regards, it is submitted that during COVID-19, one of the Defence Civilian employees, fell sick and was under medical treatment wef 13 Mar 2020. The individual was declared fit for rejoining of his duties by the medical authorities on 25 Mar 2020 but he could not rejoin the duties due to lock down period. Later, the Govt has extended the said Lock Down and accordingly, he again could not rejoin the duties.
2. Even on partial lifting of the normal Lock Down by the Govt, the individual again not in a position to rejoin his duties since the area of his residence has been declared as Hot Spot. On lifting of the containment period due to Hot Spot, he could be able to rejoin the duties on 26 Jun 2020.
3. The clarification to deal with such matters has been given at Serial No 2 of CAG, NewDelhi Circular No 27/Staff Wing/2020 dated 19 Jun 2020 (Copy enclosed for ready reference). We are of the opinion that the subject case may be dealt in the same manner by way of regularizing the absence period treating the same as 'Worked from home' as clarified by the CAG in their letter dated 19 Jun 2020.
4. It is requested that necessary directives please be issued for regularizing the whole absence period (ie. 13 Mar 2020 to 25 Jun 2020) of the individual as under :-
| | | |
| --- | --- | --- |
| (a) | From 13 Mar 2020 to 24 Mar 2020 | – Leave on medical grounds; and |
| (a) | From 25 Mar 2020 to 25 Jun 2020 | – To be treated as 'Worked from home' on the same analogy as clarified by the CAG in their ibid letter |
Thanking you.
Sincerely yours,
(Mukesh Singh)
General Secretary
Member JM (MoD)
Encls : One as above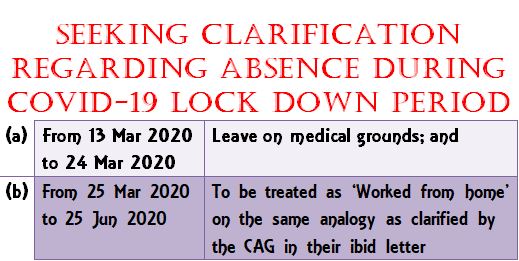 Source: Click Here to view/read pdf
[http://bpms.org.in/documents/mod1-8olx.pdf]