Cashless investigation of Railway Medical Beneficiary (serving or retired employees and their medical beneficiaries) for Diagnostic Tests from Private Centres/ Labs recognized by Railways
GOVERNMENT OF INDIA/भारत सरकार
MINISTRY OF RAILWAYS/रेल मंत्रालय
(RAILWAY BOARD)
NO. 2018/Trans Cell/Health/CGHSefile
Dated: 30.06.2020
The General Manager, All Indian Railways/PUs, NF(Con), CORE
The DG/RDSO/Lucknow, DG/NAIR/Vadodara
CAOs, DMW/Patiala, WPO/Patna, COFMOW/NDLS, RWP/Bela, CAO/TROAF
Sub: Cashless investigation for Diagnostic Tests from Private Centres/ Labs recognized by Railways.
In order to improve the Health Care System and to align with CGHS system, Board (FC & CRB) have approved the following:
[adinsrter name="p1″]
1. Cashless investigation of Railway Medical Beneficiary (serving or retired employees and their medical beneficiaries) for Diagnostic Tests as per prescribed CGHS tests and CGHS rates from Private Centres/Labs recognized by Railways.
View: Cashless Treatment COVID-19 Testing and conservative management: Advisory to Empanelled HCOs under ECHS
2. Cashless investigation for Diagnostic Tests from Private Centres/ Labs Recognized by Railways may be allowed with following documents and no further additional referral is needed:
2.1. Original or self attested copy of prescription of Railway Doctor.
2.2. Copy of UMID Card/RELHS Card/Medical Card of the patient and main card holder.
View:Railway Board: Issue of Cashless Treatment Scheme in Emergency (CTSE) Card at the time of retirement
3. The Private Centres/Labs will produce the bills to the authority as being done in referral cases and the amount will be paid as per CGHS rates.
4. To remove any ambiguity, Zonal Railways may prepare a procedure order for smooth implementation and clearance of the bills. The same will be prepared by PCMD & PFA and approved by General Manager.
5. Other extant instructions/guidelines issued from Board on the subject shall remain unchanged or as modified from time to time.
This issues with the concurrence of Associate Finance of Railway Board.
Kindly acknowledge the receipt and ensure compliance.
(Umesh Balonda)
Executive Director/S&T
Transformation Cell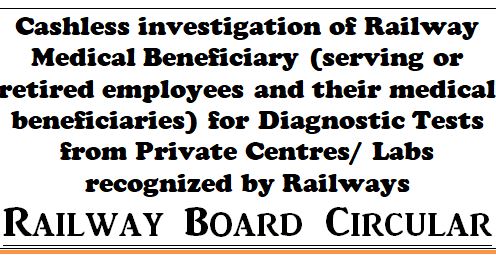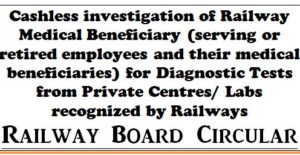 Source: Click here to view/download the pdf
http://www.indianrailways.gov.in/railwayboard/uploads/directorate/Transformation_Cell/Circulars/2020/Cashless_Investigation_Letter.pdf