Medical Reimbursement Claim Format and Size of file for PDF format: ECHS Order
Central Organisation ECHS
Adjutant General's Branch
Integrated HQ of MoD (Army)
Thimayya Marg
Near Gopinath Circle
Delhi Cantt- 110 010
B/49779/AG/ECHS
06 Jul 2020
All Regional Centres
FORMAT AND SIZE OF FILE FOR MEDICAL REMBURSEMENT CLAIM
1. Pl refer to Central Org ECHS vide letter No B/49761/AG/ECHS/Medical dt 18 May 2020.
Processing of pending claims delay in intimation, submission, NMI Query reply delay due to obtaining Digital Signature: ECHS Order
2. You are intimated that during uploading of file for medicals reimbursement claim on promolated vide above quoted letter the file review be in PDF format and shared her excess 10 MB.
3. All RCs' are requjsted to give vide perscuring to the beneficiaries than polyclinic.
(JM Gurung)
Col
Jt Dir (Statistics & Automation)
for MD ECHS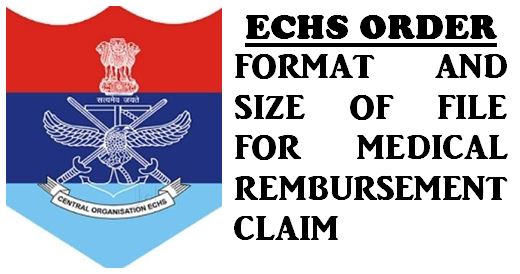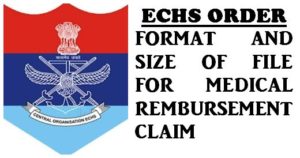 Source: Click Here to read/ download pdf
[https://echs.gov.in/img/FORMAT%20AND%20SIZE%20OF%20MEDICAL%20REMBURSEMENT%20CLAIM.pdf]
View: List of ECHS Empanelled 291 Private Hospitals/ Nursing Homes and Diagnostic Laboratories for different specialities and procedures