Rapid Antigen Diagnostics Test Covid 19: Free testing of Officers & staff of Railway Board – Format for pre booking of slot for Test
Government of India
Ministry of Railways
Railway Board
CIRCULAR
Sub: Rapid Antigen Diagnostics Test Covid 19 of Railway Board Employees .
A special Rapid Antigen Test camp is being organized at Conference Hall of Board's Office on 9th (Thursday), 10th (Friday) and 13th (Monday) July, 2020 exclusively for free testing of Officers & staff working in Board's Office.
2. The test, Rapid Antigen Diagnostics Test Covid 19, would be conducted from 10 AM to 2 PM by a team of Doctors and paramedics deputed by District Magistrate, New Delhi. To ensure hassle free and also to ensure proper physical distancing with minimum waiting time for testing, the information ( in excel sheet, soft copy) as indicated in Annexure-I may be submitted through mail at [email protected] latest by 5 PM of 8th July, 2020 to pre book the slot for testing else officials would be called for testing floor wise.
View: Absence during COVID-19 Lockdown Period: BPMS writes to MoD for clarification
3, DGs, AMs, PEDs and EDs/JSs are advised to take the test (Rapid Antigen Diagnostics Test Covid 19) themselves and also encourage all officers/staff working under their control to avail of free Rapid Antigen Test which will help in containing the pandemic and making Rail Bhawan Covid free.
View: Para-medical staff (in Group 'C') in Indian Railway: Extension of Scheme for engagement of retired and hiring on contract basis upto 31.12.2020
No.2020/O0&M/25/8
Dated: 07/07/2020
( B.Majumdar)
Joint Secretary/Railway Board
All Officers & Staff working in Board's Office, Metro Bhawan, Pragati Maidan and at Dayabasti New Delhi.
Copy for information to:
CRB, FC, MT, MTR, ME, MRS, MMM , MS&T and Secy/RB PS/MR & EDPG/MRPS/MOS(R), EDPG/MOS(R)
---
Annexure-I
Rapid Antigen Diagnostics Test Covid 19
| | | | | | | | | | |
| --- | --- | --- | --- | --- | --- | --- | --- | --- | --- |
| S. No | Name | Designation | Room No & and Floor | Age | Sex | Mobile No. | Email ID | Complete Residential Address With PinCode | Prefered Date and Time For Test |
| | | | | | | | | | |
(All efforts would be made to ensure test (Rapid Antigen Diagnostics Test Covid 19) at preferred time however it may vary depending on the actual availability of slot)
Soft Copy of the excel sheet be mailed at [email protected]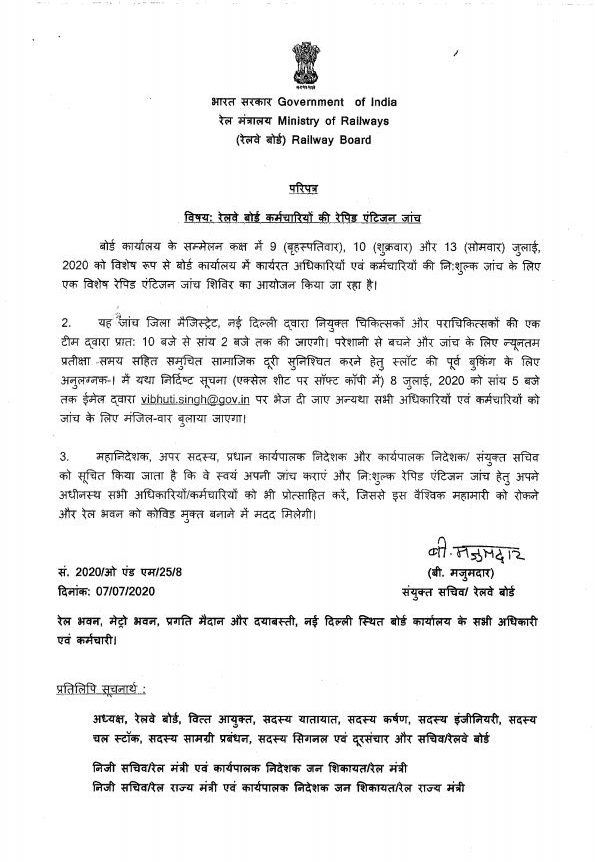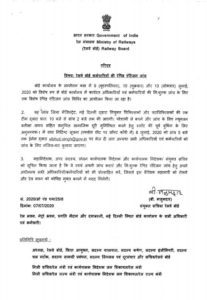 Source: Click here to view/read pdf
[http://www.indianrailways.gov.in/railwayboard/uploads/directorate/secretary_branches/Office_Order_2020/Rapid%20Antigen%20Test%20Camp.pdf]