केंद्रीय कर्मियों की सेवानिवृति आयु घटाने की कोई योजना नही: जरूरी सूचना, सरकार ने कही अहम बात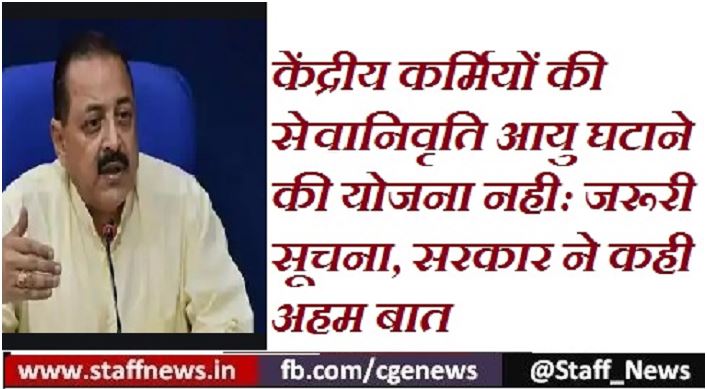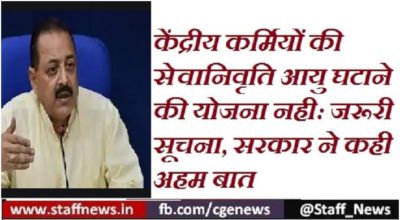 केंद्र सरकार के कर्मचारियों की सेवानिवृत्ति की आयु को कम करने की कोई योजना नहीं है. कार्मिक राज्य मंत्री जितेंद्र सिंह ने रविवार को मीडिया के एक हिस्से में आई उन रिपोर्टों का खंडन किया कि कर्मचारियों को जल्द सेवानिवृत्त करने का प्रस्ताव है.
केंद्र सरकार के कर्मचारी वर्तमान में 60 साल की उम्र में सेवानिवृत्त होते हैं. सिंह ने एक विज्ञप्ति जारी कर उन रिपोर्टों को गलत बताया कि सरकार ने सरकारी कर्मचारियों की सेवानिवृत्ति की आयु 50 वर्ष तक कम करने के लिए एक प्रस्ताव दिया है.
गलत जानकारी फैला रहा है मीडिया का एक वर्ग 
View: Dearness Allowance/ Dearness Relief Freeze: Urging upon the Government of India to withdraw the decision of DA/DR freeze
मंत्री ने कहा कि सेवानिवृत्ति की आयु को कम करने के किसी प्रस्ताव पर और सरकार के किसी स्तर पर चर्चा नहीं की गई है. सिंह ने कहा, कुछ प्रेरित तत्व हैं, जो पिछले कुछ दिनों में मीडिया के एक वर्ग में इस तरह की गलत जानकारी फैला रहे हैं. वे ऐसी खबरों के लिए सरकारी सूत्रों या कार्मिक और प्रशिक्षण विभाग को जिम्मेदार ठहराते हैं. इससे जुड़े पक्षों के मन में उत्पन्न भ्रम दूर करने के लिए हर बार एक त्वरित खंडन करने की मांग की जाती है.
सरकार के अच्छे कामों का महत्व कम करने की कोशिश
सिंह ने कहा, यह दुर्भाग्यपूर्ण है कि जिस समय देश कोरोना वायरस संकट से गुजर रहा है, कुछ तत्व और निहित स्वार्थी लोग मीडिया की कहानी गढ़कर सरकार के अच्छे कामों का महत्व कम करने की कोशिश करते हैं.
इसके विपरीत कोरोना वायरस की चुनौती की शुरुआत से ही सरकार और कार्मिक विभाग ने कर्मचारियों के हितों की रक्षा के लिए त्वरित निर्णय लिया है.
View: FR 56(J)/ (l) and Rule 48 of the CCS (Pension) Rules, 1972: Urging upon the Government of India to discuss the employees Organisations before implement