New Kendriya Vidyalayas: Statewise list of KVs functioning in country
GOVERNMENT OF INDIA
MINISTRY OF EDUCATION
DEPARTMENT OF SCHOOL EDUCATION & LITERACY
LOK SABHA
UNSTARRED QUESTION NO. 11
TO BE ANSWERED ON 14.9.2020
NEW KENDRIYA VIDYALAYAS
11. SHRI SANJAY SETH:
Will the Minister of EDUCATION be pleased to state:
(a) whether the Government proposes to construct Kendriya Vidyalayas (KV) in the Khalari, Silli and Chandil of Ranchi parliamentary constituency;
(b) if so, the details thereof and if not, the reasons therefor;
(c) the reasons for the non-existence of a Kendriya Vidyalayas in these area of Jharkhand;
(d) the details of the steps taken by the Government to improve the educational infrastructure and facilities at schools and colleges in Jharkhand specially in Ranchi Lok Sabha Constituency;
(e) the list of KV schools currently in operation and proposed to be built, State- wise including Jharkhand;and
(f) the measures taken/proposed to be taken by the Government to improve the quality of education provided in public schools?
ANSWER
MINISTER OF EDUCATION
(SHRI RAMESH POKHRIYAL 'NISHANK')
a) to c): Proposals for opening of new Kendriya Vidyalayas (KVs) are considered only if sponsored by the Ministries or Departments of the Government of India/State Governments/UT Administrations in the prescribed proforma, thereby committing resources for setting up the KV, as well as on availability of sanction of the Government. Proposals fulfilling the pre-requisites as per the norms of KVS are processed further for approval of the Competent Authority. No proposal has so far been received in the prescribed proforma from the State Government of Jharkhand for opening of new KVs at Khalari, Silli and Chandil of Ranchi Parliamentary constituency.
d) : Government has taken various steps to improve the educational infrastructure and facilities in schools and colleges in the country including Jharkhand as per the Right of Children to Free and Compulsory Education (RTE) Act and has specified certain essential norms and standards for educational institutions. These norms include norms for number of teachers (Pupil Teacher ratio), minimum number of working hours, teaching learning equipment, library, play material, games and sports equipment, school organization as well as infrastructure. Support for these provisions is provided under the integrated Samagra Shiksha Centrally Sponsored Scheme.
Under the Centrally Sponsored Scheme of Rashtriya Uchchatar Shiksha Abhiyan (RUSA), central support has been approved for 13 institutions in Ranchi under various components of the scheme namely infrastructure grants to colleges/universities, upgradation of existing Degree college to Model Degree College, enhancing quality and excellence in select autonomous colleges and creation of universities by way of upgradation of existing autonomous colleges. Out of the total approval of Rs.104 crore, the central share is Rs.62.4 crore and Rs.51.72 crore has been released as central share to 13 institutions in Ranchi district.
e) : State-wise list of KVs currently in operation is at including in Jharkhand is at Annexure – A and State-wise list of KVs functioning from temporary buildings and proposed to be built is at Annexure – B.
f) : The Central Government has taken several steps to improve the quality of education in the schools which inter alia include the following:
i. In order to focus on ensuring competencies, the Central rules to the Right of Children to Free and Compulsory Education (RTE) Act, 2009 have been amended to include reference on class-wise, subject-wise Learning Outcomes, which have, accordingly, been finalized and shared with all States and UTs;
ii. Under Samagra Shiksha, funds are given to all States and UTs for strengthening of infrastructure and provision of other facilities in schools to ensure that all schools meet the prescribed norms, besides other interventions to improve the quality of education such as training of in- service teachers, remedial teaching for academically weaker students, library grants to schools, ICT and digital initiatives;
iii. Approval has been given for conducting a Census based audit of school infrastructure called Shagunotsav of all Government and Government aided schools in all States and UTs;
iv. A performance Grading Index (PGI) has been designed to grade the States and UTs on a matrix based on 70 indicators;
v. Approval has been accorded for National Initiative for School Heads and Teachers Holistic Advancement (NISHTHA), an Integrated Teacher Training Programme to train 42 lakh teachers and other functionaries to make classrooms learner-friendly and improving children's competencies in critical thinking, problem solving, creativity as well as social qualities such as cooperation, team work etc.
*****
ANNEXURE – A
ANNEXURE REFERRED TO IN REPLY TO PART (e) OF THE LOK SABHA UNSTARRED QUESTION NO. 11 FOR 14th SEPTEMBER, 2020 RAISED BY SHRI SANJAY SETH, HON'BLE MEMBER OF PARLIAMENT REGARDING NEW KENDRIYA VIDYALAYAS
STATE- WISE LIST OF 1239 KENDRIYA VIDYALAYAS FUNCTIONING IN THE COUNTRY (As on 11.09.2020)
| | | | | | | |
| --- | --- | --- | --- | --- | --- | --- |
| Sr. | Name of State/ UT | Civil | Defence | Project | I.H.L. | Total |
| 1 | A & N Islands | 01 | 01 | 00 | 00 | 02 |
| 2 | Andhra Pradesh | 25 | 08 | 02 | 00 | 35 |
| 3 | Arunachal Pradesh | 16 | 01 | 00 | 01 | 18 |
| 4 | Assam | 26 | 14 | 14 | 04 | 58 |
| 5 | Bihar | 39 | 06 | 03 | 01 | 49 |
| 6 | Chandigarh | 00 | 05 | 00 | 00 | 05 |
| 7 | Chhattisgarh | 29 | 00 | 07 | 00 | 36 |
| 8 | Dadra & Nagar Haveli | 01 | 00 | 00 | 00 | 01 |
| 9 | Daman & Diu | 01 | 00 | 00 | 00 | 01 |
| 10 | Delhi | 33 | 08 | 04 | 01 | 46 |
| 11 | Goa | 00 | 05 | 00 | 00 | 05 |
| 12 | Gujarat | 19 | 16 | 09 | 01 | 45 |
| 13 | Haryana | 24 | 10 | 00 | 00 | 34 |
| 14 | Himachal Pradesh | 14 | 08 | 03 | 00 | 25 |
| 15 | Jammu & Kashmir | 18 | 14 | 03 | 01 | 36 |
| 16 | Jharkhand | 32 | 04 | 05 | 00 | 41 |
| 17 | Karnataka | 33 | 10 | 07 | 01 | 51 |
| 18 | Kerala | 28 | 08 | 02 | 00 | 38 |
| 19 | Lakshadweep | 01 | 00 | 00 | 00 | 01 |
| 20 | Ladakh | 03 | – | – | – | 03 |
| 21 | Madhya Pradesh | 79 | 19 | 11 | 03 | 112 |
| 22 | Maharashtra | 15 | 38 | 03 | 03 | 59 |
| 23 | Manipur | 07 | 01 | 01 | 00 | 09 |
| 24 | Meghalaya | 02 | 04 | 00 | 01 | 07 |
| 25 | Mizoram | 03 | 00 | 00 | 01 | 04 |
| 26 | Nagaland | 03 | 02 | 00 | 01 | 06 |
| 27 | Odisha | 53 | 05 | 04 | 00 | 62 |
| 28 | Puducherry | 03 | 00 | 00 | 01 | 04 |
| 29 | Punjab | 14 | 34 | 01 | 01 | 50 |
| 30 | Rajasthan | 49 | 22 | 04 | 02 | 77 |
| 31 | Sikkim | 01 | 00 | 01 | 00 | 02 |
| 32 | Tamil Nadu | 22 | 15 | 03 | 04 | 44 |
| 33 | Telangana | 20 | 11 | 03 | 01 | 35 |
| 34 | Tripura | 07 | 00 | 01 | 01 | 09 |
| 35 | Uttar Pradesh | 65 | 44 | 10 | 03 | 122 |
| 36 | Uttarakhand | 25 | 13 | 05 | 02 | 45 |
| 37 | West Bengal | 31 | 24 | 05 | 02 | 62 |
| | TOTAL | 742 | 350 | 111 | 36 | 1239 |
ANNEXURE-B
DETAILS OF 289 KENDRIYA VIDYALAYAS FUNCTIONING IN TEMPORARY BUILDING (AS ON 01.09.2020)
Sl.No
STATES/UT
NAME OF KV BUILDINGS UNDER CONSTRUCTION
NAME OF KV BUILDINGS UNDER PLANNING
LAND YET TO BE TRANSFERRED BY SPONSORING AUTHORITY
1.
ANDHRA PRADESH
Satenpalli, Rajampalli
Rajampet, Kakinada, Kundukur Town, Irlapadu Village Nadendla Mandal
2.
ARUNANCHAL PRADESH
Miao, Tuting, Longding
Ziro (Hapoli), Roing, Doporijo, Namsai, Along
3.
ASSAM
Barpeta
Udalguri, Dibrugarh, CRPF Dalgaon,

NF Railway Rangapara

RRLJorhat
4.
BIHAR
Bela, Harnaut, Jhajha
Lakhisarai, Buxar, Motihari, Siwan, Banka, Chhapra, AFS Purnia, CRPF                                Jhaphan,

Gopalganj,            Hajipur, Darbhanga,              Barauni, Aurangabad, Maharajganj

5.
CHHATISGARH
Bijapur, Kurud, Sukma

Naya Raipur,Kawardha, Saraipalli

GC CRPFBilaspur, Kondagaon
CISF Bhilai
6.
DAMAN & DIU
Diu
7.
DADAR AND NAGAR HAVELI
Silvassa
8.
DELHI
Sec.22, Rohini, Sec.28, Rohini, Shahdara
No.4 Delhi Cantt.
Shakurbasti
9.
GUJARAT
Patan
Godhra
AFSDarjeepura
10.
HARYANA
Budayan (Jind), Mathana, Samalkha
Fatehabad, Matanhail, CRPF Kadarpur,

No. IV Ambala, Sohna Road Gurgaram,

GC CRPF Sonepat

11.
HIMACHAL PRADESH
Nadaun, ReckongPeo,Saloh
Bangana, Shandol, ITBP Sarhan
Alhilal, Ghumarwin
12.
JAMMU & KASHMIR
BSF

Bandipur,Miran Sahib

Badarwah, Samba, AFS Awantipura,

BSF Humhama,BSF Sundarbani, Jodhpur(Doda)

Akhnoor        No.1,Akhnoor No.2,

Udhampur No. 2,Jindrah, Aminoo Anantnag,                                 Jourian, Baramullah,             Damana, Pahalgaon,

13.
JHARKHAND
Dumka, Chatra, Giridih, Khunti, Lohardaga
Sahibganj, Garhwa, No.2 Dhanbad, SaraiKalakharsawan, Koderma,Palamau
Surda Ghatsila, HEC Ranchi, Gumla,Bhurkunda
14.
KARNATAKA
Koppal, Haveri, Chikodi, Virupapura,Kadimi dri, Chennapatna
Mandya, Udupi, Krishnarajapuram, Gauribidanur Kudamalakunte, Railway Yeshwantpur
15.
KERALA
Ezhimala, Kanhagad, Nileswar, KP

Ramavarmapuram, Konni,

Kaduruthy,

CRPF Peringome
Palayad
16.
LADAKH
Nubra
17.
LAKESHDEEP
Kavarati
18.
MADHYA PRADESH
Chaurai, No.2 Chhindwada,Harda, Malanjkhand, Pandurana, Chanderi, GanjBasoda,Hattan agar,

No. II Neemuch, Dabra, Lakhnadaun

Umaria, Amba, Jamai, BSF Tekanpur, Multai, CRPF Bangrasia,                     Kasarwad, Anuppur, Shyamgarh, CRPF Nayagaon Gwalior, Agar Malwa, Alirajpur
Garha
19.
MAHARASHTRA
BSF Chakur
Washim, Parbhani, Yavatmal, CRPFTeligaon
20.
MANIPUR
Ukhrul, Leimakhong, No.1 Imphal, No. 2 Imphal, Tamenglong, Chandel
Akampet
21.
MIZORAM
Champai, Lunglai
22.
NAGALAND
Rangapahar
Zakhama, CRPF Kohima
23.
ODISHA
Aska, Sonepur, Kutra,

Mundali, Jagatsinghpur

Hinjilicut , Naupada, Vyasnagar,

Dharmagarh, Digapahandi, Deogarh,

No. 2 Balasore, No. II Angul , Gunupur, Khariar, Anandpur

Murgabadi,No. 2 Cuttack, Bhanjanagar
24.
PUDUCHERRY
Mahe
Karaikal
25.
PUNJAB
Mullanpur, Ubhawal, KMS Wala,

BSF Fazilika, BSF Amarkot, Khanpur  (Roopnagar),No.  2 Halwara,   CRPF   Saraikhas, No. 4 JallandharCantt,

BSF Bhikiwind

Nabha Cantt., BaddowalCantt.
26.
RAJASTHAN
Jalore, Devgarh, Tonk,Nagaur, CISF Jaipur,Pali, Tivari, Dholpur
Dausa, Jaisinghar, Bundi,BSF Ramgarh, BSF Khajuwala,Railway Colony Bandikui,Pratapgarh
Suratgarh No. 2,Khetri Nagar, BSF Raisinghnagar
27.
TAMILNADU
AFSTanjavur
Golden Rock, Udmalpet,Rameshwaram, ITBP Idayapatti
28.
TELANGANA
Bhongir, Nizamababad
Jarasangam, Bodhan, Sircilla, Mancherial, Adilabad, Siddipet,Mehbubabad
29.
TRIPURA
Dhalai (Ambassa), CRPF Agartala
BSFTaliamura
30.
UTTAR PRADESH
Deoria, No.4 Varanasi, Siddharthnagar,Sh arawasti,Gangarani Kushinagar,BaoliB aghpat,

SSG CISF Surajpur Greater Noida

LakhimpurKheri, Amethi,CRPF                             Allahabad, Mirzapur,                                          Bhadohi, BandanKalan Aayer,Hathras, Sumerpur,          Railway  Idgah Agra  Station,  SSB  Campus Gadnia                                      Paliakalan, SSBNanpara,     Madhupuri, MCF Rae Bareli
Chakeri No. 3, Ghazipur, Chitrakoot, Old Cantt. (Allahabad),

Raksha Vihar (Kanpur), IIT Allahabad

31.
UTTRAKHAND
Bhimtal, Gopeshwar
Bageswar, Lohaghat, Khatima, Augustmuni, New Tehri Town,SSB Champawat
SSB

Srinagar,Gwaldham, No.1 Banbasa, Haldwani Cantt, Rishikesh, ITBP Gauhar

32.
WEST BENGAL
Kalimpong, No.2 Kharagpur
Bandel, BSF Aradhpur, Bolpur, BSF Krishnanagar, Tarakeswar, BSF Raninagar, CRPF Durgapur, SER Dangoaposi, NFR New Jalpaiguri, CRPF Siliguri.
BSF Baikunthpur
***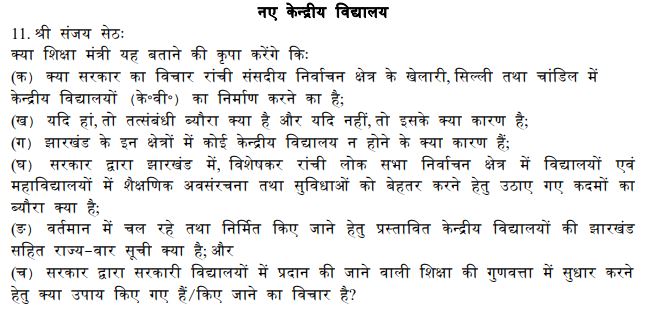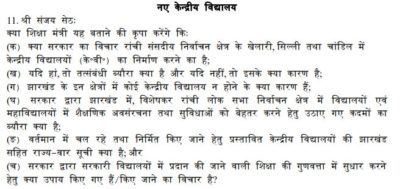 Source: LokSabha Q&A Hindi PDF & English PDF