Revision of channels of promotions (AVC) of non-gazetted staff of various categories — Engineering Department: Railway Board Order
भारत सरकार GOVERNMENT OF INDIA
रेल मंत्रालय MINISTRY OF RAILWAYS
(रेलवे बोर्ड RAILWAY BOARD)
No. E(NG)I/2017/PM1/13
New Delhi, dated 04.08.2020
The General Managers
All Zonal Railways (except ER & NCR).
Sub:- Revision of channels of promotions (AVC) of non-gazetted staff of various categories — Engineering Department.
Please refer to Board's letter of even number dated 17.02.2020 followed by a reminder dated 15.06.2020 on the above mentioned subject vide which a copy of the proposed draft AVC of certain categories of Civil Engineering Department was forwarded to your Railways with a request to furnish your railway's comments/suggestions by 28.02.2020.
It is requested that your Railway's comment/suggestion may please be furnished expeditiously for early finalization of the subject issue.
(D. Joseph)
Joint Director Estt.(N)
Railway Board
Copy to: General Secretary/NFIR and General Secretary/AIRF for information and comments please.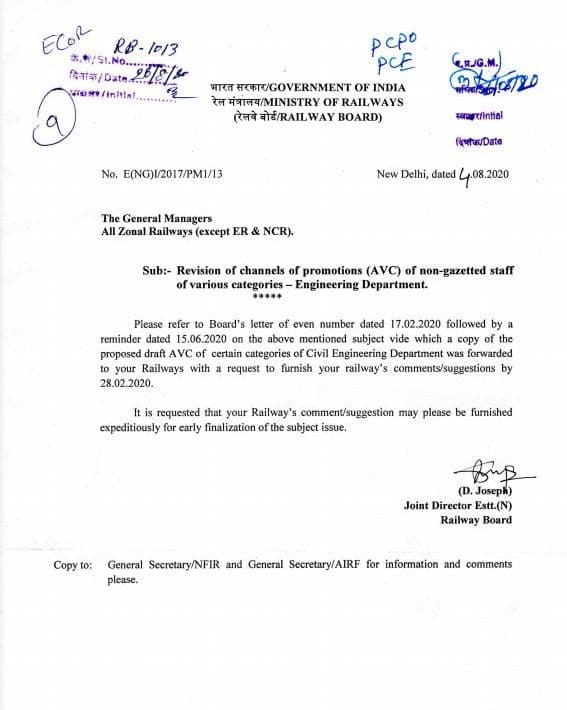 p