CGHS Hyderabad Corridendum: Continuous Empanelment of M/s. APPLE DENTAL CARE, VIJAYAWADA
Government of India
Ministry of Health and Family Welfare
Directorate General of CGHS
O/o The Additional Director, CGHS
Begumpet, Hyderabad-500 016.
No.CGHS/Hyd/Emp.HCO/2020/3634-3639
Dated 29th October, 2020
2 NOV 2020.
CORRIGENDUM
Sub:- Continuous Empanelment of Health Care Organizations (HCOs) under CGHS- Outside CGHS, Hyderabad — Regarding.
Ref:- Ministry's Letter No.S.11045/36/2012/CGHS/HEC dated 26th December 2017.
In the Empanelment Office Order No.CGHS/HYD/Emo.HCO/2020/3624-32 dated 28th October, 2020 of M/s. APPLE DENTAL CARE, VIJAYAWADA :
'Non-NABH Hospital' shall be read as ………… " NABH Hospital "
Additional Director
C.G.HS. Hyderabad
Check it also: CGHS Hyderabad: Empanelment of HCO APPLE DENTAL CARE w.e.f 28 Oct 2020
To
The Medical Superintendent/Medical Director, M/s. APPLE DENTAL CARE,
#41-2-70, Old Post Office Road, Krishna Lanka, .
VUAYAWADA – 520013.
Copy to:
01) The Director, Dte. General of Central Govt. Health Scheme, Nirman Bhavan, New Delhi — 110 108.
02) Sr. CMO(HEC), CGHS, Nirman Bhavan, New Delhi — 110 108.
03) Sr. Technical Director, NIC, MOH&FW, Nirman Bhavan, New Delhi — 110108.
04) The Pay & Accounts Officer, Pay & Accounts Office, MOH&FW, C-2-C Wing, 1st Floor Rajaji Bhawan, Besant Nagar, Chennai-600 090.
05) The Sr. Manager, UTI infrastructure Technology and Services Limited, Insurance Division. 1st floor,UTI Tower, Sector-11, CBD – Belapur, Navi Mumbai -400 614
06) The Divisional Manager, UTI-ITSL, Surabhi Aracade, Bank street, Koti, Hyderabad — 500 095 — for
07) The Sr. Manager, UTI-ITSL, KSFC Bhavan, No.1/1 Thimmaiah Road, Vasanth Nagar, Bengaluru-560 052.
09) The Sr.CMO(HAG) & in-charge, Hospital Billing Section, CGHS, KS Bhavan, Begumpet, Hyderabad.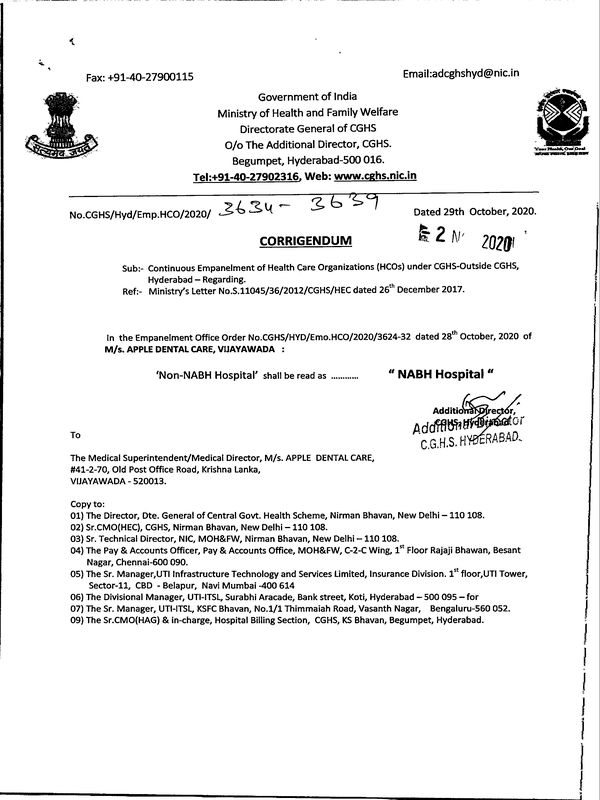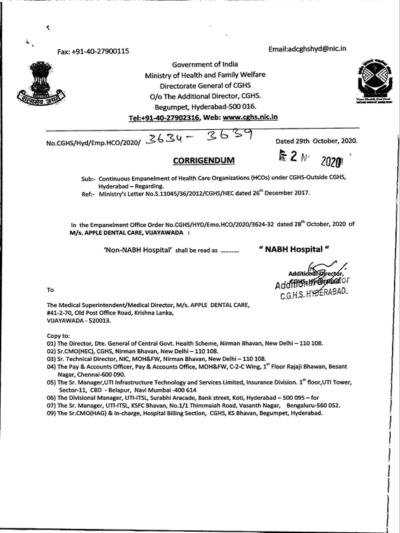 Source : CGHS
[https://cghs.gov.in/showfile.php?lid=5888]