Biometric-Enabled Digital Service for Pensioners: Digital Life Certificate – Jeevan Pramaan
Digital Life Certificate for Pensioners Scheme, known as Jeevan Pramaan, digitises the entire process of securing life certificate, making it hassle-free for pensioners.
Making lives of senior citizens easy has been the priority of the Government. More than one Crore families in India can be classified as pensioner families, where the pension disbursed by the various Government bodies is the main source of income. However, pensioners have to provide life certificate every year to the authorised pension disbursing agencies like banks, post offices etc., following which their pension is credited to their respective accounts.
In order to get life certificate, the pensioners are required to either personally present themselves before the Pension Disbursing Agency or have the Life Certificate issued by authority where they have served earlier, and have it delivered to the disbursing agency.
This very requirement of appearing personally at the disbursing agency office for getting a life certificate often becomes a major hurdle in the process of seamless transfer of pension amount. It has been noted that it causes a lot of hardship and inconvenience particularly to the aged and infirm pensioners.
Additionally, many employees move to a different location after their retirement either to be with their family or for some other reasons. This creates a huge logistical issue when it comes to accessing their rightful pension. Jeevan Pramaan was launched to make lives of senior citizens easy. It is a biometric- enabled digital service for pensioners of Central Government, State Government or any other Government organization.
ABOUT JEEVAN PRAMAAN
The Ministry of Electronics and information Technology has launched the Jeevan Pramaan portal as a Digital India initiative to mitigate the hardships of pensioners. Now, the pensioner need Not visit the office of the disbursing agency for physical submission of life certificate and may use the Aadhaar- enabled biometric authentication mechanism to generate Digital Life Certificate (DLC). It was launched by Prime Minister Narendra Modi on November 10, 2014. Since then, 358.55 Lakh pensioners have submitted the Digital Life Certificates. Between November 1, 2019 and October 12, 2020, a total of 95.31 Lakh pensioners have submitted the DLC.
ADVANTAGES OF DIGITAL LIFE CERTIFICATE
It can be generated from anywhere, including home
Auto SMS to pensionersregarding DLC
Auto transfer of DLC to Pension Disbursing Agency
Sending SMS by Pension Disbursing Agency after Processing
PENSION DISBURSING AGENCIES
Pension Disbursing Agency means the Life Certificate processing agency for the pensioner. Following Disbursing Agencies may be eligible for on-boarding:
Banks
Post Offices
State/UTs Government Offices (Treasuries)
Central Government Offices
Autonomous bodies /statutory organizations / societies / PSUs of Central Government
Autonomous bodies / PSUs of State Government
Bodies created through Parliament / State Legislation
Judicial Organizations
PRE-REQUISITES FOR DLC GENERATION
Pensioner must have an Aadhaar number
Pensioner must have a working mobile number
Registration of Aadhaar number with Pension Disbursing Agency
A Biometric device
PC with Windows 7.0 and above or Android Mobile/Tablet 4.0 and above
Internet connectivity
DLC FOR PENSIONERS SETTLED ABROAD
For the senior citizens who have settled abroad after retirement, the Government has issued Consolidated Instructions on Life Certificate and commencement of Family Pension vide which the concerned Bank Branch abroad and the Indian Embassy/ Consulate/High Commission have been instructed to provide Life Certificate and commencement of Family Pension there itself.
ALSO ON UMANG APP
To ensure safe and secure door-step delivery of its services to its 66 Lakh pensioners, EPFO brought the facility of View Pensioner Passbook as well as the updation of Jeevan Pramaan Patra on UMANG App. During the COVID-19 pandemic period from April to July 2020, 18.52 Lakh API hits were received to View Pensioner Passbook service while 29,773 API hits were recorded on updating Jeevan Pramaan Patra service.
ADDITIONAL TIME GIVEN THIS YEAR
Amid the ongoing COVID-19 pandemic, pensioners can submit life certificates between November 1 and December 31. Earlier, life certificates used to be submitted only in November for maintaining continuity of pension.
FOR MORE INFORMATION, CONTACT:
PHONE: 1800 111 555 / (91)-0120-3076200
MAIL: [email protected]
SMS: JPL to 7738299899 and get a list of Jeevan
Pramaan centres near your pincode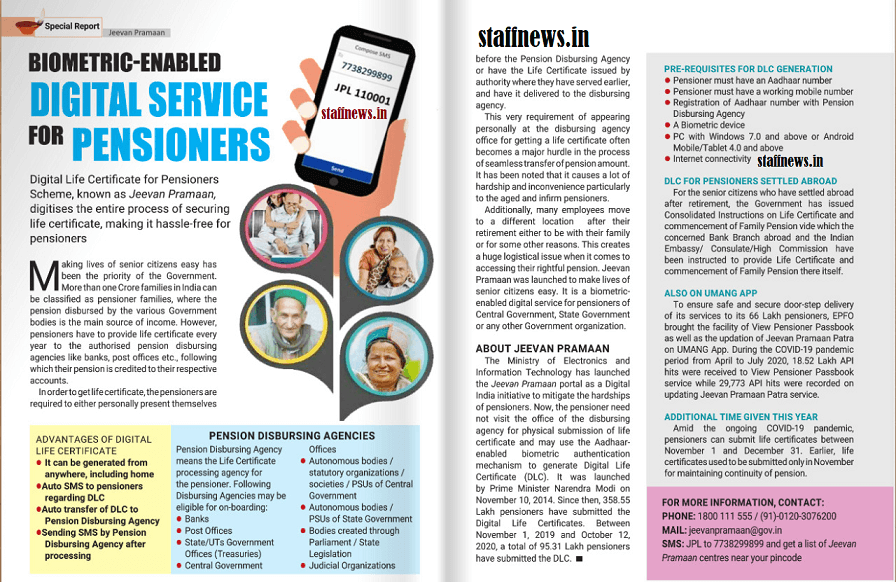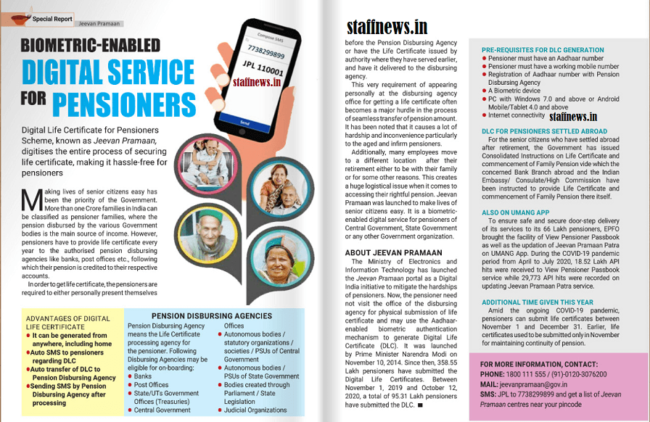 View Also: Extension of period for submission of Life Certificate from Oct 2020 till Dec 2020: Department of Ex-Servicemen Welfare, MoD Order