Award of DG's Insignia & Commendation for the year 2020: Railway Board
URGENT/ Through RSMS
भारत सरकार / GOVERNMENT OF INDIA
रेल मंत्रालय / MINISTRY OF RAILWAYS
(रेलवे बोर्ड / RAILWAY BOARD)
2021/Sec(CA)/56/4
New Delhi, Dated: 15.01.2021
Principal Chief Security Commissioners/RPF,
All Zonal Railways, ICF, KRCL, RDSO, CORE, Con., CLW, Metro Rly. Kol.
Principal Chief Security Commissioner/RPSF,
Force HQ, 6″ BN/ DBSI/ Delhi – 35
Director JR RPF Academy/ LKO & Trg. Centre/Maula Ali
Sub: Award of DG's Insignia & Commendation for the year 2020
Please refer to Para 9 of Chapter-XII of RPF Establishment Manual, 2019 regarding the award of DG's Insignia & Commendation. Recommendations of eligible RPF/RPSF personnel for the award of DG's Insignia may be forwarded to Board's office by 15 Feb 2021. While recommending names of officers/staff for the above award, the extant provisions must strictly be adhered to. Format for the award is enclosed as Annexure-I and Declaration as Annexure-II.
It is requested that it shall be clearly mentioned in the format as to whether the recommendation has been made under para 9.1.1, 9.1.2 or 9.1.3 of the Establishment Manual and also mention the relevant sub-para. Only one para & subpara be mentioned of the category under which the personnel is being recommended.
D&AR, Vigilance clearance and criminal case clearance must be obtained in each case. Vigilance clearance must be enclosed with the recommendation and Annexure-II shall be countersigned by the recommending authority.
Incomplete recommendations shall not be entertained. It is earnestly requested that recommendations be forwarded only after obtaining D&AR and vigilance clearance alongwith all necessary information in Annexure-II.
Matter may be treated as MOST URGENT.
DA: Annexure-I, II
(S. Shandilya)
DIG/MAC AA
Railway Board
011-23041532
Copy: uploaded under the link Important Circulars on
RPF webpage for information of all concerned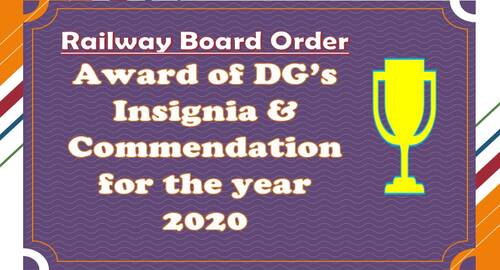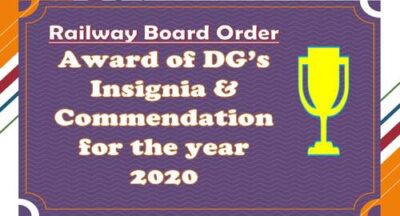 Source: Click here to view/download the PDF
[https://indianrailways.gov.in/railwayboard/uploads/directorate/security/downloads/2021/DG-Insignia-2020.pdf]