Functioning of offices with 100% strength w.e.f. 16.01.2021 in view of the closing of current financial year: Attendance during spread of COVID-19
Through PCDA (WC) Website
रक्षा लेखा प्रधान नियंत्रक (प.क.) चंडीगढ़-160009 ;
PRINCIPAL CONTROLLER OF DEFENCE
ACCOUNTS
(WESTERN COMMAND), CHANDIGARH- 160009
Tel.No. :0172-2741611, E-mail:
[email protected]
"हर काम देश के नाम"
No. AN/I/1041/Circular
Dated: 12/01/2021
Subject: Functioning of office during the operation of Preventive measures to contain the spread of COVID-19 (Coronavirus).
Reference: In continuation to this office circular No. even dated 28/12/2020.
At present, this organisation is following Duty Roster System with 50% of staff up to Sr. Auditor on alternative day as a preventive measure to contain the spread of COVID-19 and to observe COVID-19 protocol.
In view of the closing of current financial year and to facilitate the office work with utmost efficacy, it has been decided by the Competent Authority to run the offices/Sections under this organisation with full strength with effect from 16/01/2021.
All the officers and staff members will attend their respective offices with 100% strength. It is reiterated that instructions on COVID-19 protocol and preventive measures issued by Ministry of Home Affairs and Ministry of Health and Family Welfare from time to time must be strictly complied with.
PCDA has seen.
(SAHIL GOYAL)
Dy. CDA (AN)
Distribution:-
The CGDA, Ulan Batar Road, Palam, Delhi Cantt
PS to PCDA/Jt. CDA/GO(AN)
All IDAS Officers under PCDA(WC) Chandigarh
All Officers Incharge in Main Office, Chandigarh
All Sub Offices under PCDA(WC), Chandigarh
IT&S Section (Local) … with request to upload on PCDA(WC) Website.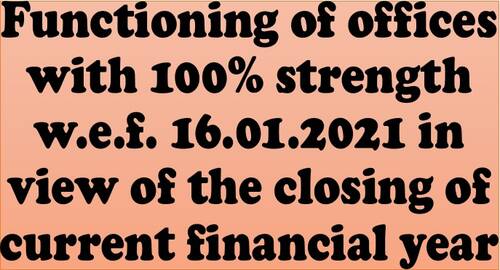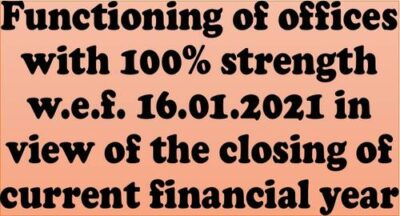 Source: https://pcdawc.gov.in/images/pdf/circulars/admin/pt2orders/6973_Covid.PDF