NABH accreditated HCOs empanelled in ECHS: NABH Notification for extension of validity upto 31.03.2021
Central Organisation ECHS
Adjutant General's Branch
Integrated Headquarters
Ministry of Defence (Army)
Thimayya Marg
Near Gopinath Circle
Delhi Cantt —10
B/49771/AG/ECHS/Emp
31 Dec 2020
All Regional Centres, ECHS
____________________________
NABH NOTIFICATION FOR EXTENSION OF VALIDITY
1. Refer NABH Notification No NABH/Notification/2020/3721 dated 09 Dec 20 (Copy enclosed).
2. NABH accreditated HCO's empanelled in ECHS whose NABH accreditation validity already expired or going to expire and have applied for re-accreditation/re-certification shall be eligible for extension of validity till 31 Mar 2021 or till decision on the renewal application is taken by NABH, whichever is earlier, as per the terms and condition of the above mentioned NABH notification dated 09 Dec 2020.
3. This has the approval of MD ECHS.
4. For your information and necessary action please.
(C.A. Mahajan)
Lt Col
Offg. Jt Dir (Empanelment)
For MD ECHS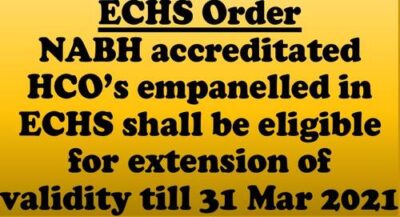 Source: https://echs.gov.in/img/NABH%20NOTIFICATION%20FOR%20EXTENSION%20OF%20VALIDITY.pdf