Ad hoc teachers in University of Delhi, college-wise & year-wise details and reasons of non appointment of Permanent Teachers
GOVERNMENT OF INDIA
MINISTRY OF EDUCATION
DEPARTMENT OF HIGHER EDUCATION
RAJYA SABHA
UNSTARRED QUESTION NO. 375
TO BE ANSWERED ON 04.02.2021
Ad hoc teachers in University of Delhi
375 # Shri Vishambhar Prasad Nishad:
Ch. Sukhram Singh Yadav:
Smt. Chhaya Verma:
Will the Minister of Education be pleased to state:
(a) the number of ad hoc teachers appointed in University of Delhi;
(b) the college-wise and year-wise details of the ad hoc teachers appointed during the last five years;
(c) the reasons due to which permanent teachers are not being appointed in the University of Delhi and the details of the steps being taken to address these reasons; and
(d) whether it is also a fact that procedure of interview of ad hoc teachers has been started in January 2021, which is in violation of Ministry's order of December, 2019?
ANSWER
MINISTER OF EDUCATION
(Shri Ramesh Pokhriyal 'Nishank')
(a) to (d) University of Delhi has informed that approximately 56 adhoc teachers have been appointed in Academic Year 2020-2021 in the departments of the University of Delhi. The College-wise and year-wise details of the appointed adhoc teachers are enclosed at Annex-I.
The filling up the vacancies is an ongoing and continuous process. The vacancies arise due to retirements, resignations, deputations, deaths, expansion and opening of new institutions. The onus of filling up of the posts lies on the University, being an autonomous body created under an Act of Parliament. As per UGC regulations, all the sanctioned / approved posts in the university system are to be filled up on an urgent basis. University Grants Commission as well as the Ministry is continuously monitoring the process.
The University advertised a total 857 permanent faculty posts of Professor, Associate Professor and Assistant Professor in July 2019. The appointments in Colleges are made by the Governing Bodies of the Colleges in terms of the laid down procedure. The University has informed that it is making every possible effort to ensure that all the vacant faculty positions are filled up in a time bound manner. Some adhoc appointments are necessitated to continue the teaching learning process till the permanent faculty is in place.
*****
Annexure referred to in reply of Rajya Sabha Unstarred Question No. 375 for 04.02.2021 raised by Shri Vishambhar Prasad Nishad, Ch. Sukhram Singh Yadav and Smt. Chhaya Verma, Hon'ble MPs regarding Ad hoc teachers in University of Delhi.
Appointed adhoc teachers
S.

No.

Name of the Colleges
2016
2017
2018
2019
2020
1.
Acharya Narendra Dev College
37
49
50
55
55
2.
Aditi Mahavidyalaya
42
44
44
44
44
3.
Aryabhatta College (Formally Ram Lal Anand College-Evg.)
21
30
39
43
37
4.
Atma Ram Sanatan Dharma College
56
57
57
55
59
5.
Bhagini Nivedita College, Kair
28
28
43
41
71
6.
Bharti College
66
33
55
64
61
7.
Bhaskaracharya Coll. of Applied Sci.
20
36
36
20
20
8.
Bhim Rao Ambedkar College
10
11
2
13
Nil
9.
College of Vocational Studies
48
56
78
79
67
10.
Daulat Ram College
130
120
138
130
135
11.
Deen Dayal Upadhyaya college
35
30
30
34
32
12.
Delhi College of Arts & Commerce
31
39
38
35
42
13.
Deshbandhu College(Morning)
75
86
93
103
110
14.
Dyal Singh College
100
101
89
108
104
15.
Dyal Singh College (Evening)
57
63
68
66
63
16.
Gargi College
82
80
87
17.
Hindu College
36
49
50
52
55
18.
Indraprastha College for Women – B.Tech.
58
60
72
81
79
19.
Institute of Home Economics
64
60
43
46
46
20.
Janki Devi Memorial  College
100
98
87
90
84
21.
Jesus & Mary College
40
44
52
55
51
22.
Kalindi College for Women
59
75
86
83
114
23.
Kamla Nehru College for Women
80
65
92
82
84
24.
Keshav Mahavidyalaya
49
55
55
56
54
25.
Kirori Mal College
61
57
72
68
81
26.
Lady Irwin College
55
70
75
70
56
27.
Lady Shri Ram College for Women
42
52
50
54
66
28.
Lakshmi Bai College for Women
62
68
67
62
64
29.
Maharaja Agarsen College
54
60
56
58
57
30.
Maharshi Valmiki College of Education
4
4
4
4
4
31.
Maitreyi College for Women
68
65
71
67
69
32.
Mata Sundri College for Women
65
69
83
88
99
33.
Moti Lal Nehru College (Evening)
39
50
46
40
44
34.
P.G.D.A.V. College
35
46
50
65
64
35.
P.G.D.A.V. College (Evening)
42
41
37
35
36
36.
Rajdhani College
72
67
72
68
69
37.
Ram Lal Anand College
0
0
2
0
5
| | | | | | | |
| --- | --- | --- | --- | --- | --- | --- |
| 38. | Ramanujam College | 7 | 12 | 10 | 4 | 5 |
| 39. | Ramjas College | | | | 130 | 134 |
| 40. | Satyawati College | 37 | 44 | 47 | 45 | 39 |
| 41. | Satyawati College (Evening) | 49 | 54 | 62 | 63 | 62 |
| 42. | School of Open Learning | | | 1 | | |
| 43. | Shaheed Bhagat Singh College | 13 | 6 | 13 | 2 | 11 |
| 44. | Shaheed Bhagat Singh College (Evening) | 40 | 36 | 34 | 34 | 31 |
| 45. | Shaheed Rajguru College of Applied Sciences For Women. | 25 | 34 | 52 | 61 | 96 |
| 46. | Shaheed Sukhdev College of Business Studies | 4 | 11 | 9 | 13 | 11 |
| 47. | Shri Ram College of Commerce | 68 | 63 | 69 | 67 | 75 |
| 48. | Shyam Lal College | 61 | 61 | 58 | 22 | 22 |
| 49. | Shyama Prasad Mukherji College for Women | 70 | 81 | 84 | 96 | 109 |
| 50. | Sri Aurobindo College | 64 | 69 | 64 | 73 | 75 |
| 51. | Sri Guru Gobind Singh College of Commerce | 5 | 3 | 3 | 4 | 2 |
| 52. | Sri Guru Tegh Bahadur Khalsa College | 65 | 65 | 67 | 68 | 68 |
| 53. | Sri Venkateswara College | 77 | 92 | 90 | 91 | 126 |
| 54. | V. P. Chest Institute | | | | 1 | |
| 55. | Vivekananda College | 87 | 85 | 64 | 67 | 56 |
| 56. | Zakir Husain Delhi College | 15 | 20 | 8 | 11 | 8 |
| 57. | Zakir Husain Post Graduate Evening College | 35 | 34 | 39 | 36 | 42 |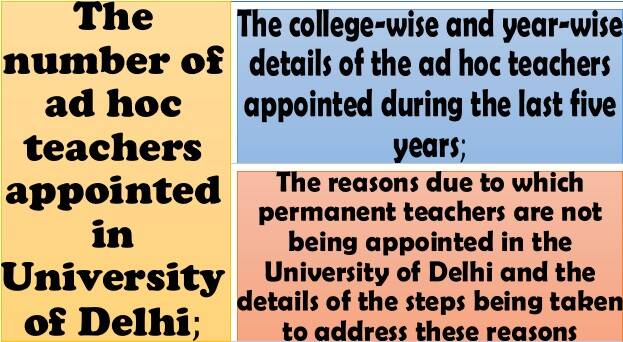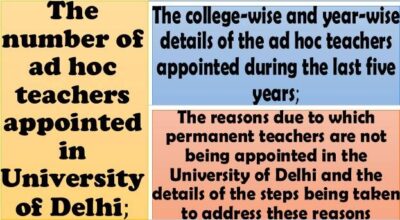 Source: Rajyasabha