Kendriya Vidyalayas: Recruitment of Permanent Staff from Principal
GOVERNMENT OF INDIA
MINISTRY OF Education
LOK SABHA
UNSTARRED QUESTION NO: 1142
ANSWERED ON: 08.02.2021
Staff for Kendriya Vidyalayas
Manne Srinivas Reddy
Will the Minister of Education be pleased to state:-
(a) the steps being taken to recruit permanent staff from Principal to teaching staff and other staff in all Kendriya Vidyalayas;
(b) the steps taken/being taken to increase the intake of students in KVs, class wise also in each school in the country including Yenugonda KV School in Mahabubnagar Parliamentary Constituency; and
(c) the details of survey done in this regard and the proposals pending with the Government and when action is likely to be taken in this regard?
Storytelling Competition on Stories of Human; CBSE Circular
Kendriya Vidyalaya: Vacation and Breaks for Session 2021-22 during Summer, Autumn and Winter season
Revised list of Kendriya Vidyalayas located in Hard Stations: KVS OM Dtd. 05 Nov 2020
ANSWER
MINISTER OF EDUCATION
(SHRI RAMESH POKHRIYAL 'NISHANK')
(a) Filling up of vacancies is a continuous process and action is taken from time to time as per the provisions of the relevant recruitment rules. Directions have also been issued to autonomous organizations including Kendriya Vidyalaya Sangathan (KVS) from time to time, for reviewing their vacancies and for taking prompt action for filling up of vacant posts in the Vidyalayas.
(b) The class strength for each class /section in each Kendriya Vidyalaya (KV) is as per KVS Admission guidelines and followed in all KVs across the country including KV, Yenugonda in Mahabubnagar Parliamentary Constituency.
(c) No such survey has been done.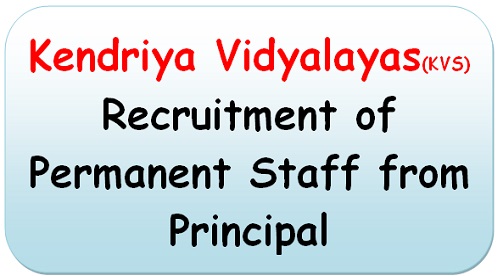 Source: LOK SABHA