Grievances Cell in Ministries for redressal of public grievance लोक श‍िकायतों के निवारण हेतु मंत्रालयों में शिकायत प्रकोष्‍ठ
GOVERNMENT OF INDIA
MINISTRY OF PERSONNEL, PUBLIC GRIEVANCES AND PENSIONS
(DEPARTMENT OF ADMINISTRATIVE REFORMS & PUBLIC GRIEVANCES)
RAJYA SABHA UNSTARRED QUESTION NO. 422
(TO BE ANSWERED ON 04.02.2021)
GRIEVANCE CELL IN MINISTRIES
422 SHRI RAJMANI PATEL:
Will the PRIME MINISTER be pleased to state:
(a) whether Grievance Cells have been established in various Ministries for redressal of suggestions and complaints;
(b) if so, whether redressal of cases/complaints received in various offices particularly during the last three years and the current year has been reviewed or is proposed to be reviewed; and
(c) the details of complaints of very important persons and other complainants disposed off and those pending in the Grievance Cell established for the purpose?
ANSWER
MINISTER OF STATE IN THE MINISTRY OF PERSONNEL, PUBLIC GRIEVANCES AND PENSIONS AND MINISTER OF STATE IN THE PRIME MINISTER'S OFFICE (DR. JITENDRA SINGH)
(a): Yes Sir, an internal Grievance Redressal Machinery exists in each Ministry/Department. Grievance officers have been designated in all Ministries/Departments for redressal of public grievances.
(b) & (c): The Department conducts regular review meetings for monitoring pendency and disposal of grievances received in Centralized Public Grievance Redress and Monitoring System (CPGRAMS) with the designated grievance officers of Ministries/Departments. The last such review meeting was held in January 5, 2021. The grievances received and disposed on CPGRAMS by the Central Government Ministries/Departments during last 3 years is as under :
| | | | |
| --- | --- | --- | --- |
| Year | Received | Disposed | Pending |
| 2018 | 15,86,415 | 15,05,950 | 8,43,697 |
| 2019 | 18,67,758 | 16,39,856 | 10,71,599 |
| 2020 | 22,71,270 | 23,19,569 | 10,23,300 |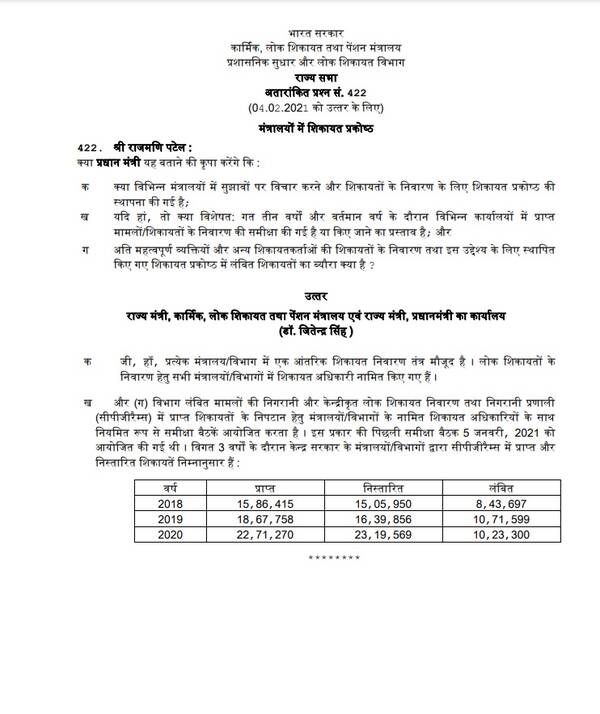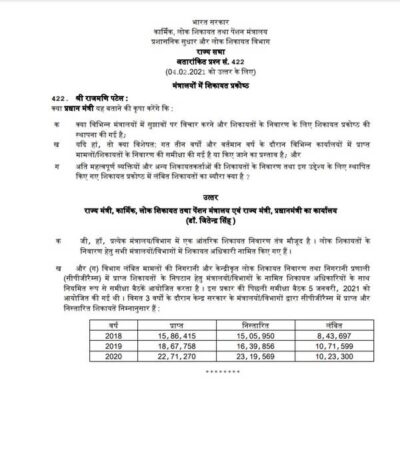 Source: Rajya Sabha