Madras High Court's Order dated 19.07.2011 in respect of Rita Mary and others – Engagement and regularisation of Casual Workers in Group 'D' Posts
Most Urgent / Contempt Petition Matter
No.C-18013/25/2009-Ad.IIIB
Government of India
Central Board of Indirect Taxes & Customs
***
New Delhi, Dated February 24th 2021
To
Cadre Controlling Authorities under CBIC.
(Kind Attention: In Charge PCC/CC of the CCAs)
Subject: Madras High Court's Order dated 19.07.2011 in respect of Rita Mary and others-Reg.
Undersigned has been directed to refer to the subject mentioned above and state as follows:
1. It may be recalled that as part of Government policy to govern and then impose a ban on engagement of casual workers on daily wages, DoPT vide its OMs issued in 1993 and 2006 issued guidelines for regularisation of existing Casual Labourers. The exercise of regularisation in terms of these OMs was effected by formations CBIC from time to time, while also emphasizing on strict adherence by field formations to Government's policy in this regard. A copy of Board's letter No.A-12034/1/2005-Ad.IIIB 02.05.2005, is herein enclosed for ready reference.
2. However, Madras High court, vide common order dated 19.07.2011, directed CBIC to frame a similar scheme like that of DoPT OM dated 10.09.93, to provide an opportunity to regularise certain Part Time Casual Labourers (PT CLs) subject to eligibility. Having implemented the orders, yet in view of dismissal of further appeals in Supreme Court, a scheme titled "Part-Time Casual Labourers (Regularisation) Scheme of CBIC 2020" dated 01.01.2020 with partial modifications dated 06.02.2020 (copy enclosed) was framed and extended to respondents / petitioners covered under 5 WPs (WP No. 16733/2009, 16889 / 2009, 11492/2006, 18969 / 2006 and 20664/2011). This was framed as a one-time scheme limited only to the respondents / petitioners covered under above mentioned 5 WPs.
3. Now in view of court directions in another set of 18 WPs filed in Madras High court and contempt petitions filed on the issue, information is urgently required (in the enclosed proforma) regarding Part Time CLs, who have claimed regularization and who fulfil conditions as prescribed. The data in the proforma enclosed should be furnished after duly verifying the eligibility of the claimants, along with certificate regarding correctness of details /documents relied upon and copies of supporting documents.
4. For any eligible Part Time CLs left out, after this exercise, the concerned CCA, will be held responsible for consequential action.
5. Information / data in enclosed proforma is required to be sent to Board within 15 days from the issuance of this letter, including a nil report in case there are no such part time CLs under the CCA.
6. This issues with the approval of Member (Admin).
Encl: As above
Yours faithfully,
(RK Jha)
Deputy Secretary to Government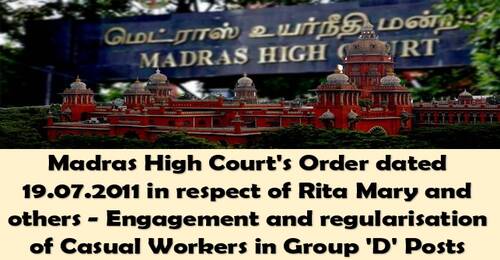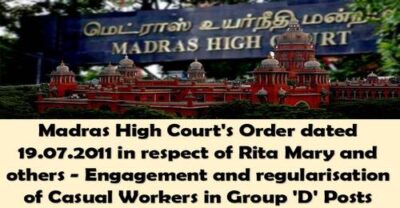 Source PDF: Click here to view/download