Pay Structure of Pilots and allowances based on the type of Aircraft flown
GOVERNMENT OF INDIA
MINISTRY OF CIVIL AVIATION
LOK SABHA
UNSTARRED QUESTION NO: 618
ANSWERED ON: 04.02.2021
Pay Structure of Pilots
P. Velusamy
Will the Minister of CIVIL AVIATION be pleased to state:-
(a) whether Air India is having different pay structure to different pilots depending upon the type of aircrafts piloted by them;
(b) if so, the details thereof;
(c) whether Air India has imposed any salary cut for those pilots who are flying Boeing 777 and Boeing 747;
(d) whether these salary cut is also applicable to those pilots who are flying other aircrafts other than those mentioned above; and
(e) if so, the mandatory flying hours for the pilots fixed by Air India and the details of payment fixed or given as per flying hours per week?
ANSWER
The Minister of State (IC) in the Ministry of CIVIL AVIATION
(Shri Hardeep Singh Puri)
(a) and (b): The pay structure of all the pilots is same, however, there are some allowances which are based on the type of Aircraft flown such as inter-alia Wide Body Allowances, Quick-Turn Around Allowances etc.
(c) and (d): Yes Sir. In view of the COVID-19 pandemic, allowances of all Air India employees, including Pilots were rationalized. However, no rationalization was done in the basic salary of Air India employees, including Pilots which includes IDA and HRA.
(e): The Pilots are presently being paid flying allowances based on the actual hours flown on monthly basis or 20 hours of flying allowances in a month, whichever is more.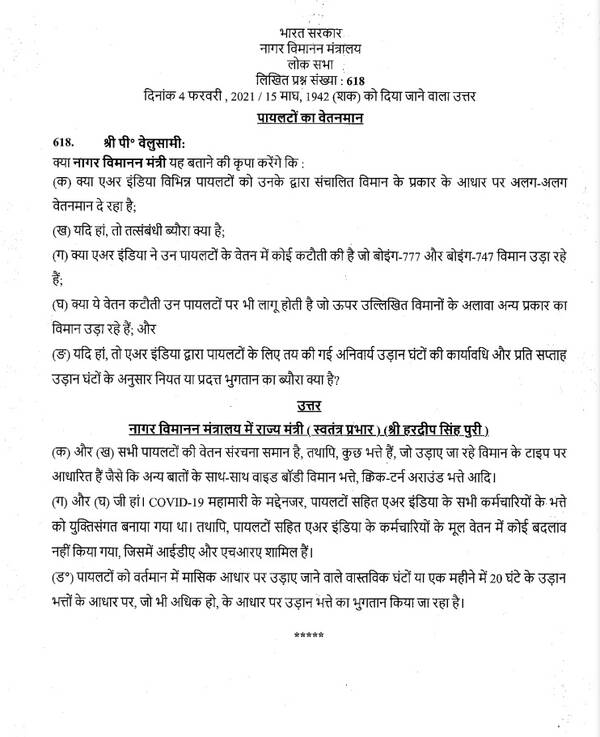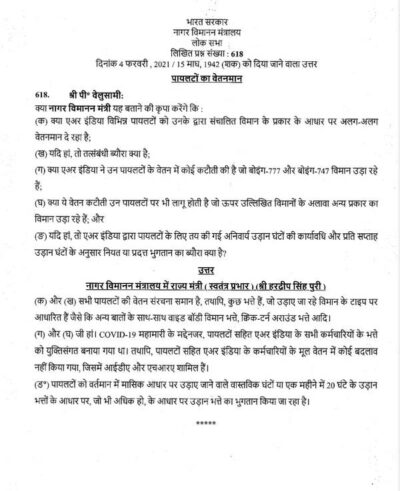 Source: Lok Sabha