Privatisation of Railway Stations -State-wise details: रेलवे स्टेशनों का नीजीकरण
GOVERNMENT OF INDIA MINISTRY OF RAILWAYS
LOK SABHA
UNSTARRED QUESTION NO: 416
ANSWERED ON: 03.02.2021
Privatisation of Railway Stations
Chandeshwar Prasad Will the Minister of RAILWAYS be pleased to state:-
(a) whether the Government is planning to privatize several railway stations; (b) if so, the State-wise details thereof and the reasons therefor; (c) whether any time limit has been fixed in this regard; and (d) if so, the details thereof?
ANSWER
MINISTER OF RAILWAYS, COMMERCE & INDUSTRY AND CONSUMER AFFAIRS, FOOD & PUBLIC DISTRIBUTION
(SHRI PIYUSH GOYAL)
(a) to (d): There is no proposal for privatization of railway stations. The lease rights for use of land/air space shall be transferred to private parties for specified periods under station redevelopment programme. The ownership of the railway land/air space shall remain with Railways. The assets created on Railway land shall revert back to Railways after completion of the specified lease period. Station redevelopment program is first of its kind and complex in nature and requires detailed techno-financial feasibility studies and various statutory clearances from local bodies etc. Therefore, no time-frame can be indicated at this stage.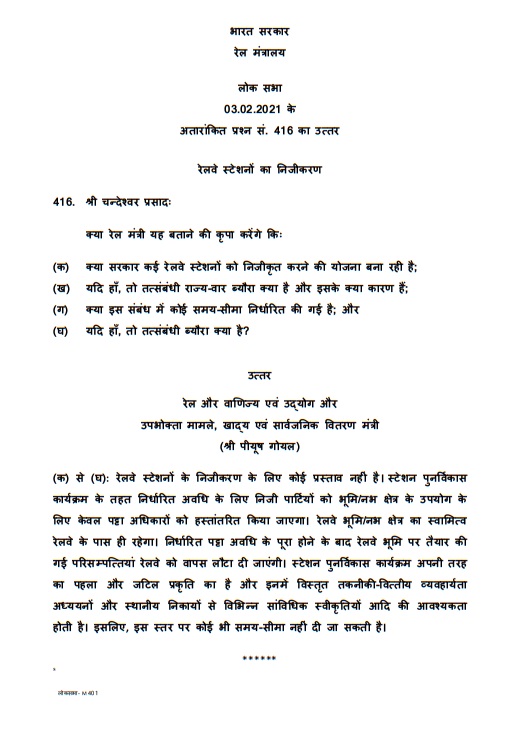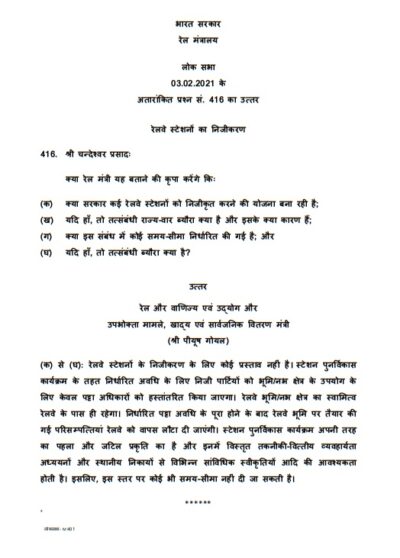 Source: LOK SABHA