Timely Payment of Salaries to Contractual Employees of BSNL संविदा कर्मचारियों को वेतन का समय पर भुगतान
GOVERNMENT OF INDIA
MINISTRY OF COMMUNICATIONS
LOK SABHA
UNSTARRED QUESTION NO: 236
ANSWERED ON: 03.02.2021
Timely Payment of Salaries to Contractual Employees
Vellalath Kochukrishnan Nair. Sreekandan
Will the Minister of COMMUNICATIONS be pleased to state:-
(a) whether the contractors engaged by BSNL at various locations are not salary paying timely to the contractual employees engaged by them and if so, the details thereof and the reaction of the Government thereto;
(b) whether the Government has received any complaints in this regard and if so, the details thereof and the action taken by the Government thereon;
(c) whether the Government has asked BSNL to settle the claims of contractors only after ensuring that the contractors were paying wages to contractual employees engaged by them on time and without any interruptions; and
(d) if so, the details thereof?
ANSWER
MINISTER OF STATE FOR COMMUNICATIONS, EDUCATION AND ELECTRONICS & INFORMATION TECHNOLOGY
(SHRI SANJAY DHOTRE)
(a) Bharat Sanchar Nigam Limited (BSNL) has reported that the contractors engaged by BSNL at various locations are paying salary to contractual employees as and when the payment is made by BSNL. However, due to prevailing adverse financial situation of BSNL, the payment to contractors is delayed by BSNL. The funds are released and payments are made in phases depending upon the availability of funds. BSNL is making all efforts to overcome the situation.
(b) A number of references from Hon'ble Members of Parliament with regard to delay in payment of wages to contract workers engaged by the contractors have been received. Department of Telecommunications (DoT) has directed BSNL to look into the issue of timely payment to contract workers/labourers on priority.
(c)&(d) BSNL has informed that as principal employer, BSNL ensures that on release of payments to the contractors, the payments are made to contractual workers.
************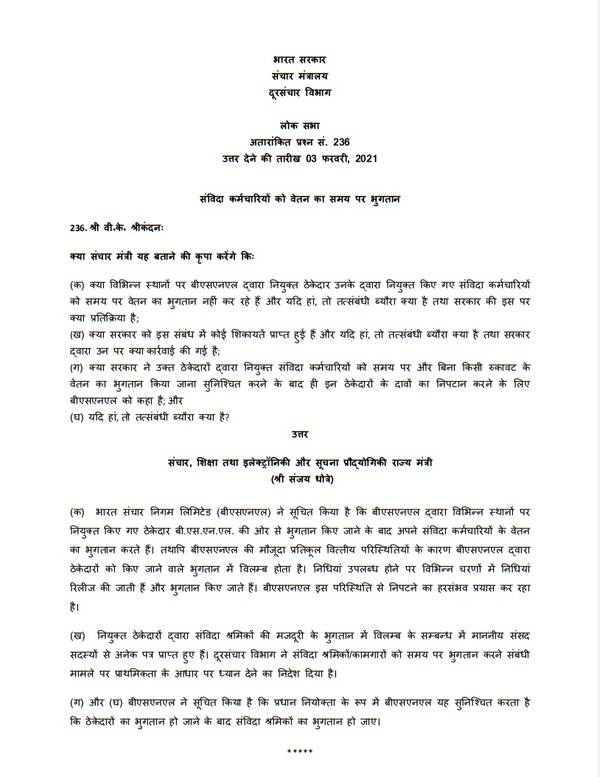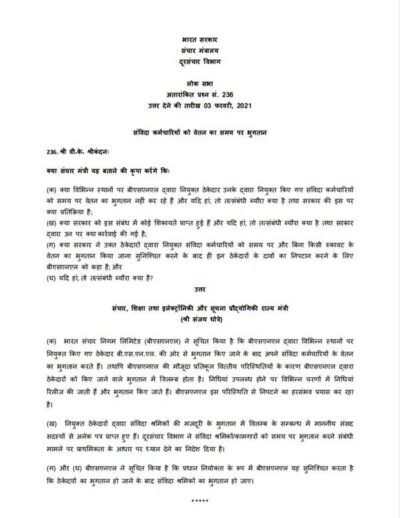 Source: Lok Sabha