Period of preservation of records in electronic or physical form maintained by the Departmentalized Pay and Accounts Offices: Proposed draft Para 17.16 of CAM
F. No. TA-2-01001/1/2021-TA-II/226
Government of India
Ministry of Finance
Department of Expenditure
Office of Controller General of Accounts
Mahalekha Niyantrak Bhawan
GPO Complex, E-Block,
INA, New Delhi-110023
Date: 10th March, 2021
Office Memorandum
Subject: – Proposed draft Para 17.16 of CAM regarding period of preservation of records
This office is in the process to revise period of preservation of records prescribed in Para 17.16 of Civil Accounts Manual. Accordingly, the changes in period of preservation of records have been proposed in the draft Annexure.
2. You are requested to kindly examine the proposed retention period and offer your comments including proposals for inclusion of any items/record along with proposed retention period, if any. The response may be sent to this Office latest by 31st March 2021. The comments may be sent through email (neelakantan.r[at]gov.in )
This issues with the approval of competent authority.
(Ashish Kumar Singh)
Dy. Controller General of Accounts
To,
All Pr. CCAs/ CCAs/ CAs with independent charge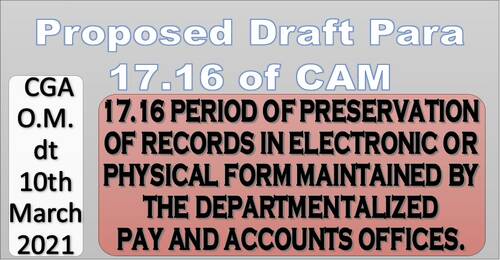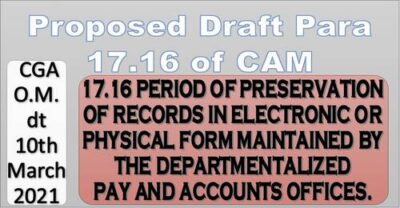 Annexure
Proposed Draft
17.16 PERIOD OF PRESERVATION OF RECORDS IN ELECTRONIC OR PHYSICAL FORM MAINTAINED BY THE DEPARTMENTALIZED PAY AND ACCOUNTS OFFICES.
The table below indicates the retention period of various accounting records maintained by the Pay and Accounts Offices. Irrespective of the period of preservation so prescribed, these records shall be preserved till completion of audit (statutory and internal) for the relevant period and the settlement of the objections so raised. The accounts records relevant to Appropriation Accounts and Finance Accounts will be preserved for the periods specified against each or until these documents are presented to Parliament, whichever is later. The provisions of Appendix 9 to G.F.Rs, 2017 shall be applicable for the retention of records referred therein.
Note: Retention period indicated in Col. (c) is to be reckoned from the date of close of the financial year to which the voucher/register/record relates, unless otherwise specified.