7th CPC Running Hour Allowance to Loco Shunters, Guard (Goods) and Assistant Loco Pilots: Item No. 37/19/SC Standing Committee Meeting
AGENDA DISCUSSED DURING THE STANDING COMMITTEE MEETING HELD ON 26.2.2021 – DECISIONS TAKEN
A. Unresolved Items of the Earlier SCM held on 7.3.2019
Item No. and Ministry / Deptt: Item No. 37/19/SC M/o Railways
Subject

: Recommendations of the 7th CPC on the allowances. 7th CPC has recommended allowances Running Hour Allowances' (RHA) to Train Controller, Track Maintainer, Loco Pilot (Mail/Express), Loco Pilot (Passenger), Loco Pilot (Goods), Guard (Mail/Express), Guard (Passenger).

Request is to extend the same to Loco Shunters, Guard (Goods) and Assistant Loco Pilots. Further, the request is to count this for the purpose of pensionary benefits

Decision in the Meeting of 7.3.2019: ED(IR), Ministry of Railways informed that recommendations in respect of the allowances; viz. Special Train Controllers Allowance to Train Controllers, Risk and Hardship Allowance to Track Maintainers (except additional allowance to Running Staff in Railways) have been accepted by the Government and orders. in this regard have been issued by the M/o Railways

Status as on 25.02.2021: Ministry of Railways has informed through their letter dated 20.01.2020 that it may be appreciated that 7th CPC already extended "Additional Allowance" to some other categories of Running Staff viz. Loco Pilot Goods and Sr. Passenger Guard in addition in enhancing the quantum of Additional Allowance" earlier granted only to Loco Pilot Mail/ Express, Loco Pilot Passenger / Motorman, Guard Mail / Express. The recommendation of 7th CPC was further scrutinized by a Committee of Secretaries and thereafter accepted by Government of India. These recommendations has been implemented in Railways vide Board's letter RBE No. 85/2017 dated 10.08.2017. Further, it is stated that 7th CPC specifically mentioned that Dearness Allowance will be payable on this allowance, however, it will not count for pensionary benefits.

2. In view of the position, it is not feasible to make any unilateral deviation from the accepted recommendations of 7th CPC and extend it to other categories of Running Staff not covered by the same.

There is no change in status furnished earlier.

The item may be treated as closed.

Discussions/Decision on 26.02.2021: The representatives of the Ministry of Railways stated that, wherever recommended, they have already issued orders. In addition, two more categories have also been added.

[ainserter name="p2″]

Secretary, Staff Side stated that the same has not been applied to Loco Shunter, Asstt. Loco Pilot and Guards (Goods). He requested for reconsideration of their case and a specific reply by the Ministry of Railways.

Secretary, DOPT stated that the item may be treated as settled and for the left-out category a separate new item may be given by the Staff Side.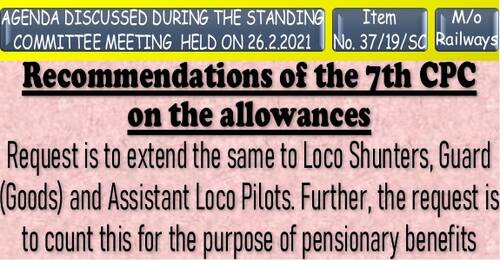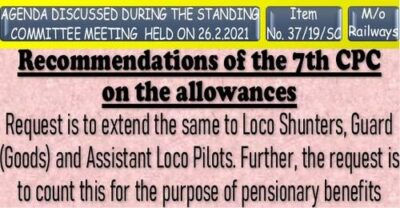 View other Items of Standing Committee Meeting: