Fixation of pay on promotion to a post carrying higher duties responsibilities but carrying same grade pay i.r.o. Shunters and Goods Guard: Item No. 46/19/SC Standing Committee Meeting
AGENDA DISCUSSED DURING THE STANDING COMMITTEE MEETING HELD ON 26.2.2021 – DECISIONS TAKEN
A. Unresolved Items of the Earlier SCM held on 7.3.2019
Item No. and Ministry / Deptt: Item No. 46/19/SC M/o Railways
Subject

: Fixation of pay on promotion to a post carrying higher duties responsibilities but carrying same grade pay

It has been given to Loco Pilot and Mail Guard but not, among other, to shunters and Goods Guard .

Decision in the Meeting of 7.3.2019: Executive Director (IR), Ministry of Railways stated that this item was originated during the 6th CPC and was resolved during the year 2017. Again , this item has been re-opened in 7th CPC.

Ministry of Railways have forwarded the matter to Department of Expenditure, Ministry of Finance for their consideration

Status as on 25.02.2021: Ministry of Railways has informed through their letter dated 14.12.2020 that the issue was examined, and a reply has been to the/ Federation vide Board's letter PC-VI/2017/IC/I dated 22.11.2017 detailing why their demand was not agreeable.

It is therefore observed that prima-facie, no anomaly has been brought out in Item No. 46.

This item may be treated as closed.

Discussions/Decision on 26.02.2021: Secretary, Staff Side stated that there are various trades in which the benefit has been given. However, still there are some categories where, even though higher responsibilities are involved, the benefit of pay fixation has not been given. The Ministry of Railways stated that the Department of Expenditure and DoPT have not permitted them to do so.

[ainserter name="p2″]

AS(Pers), DoE stated that this is an internal matter of the Ministry of Railways and they can take a decision, on their own, in the matter.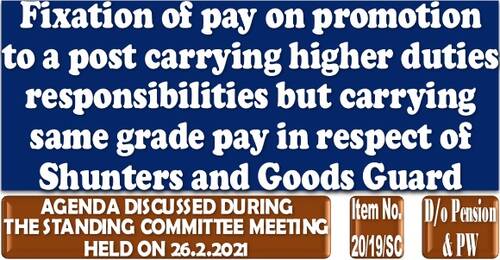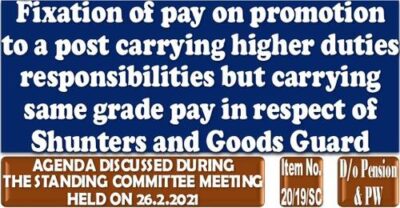 View other Items of Standing Committee Meeting: