Formation of Special Cell for Compassionate Appointment: EPFO
EMPLOYEES' PROVIDENT FUND ORGANISATION
MINISTRY OF LABOUR & EMPLOYMENT. GOVERNMENT OF INDIA
Head Office
Bhavishva Nidhi Bhawan. 14. Bhikaiji Cama Place. New Delhi-110066
File No-AA9013/22/2021-HRMV/260
Dated 19.04.2021
All Addl. CPFC (HQ) (Zones)/All Addl. CPFC (Zones)/
Director (PDNASS)/Addl. CPFC (ASD)
Subject: Formation of Special Cell for Compassionate Appointment-regarding.
Sir/Madam,
Central Provident Fund Commissioner while reviewing the compassionate appointment cases has direct that Compassionate Appointment Cell be constituted at each Zone to guide the family members of the deceased employees and monitor the welfare related issues of the family of the deceased employees under their Jurisdiction. Accordingly, it is directed to constitute a Compassionate Appointment Cell headed by RPFC 1 Admin in Zonal office (Ex Officio) and two/three officers /officials to be nominated by ACC of the zone preferably those associated with Regional Staff Welfare Committee related activities. RPFC-I Admin (Zonal Office) will be the Nodal Officer and member of HR Whatsapp group and will provide requisite progress report to Head Office.
2. Functions of the compassionate appointment cells will be as mentioned below:-
(i) To examine the complete compassionate appointment proposals received from the Regional Offices.
(ii) To assist the Zonal Screening Committee for considering the Compassionate appointment proposals.
(iii) To issue necessary directions so that it may be ensured that concerned Welfare Officer of Regional Offices should meet/ contact the dependents of the deceased government servant immediately after his death to advise and guide them to submit complete application along with requisite information for getting appointment on compassionate grounds. The applicant may also be called in person by the welfare officer at the very first Stage and advice in person about the requirement and formalities to be completed by him.
(iv) To issue timely directions to Welfare Officers to personally visit the family of deceased staff for the application of compassionate appointment and to attend the difficulties faced by dependents of the deceased employee in settlement of death related benefits, etc.
(vi) To deal with the Court cases related to compassionate appointments, if any.
(vii) Any other work related to the compassionate appointments.
3. Compliance report along with Name and mobile no. of the Nodal Officer be sent by mail to Sh Rizwanudin RPFC HRM (rc.hrm5[at]epfindia.gov.in) at Head Office latest by 23th April, 2021.
Yours faithfully,
Uma Mandal
Additional Central PF Commissioner (HRM)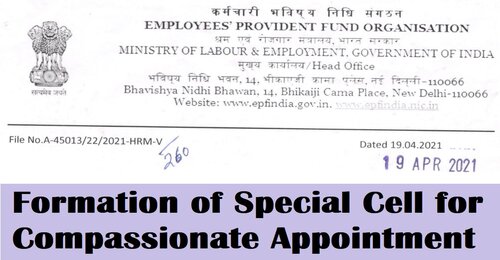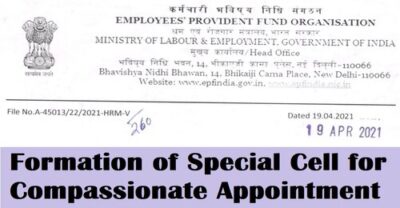 Source:https://www.epfindia.gov.in/site_docs/PDFs/Circulars/Y2021-2022/HRM5_SpecialCell_CA_260.pdf