Preventive measures to contain the spread of COVID19: Additional Guidelines by Department of Post – 23.04.2021
No, 27-20/2018-PO
Government of India
Ministry of Communications
Department of Posts
(PO Division)
Dak Bhawan, Sansad Marg,
New Delhi- 110 001
Dated: 23 April, 2021
To,
All Chief Postmasters General / Regional PMsG
Director RAKNPA/ All Directors PTCs
All GM(F)/ DA(P)
Subject: Preventive measures to contain the spread of COVID19
In continuation of instructions of even number issued by this division, dated 16 April, 2021(copy enclosed), the following additional guidelines are hereby issued:
(i) Keeping in view the prevailing Covid conditions and Covid instructions issued by Ministry of Home Affairs, Government of India and the respective Stat Governments/local authorities, HoCs are Competent to order temporary suspension of operations or restrict operating timings of operative offices.
(ii) It should be ensured that delivery of mails/MOs/Parcels/AePS payments etc is not adversely impacted.
(iii) Post offices counters should continue to offer all postal services they are authorized to offer.
(iv) Administrative offices including admin branches of Head Post Offices can follow the principle of 50% attendance of staff alternately and the remaining 50% working from home.
2. The above instruction shall be circulated to all the concerned.
3. This issues with the approval of the competent authority.
Encl: as above
(Sukriti Gupta)
Assistant Director General(PO)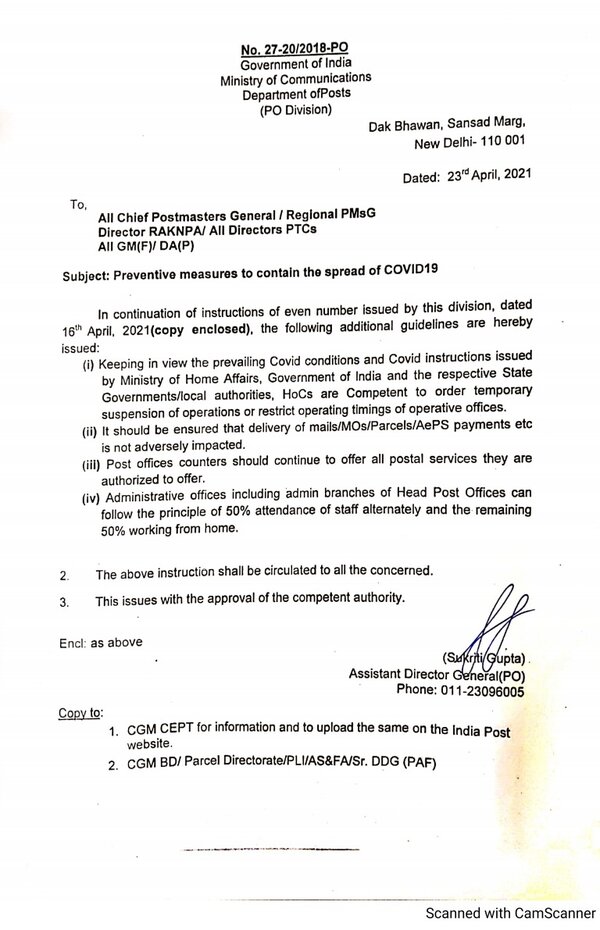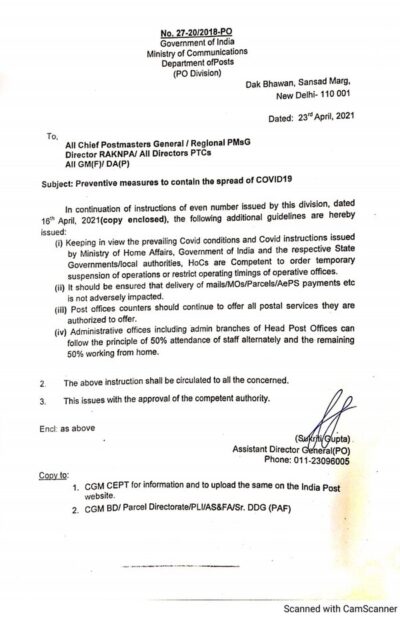 Source: http://utilities.cept.gov.in/dop/pdfbind.ashx?id=5524