Government Accounting Rules, 2021 – Revision of Government Accounting Rules, 1990
No. 13011/1/2020-Code-CGA/cno 1559/300
Ministry of Finance
Department of Expenditure
Office of the Controller General of Accounts
Code Section, Mahalekha Niyantrak Bhavan,
GPO Complex, INA, New Delhi — 110023
Dated : 09-08-2021
Office Memorandum
Subject: Revision of Government Accounting Rules, 1990.
A committee for revision of Government Accounting Rules, 1990 was constituted in the  O/o CGA. The committee has suggested the revision of rules incorporating all kind of changes affecting provision of GAR, 1990 that have taken place in the Accounting Organisation, Receipt and Payment Rules, General Financial Rules 2017, Delegation of Financial Power Rules and other changes/amendments in the existing procedures carried out especially on e-banking, e-receipts and e-payments, DBT etc. over the period of last 30 years.
2. The Committee reviewed the existing rules and best efforts have been made to incorporate latest amendments, new and revised definitions, use of electronic mode in receipts and payments, merger of plan and non-plan schemes etc. The revised Rules shall bring more clarity to the users and bring harmony with GFR, R&P Rules, DFPR, etc.
3. At present GAR, 1990 does not define Heads which are closed to Government or to balances and it is important to have these definitions especially for Asset accounting. In this context notes have also been proposed below Rule 23 and Rule 31. This will enable the Asset Block and Capital Expenditure to match for all financial and non-financial assets. The same objective was retained to prescribe various types of assets during creation of more object heads for expenditure which have been approved by O/o C&AG. A circular for maintenance of Asset Register was issued in Sep 2017 by the O/o CGA (copy enclosed for reference). Also the revised Rule 71 dealing with classification of sale proceeds of Land and Building has been proposed as per the suggestions of the O/o C& AG and the Budget Division, DEA.
4. Accordingly, Draft GAR, 2022 along with concordance table is enclosed herewith for comments/ advice of C&AG office with reference to Article 150 of the Constitution read with Rule 74 of GAR, 1990.
(T.C.A.Kalyani)
Jt. Controller General of Accounts
Government Accounting Rules, 2021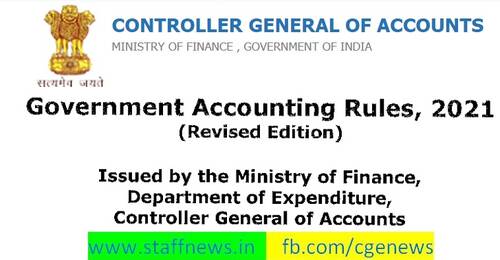 Source: Click here to view/download the PDF