Policy formulation for direct appointment of Trained Trade Apprentices: 48th NC JCM Meeting
Minutes of the 48th Meeting of the National Council (JCM) held on 26.06.2021 vide DoP&T OM No.3/4/2021-JCA dated 14th July, 2021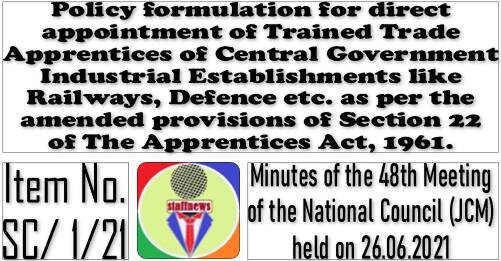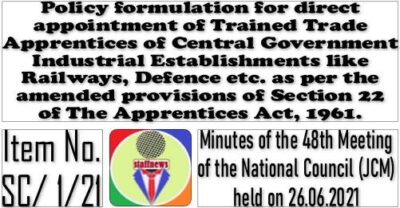 5.19 Item No. SC/ 1/21: Policy formulation for direct appointment of Trained Trade Apprentices of Central Government Industrial Establishments like Railways, Defence etc. as per the amended provisions of Section 22 of The Apprentices Act, 1961.
I t was discussed at the meeting of the SC, JCM chaired by Secretary(P) in February, 2021 that Railways have already formulated the policy for direct appointment of Trained Trade Apprentices in 2016 by reserving 20% of posts at level-I , & accordingly, provision has now been incorporated in the open-market recruitments for Level-1 posts, by providing preferential consideration for Course Completed Act Apprentices (CCAAs) trained in Railway establishment up to 20% of notified vacancies, which is already implemented. In case of MoD, the necessary guidelines have been issued on 09.01 .2020.
Secretary, Staff Side mentioned that the act apprentices are well qualified and pass through nine examination since their recruitment as apprentice till they pass out NCVT examination to get ITI certificate. Also, Railways is taking them in the Grade Pay of Rs.1800 instead of the grade pay of Rs.1900 meant for Technicians. So, there is no need of another examination and PET. If administration wants, they can take trade test. He further explained that earlier Railways absorbed CCAA's by paper scrutiny. Chairman, Railway Board stated that the matter of absorption of CCAA 's is under active consideration in consultation with recognized federations.
D/o Defence Production stated 5% grace marks are given to those who have undergone apprenticeship in Defence Establishments.
Shri C. Srikumar, Staff Side, informed that in MoD, there are different policies for different organization and there is no uniformity. In Navy, 60% of the vacancies in direct recruitment are for those who underwent apprenticeship, and there is a need to apply the formula uniformly to all. Additional Secretary, MoD stated that each Directorate formulates its own regulations and incorporates the same in their Rules.
Decision: Chairman directed MoD to hold discussions with representatives of Staff Side to resolve the issue.