Productivity Linked Bonus in place of ad hoc Bonus: raising the minimum ceiling to Rs. 18000/ – in accordance with 7th CPC: 48th NC JCM Meeting
Minutes of the 48th Meeting of the National Council (JCM) held on 26.06.2021 vide DoP&T OM No.3/4/2021-JCA dated 14th July, 2021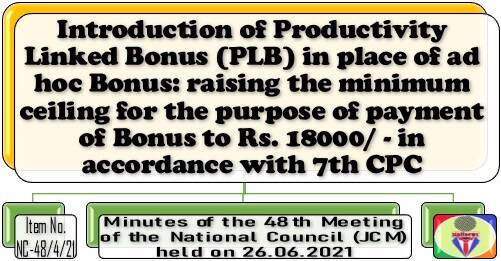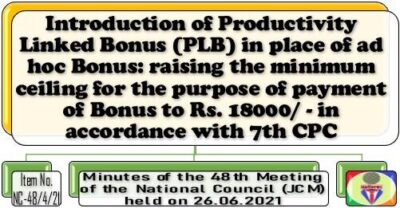 5.10. Item No. NC-48/4/21: Introduction of Productivity Linked Bonus (PLB) in place of ad hoc Bonus: raising the minimum ceiling for the purpose of payment of Bonus to Rs. 18000/ – in accordance with 7th CPC.
The demand in brief is that the Bonus be increased to Rs.18000/ -.
Addl. Secretary (Pers) , DoE, stated that the Payment of Bonus Act, 1965, provides the eligibility ceiling/ limit and calculation ceiling limit. The present eligibility monthly ceiling is Rs.21000 and the calculation monthly ceiling is Rs.7000. The remaining central government employees, not covered by any PLB Scheme, are being authorized ad-hoc Bonus (non-PLB) of Rs. 7000 per year, on the analogy of the relevant provisions of the said Act, wherein the limit is fixed by the M /o Labour and Employment.
Decision : The item may be closed for now.