Regarding Freezing of DA/DR and use of saved fund महंगाई भत्ता/ महंगाई राहत को रोकना और बचाई गई निधि का उपयोग
Government of India
Ministry of Finance
Department of Expenditure
Rajya Sabha
Starred Question No. 162
To be answered on Tuesday, 3 August, 2021
Sravan12 , 1943 (Saka)
Regarding Freezing of DA/DR and use of saved fund
462: Ch. Sukhram Singh Yadav:
Will the Minister of Finance be pleased to state:
(a) whether Government would not pay the arrears of dearness allowance OS to employees of Central Government since January 2020 till July 2021:
(b) if so, the details thereof and details of savings of Government due to freezing of DA/DR;
(c) if not, the reason therefor.
(d) the details of utilization fund saved by freezing of DA/DR; and
(e) the rationale for salary cut of Union Ministers for only 12 months till 31.03.2021 and their subordinate employees for 18months_ till 30.06.2021?
Answer
THE FINANCE MINISTER (SMT. NIRMALA SITHARAMAN)
(a) to (e): A statement is laid on the Table of the House
Statement referred to in reply to the Rajya Sabha Starred Question No. 162 by Ch. Sukhram Singh Yadav due for answer on 3 August, 2021
(a): Yes Sir. The Government has released the installments of DA/DR from 01.07.2021 which were due from 01.01.2020, 01.07.2020 and 01.01.2021 in respect of Central Government employees/pensioners. The Central Government employees/Pensioners will get DA/DR @ 28% (11% over the existing rate of 17%) from July, 2021. The rate of Dearness Allowance for the period from 01.01.2020 till 30.06.2021 shall remain at 17%; No arrears shall be paid for the period from January 2020 till 30.06.2021
(b) & (c): On account of freezing of three installments of Dearness Allowance and Dearness Relief to Central Government employees and pensioners due from 01.01.2020, 01.07.2020 & 01.01.2021, an amount of Rs.34402.32 crores approximately has been saved:
(d): The decision to freeze DA and DR was taken in the context of COVID-19 caused economic disruption so as to ease pressure on Government finances:
(e): In view of the crisis arisen out of COVID -19 pandemic, it became necessary to raise resources from different possible avenues including resources by reduction in the salary of Members of Parliament for a period of 12 months w.e.f. 01.04.2020 to 31.03.2021 by 30%. The salary of Union Ministers is at the same rate as specified in Section 3 of the Salaries, Allowances and Pension of Members of Parliament Act, 1954. As the salary payable to Members of Parliament was reduced by 30%, the salary of Union Ministers was also reduced by 30%. There was no salary cut or DA cut in respect of subordinate employees. They received salary and DA in full. Only further increase in DA was frozen from 01.01.2020 to 30.06.2021.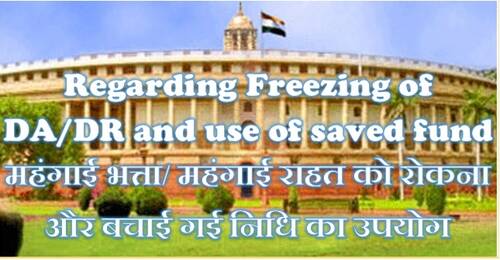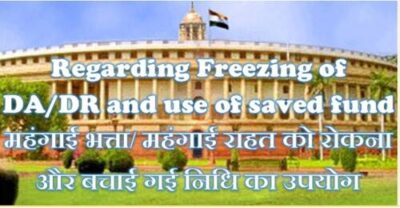 भारत सरकार
वित्त मंत्रालय
व्यय विभाग
राज्य सभा
मौख‍िक प्रश्न संख्य 1602
मंगलवार 08 अगस्त; 2021/ 12 श्रावण; 1943 (शक)
महंगाई भत्ता/ महंगाई राहत को रोकना और बचाई गई निधि का उपयोग
162. चोधरी सुखराम सिंह यादव:
क्या वित्त मंत्री यह बताने की कृपा करेंगे कि:
(क) क्या सरकार केंद्र सरकार के कर्मचारियों को जनवरी 2020 से जुलाई 2021 तक महंगाई भत्ते की बकाया राशि का भुगतान नहीं करेगी;
(ख) यदि हां, तो तल्संबंधी ब्यौरा क्‍या हैं; और डीए/डीआर को रोकने के कारण सरकार की बचत का ब्यौरा क्‍या है;
(ग) यदि नहीं, तो इसके क्‍या कारण हैं ;
(घ) डीए/डीआर को रोकने के कारण बचाई गई निधि के उपयोग का ब्यौरा क्या है;
(ड) केंद्रीय मंत्रियों का 31.03.2021 तक' केवल 12 महीनों और उनके अधीनस्थ कर्मचारियों का 30.06.2021 तक 18 महीनों के लिए वेतन कटौती करने का ओचित्य क्या है?
उत्तर
वित्त मंत्री (श्रीमती निर्मल्रा सीतारामन)
(क) से (ड.): एक विवरण सभा पटल पर रखा जाता है।
****
चौथरी सुखराम सिंह यादव द्वारा पूछे गए राज्य सभा मौखिक प्रश्न सं. 162, जिसका उत्तर 3 अगस्त, 2021 को दिया जाना है, के संदर्भ में उल्लिख़ित विवरण
(क): जी, हां। सरकार ने केंद्र सरकार के कर्मचारियों/पेंशनभोगियों के संबंध में 01,07.2021 से महंगाई भत्ते/महंगाई राहत की किस्तें जारी कर दी हैं जो दिनांक 01.01.2020, 01.07.2020 तथा 01.01.2021 से द देय थीं। केंद्र सरकार के कर्मचारियों/पेंशनभोगियों को जुलाई, 2021 से 28% की दर (17% की मौजूदा दर के ऊपर 11%) पर महंगाई भत्ता/महंगाई राहत मिलेगी। 01.01.2020 से 30.06.2021 तक की अवधि के लिए महंगाई भत्ते की दर 17% पर रहेगी। जनवरी 2020 से 30.06.2021 तक की अवधि के लिए कोई बकाया भुगतान नहीं किया जाएगा।
(ख) और (ग): केंद्र सरकार के कर्मचारियों और पेंशनभोगियों को दिनांक 01.01.2020, 01.07.2020 तथा 01.01.2021 से देय महंगाई भत्ते एवं महंगाई राहत की तीन किस्तों को रोकने के कारण 34402.32 करोड़ रुपए की राशि की बचत हुई।
(घ): महंगाई भत्ता और महंगाई राहत को रोकने का निर्णय कोविड-19, जिससे आर्थिक व्यवधान उत्पन्न हुआ, के संदर्भ में लिया गया ताकि सरकारी वित्तीय संसाधनों पर दबाव कम हो सके।
(ड.): कोविड-19 महामारी से उत्पन्न संकट को देखते हुए विभिन्न संभावित तरीकों से संसाधन जुटाना आवश्यक हो गया, जिसमें 01.04.2020 से 31.03.2021 तक 12 महीने की अवधि के लिए संसद सदस्यों के वेतन में 30% की कमी करना भी शामिल था। केंद्रीय मंत्रियों का वेतन संसद सदस्यों के वेतन, भत्ते और पेंशन अधिनियम, 1954 की धारा 3 में निर्दिष्ट समान दर पर है। चूंकि संसद सदस्यों को देय वेतन में 30% की कमी की गई केंद्रीय मंत्रियों का वेतन भी 30% कम कर दिया गया था। अधीनस्थ कर्मचारियों के संबंध में कोई वेतन कटौती या डीए कटौती नहीं की गई थी। उन्हें वेतन और डीए पूरा मिला। केवल डीए में अतिरिक्त वृद्धि को 01.01.2020 से 30,06.2021 तक रोक दिया गया था।
***
Source: Rajya Sabha Q&A PDF