LTC Package to visit Kashmir as special dispensation scheme
GOVERNMENT OF INDIA
MINISTRY OF PERSONNEL, PUBLIC GRIEVANCES AND PENSIONS
(DEPARTMENT OF PERSONNEL AND TRAINING)
RAJYA SABHA
STARRED QUESTION NO. 185
(TO BE ANSWERED ON 05.08.2021)
LTC PACKAGE TO VISIT KASHMIR
185 SHRI ANIL DESAT:
Will the PRIME MINISTER be pleased to state:
(a) whether there 1s a special package available for Government employees to visit Kashmir on LTC;
(b) if so, the details about the special facilities for air journey, stay, transportation etc. on attractive terms and conditions offered to gazetted and non-gazetted employees to encourage visit to Kashmir; and
(c) whether adequate safety and security is also there in view of terrorist activities in Kashmir, the details thereof?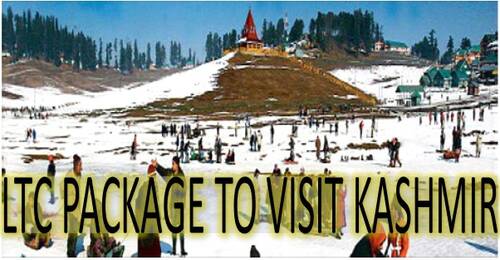 ANSWER
MINISTER OF STATE IN THE MINISTRY OF PERSONNEL, PUBLIC GRIEVANCES AND PENSIONS AND MINISTER OF STATE IN THE PRIME MINISTER'S OFFICE (DR. JITENDRA SINGH)
(a) to (c): A statement is laid on the Table of the House.
STATEMENT REFERRED TO IN REPLY OF RAJYA SABHA STARRED QUESTION NO.185 FOR ANSWER ON _ 05.08.2021 BY SHRI ANIL DESAI REGARDING LTC PACKAGE TO VISIT KASHMIR
(a) & (b): As per the special dispensation scheme, presently extended till 25.09.2022 :-
(i) All eligible Government servants may avail Leave Travel Concession (LTC) to visit any place in North East Region, Union Territory of Jammu & Kashmir, Union Territory of Ladakh and Andaman & Nicobar Islands, on any airline including private airlines, against the conversion of their one Home Town LTC in a four-year block of LTC;
(ii) Fresh Recruits have been allowed one additional conversion of Home Town LTC to visit Union Territory of Jammu & Kashmir;
(iii) Government employees who are not entitled to travel by air, have also been allowed to travel by air in economy class by any airlines, subject to the maximum fare limit of LTC-80, between Delhi/Amritsar and any place in Jammu and Kashmir.
(iv) The LTC fare and encashment of earned leave of 10 days, limited upto 60 days in entire service, 1s admissible on LTC journeys. Any other expenditure on the cost of stay, food and transport at the place of visit etc. is to be borne by the Government servant himself.
(c): In order to prevent terrorist attacks on tourist destinations and to ensure safe travel/stay of tourists in Kashmir, adequate security arrangements are in place.
Source: Rajya Sabha PDF