Vigilance Manual (updated 2021) Eighth Edition by Central Vigilance Commission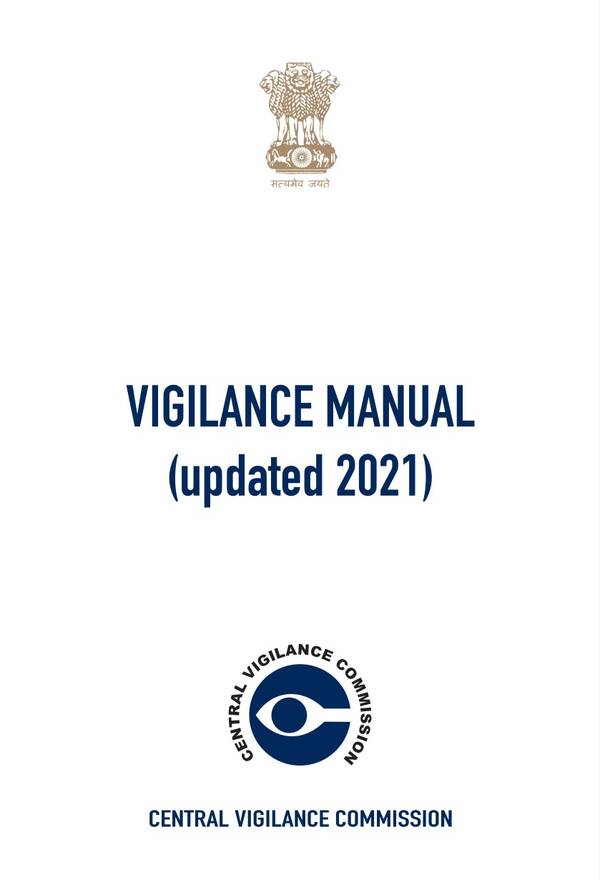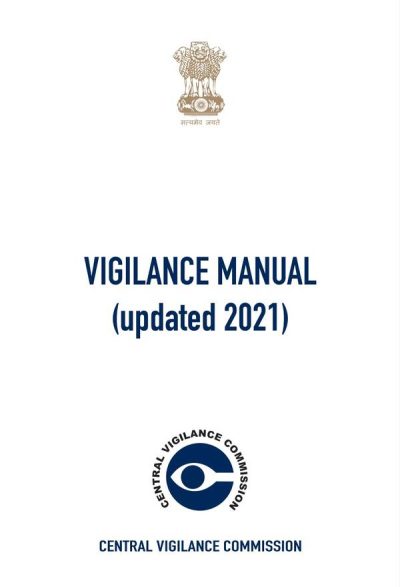 Vigilance Manual (updated 2021)
[EIGHTH EDITION]
Central Vigilance Commission
First Edition 1968
Second Edition 1971
Third Edition 1974
Fourth Edition 1982
Fifth Edition 1991
Sixth Edition 2005
Seventh Edition 2017
FOREWORD
The Central Vigilance Commission has brought out Vigilance Manuals comprising of compilation of various rules, instructions and guidelines on vigilance administration from time to time. The first edition of the Manual was published in 1968. The latest (seventh) edition of the Vigilance Manual was brought out in 2017.
During the last four years since 2017, many new developments have taken place. A number of new guidelines, both by the Government and by the Commission, have been issued. The Prevention of Corruption Act, 1988 has been amended. Some amendments have also been introduced in Discipline & Appeal Rules of various services. Procurement guidelines have also been updated. Banking and Insurance industries have also introduced significant changes in their guidelines.
Therefore, there was a need to bring out an updated edition of the Vigilance Manual, which serves as a comprehensive reference book for management as well as for those involved in vigilance administration.
(Suresh N. Patel)
Central Vigilance Commissioner
New Delhi
15.10.2021
ACKNOWLEDGEMENT
A Drafting Committee, under the Chairmanship of Shri Suresh N. Patel, Central Vigilance Commissioner was constituted with Shri Otem Dai, Secretary, CVC, Shri Praveen Sinha, Special Director, CBI and Shri P. Daniel, Additional Secretary, CVC, as Members. The Committee held wide consultations for preparation of the updated Vigilance Manual.
The Commission is grateful to the Director, CBI for providing the services of Shri Praveen Sinha, Special Director, CBI to function as a Member of the Drafting Committee. The Commission is also grateful to Shri Praveen Sinha, Special Director, CBI for sparing the time for this work.
The Drafting Committee was assisted by a host of officers including Dr. (Smt.) PK Singh, Shri Sudhir Kumar and Shri Ajay Kumar Kanoujia, all Additional Secretaries in the Commission, and, Shri Shailendra Singh and Shri Ashok Kumar, both CTEs in the Commission. The Drafting Committee is also grateful for the contributions of Shri Arvind Kadyan, ex-CVO, STC, Shri Alok Ranjan, CVO, BHEL and Shri Vijayendra Bidari, DIG, CBI. The Committee also acknowledges the significant roles played by officers of the Commission, namely, Shri Nitin Kumar, Director, Smt. M. Janaki, Director, Shri BB Roy, Director, Shri Rajiv Verma, OSD, Shri TP Sharma, OSD, Ms. WJ Keishing, Dy. Secretary, Shri Umesh Bhalla, Banking Advisor, Shri SC Teli, Banking Advisor, Shri Arvind Kumar, Under Secretary, Shri SK Gwaliya, Under Secretary and Shri SV Krishnan, Asst. Advisor in the process of updation of the Manual.
The services of Shri MA Khan, OSD, CVC in drafting, compilation, designing and printing of this Manual is specially acknowledged.
The Committee also acknowledges the painstaking efforts made by the Hindi Division led by Shri Benudhar Das in translating the Manual in Hindi.
DISCLAIMER
Vigilance Manual (updated 2021) is intended only to be a reference book and it cannot be a substitute for Acts, Rules, Orders, Instructions, etc. of various authorities.
We have taken every effort to provide accurate and updated information in the Vigilance Manual (updated 2021). For any inadvertent error and omission or doubt, the Commission may be contacted for clarification.
Commission does not take responsibility for accuracy and completeness of third-party Circulars / Citations, etc. referred in the Manual.
The Hyperlinks to third party websites that have been included in this Manual are provided for public convenience only. The Commission is not responsible for the contents or reliability of the hyperlinked websites and does not necessarily endorse the view expressed within them or guarantee the availability of such linked pages at all times.
The Commission welcomes suggestions on content or form and inadvertent errors or omissions in this Manual for further improvement.
All rights reserved.
This book is permitted for non-commercial use in any form by anybody or by any organisation. No part of this publication may be reproduced, distributed, or transmitted in any form or by any means, including photocopying, recording, or other electronic or mechanical methods, for any commercial use, or otherwise, without the prior written permission of the Central Vigilance Commission.
INDEX

PAGES

Foreword
Acknowledgement
Disclaimer
Table of Contents
vii
Chapter I –
Vigilance Administration
1
Chapter II –
Appointment, Role, Functions and Responsibilities of Chief Vigilance Officers
31
Chapter III –
Complaints
55
Chapter IV –
PIDPI Complaints
83
Chapter V –
Preliminary Enquiry
91
Chapter VI –
Central Bureau of Investigation
103
Chapter VII –
Disciplinary Proceedings and Suspension
133
Chapter VIII –
Specific Issues Related to Public Sector Banks and Insurance Companies
219
Chapter IX –
Chief Technical Examiners' Organisation
257
Chapter X –
Preventive Vigilance
309
Chapter XI –
Some Relevant Issues
331
Chapter XII –
e-Vigilance
371
List of Abbreviations
379
Notes
385
CHAPTER – I
1 Introduction
2 Evolution of Vigilance Administration
2 Central Vigilance Commission
3 Administrative Vigilance Division
3 Central Bureau of Investigation
4 Vigilance Unit of the Organisations
4 Disciplinary Authority
5 Supervisory Officers
5 Jurisdiction of Central Vigilance Commission
5 Jurisdiction under Section 8
7 Jurisdiction over other categories in special cases
7 Composite cases
7 Difference of opinion
8 Complaints under pIDpI resolution
8 Below Group 'a' Gazetted officers of Central Government
8 Functions and Powers of Central Vigilance Commission
8 As laid down in Section 8(1)
10 As laid down in other Sections
10 power relating to inquiries
10 Tender advice on report of inquiry
11 Call for reports & returns
11 Mandatory consultation by Central Government
12 Annual report of Commission
12 recommendation to Government on key appointments in eD
13 recommendation to Government on key appointments in CBI
13 Residuary functions under CVC Resolution of 1964
13 Appointment of CVOs
14 Writing ApArs of CVOs
14 Commission's advice in prosecution cases
14 resolving difference of opinion between the CBI and the administrative authorities
15 entrusting cases to CDIs
15 Advising on procedural aspects
15 review of procedure and practices
16 Functions under PIDPI Resolution of 2004
16 CVC as Specified authority under PMLa, 2002
16 Inputs on vigilance status of officers for appointment to key positions
17 Other functions and activities
17 Supervision & control of CTeO
17 Appointment of Independent external Monitors
17 Capacity Building programme
17 Vigilance Awareness Week
18 News Letter
18 Assistance to Constitutional Courts
18 Definition of Vigilance angle
22 Managing Conflict of Interest
23 Organisational Structure of Commission
25 Advisory functions of Commission – A Summary
CHAPTER – II
31 Introduction
32 Appointment of CVO
32 Appointment of part time CVO in Ministries / Departments
32 Additional charge arrangements of CVOs in certain pSUs
33 Appointment of CVO in Departments where the CVO is a Cadre post
33 Appointment of full time CVO in pSUs / Societies / Autonomous Bodies and Departments
34 Appointment of CVO in Select Organisations
35 Appointment of CVO in public Sector Banks, Insurance Companies and Financial Institutions
35 Appointment of CVO in Autonomous Organisations / Societies, etc.
36 Charge assumption report by CVOs
36 Tenure of CVO
37 Short term arrangement in the post of CVO
38 Association of CVO with other Organisational matters
39 permanent absorption of CVO
39 Assessment of CVO's work
40 Duties and Functions of CVO
40 preventive Vigilance Functions
44 punitive Vigilance Functions
48 Surveillance and Detection
49 Some specific functions of CVO in pSBs
49 Vigilance Administration of Subsidiaries and Joint Venture Companies
50 Jurisdiction over Joint Venture Companies
50 Monitoring of Vigilance Cases & Organising Structured / periodic meetings
51 Submission of periodical reports by CVO to the Commission
51 handling of complaints against CVO / other Vigilance Functionaries
52 Chief executive vis-à-vis Vigilance Matters
53 Manpower in Vigilance Setup
53 Appointment of Retired Persons in Vigilance Unit
53 rotation of Vigilance Officers
54 protection against Victimisation of Vigilance Officials
CHAPTER – III
55 Introduction
55 Source of complaints
57 Action on audit reports including CAG paras, News Items, etc.
58 Complaint handling policy of Commission
59 action taken on complaints in the Commission
63 Handling of complaints against Secretaries to GoI & Chief Executives, etc. in the Commission
65 Lokpal Complaints
65 Action on complaints received by Ministries / Departments
68 Action on complaints received by CpSe, pSB, pSIC, etc.
69 handling of complaints against Board level officials
71 handling of complaints against CVO, VO, etc.
71 action on complaints received from Members of Parliament and
Dignitaries
71 Action on Anonymous / Pseudonymous complaints
74 Instructions to complainants
77 action against persons making false complaints
79 Withdrawal of complaints
80 Form CVO-1(Annexure I)
81 extracts from Civil Services Manual of Office procedure-2015 (Annexure II)
CHAPTER – IV
83 Introduction
83 Whistle Blowers Act
83 PIDPI Resolution
86 handling of complaints received under pIDpI resolution
89 protection to Whistle Blowers
90 Supervision and Monitoring of Designated Authority
CHAPTER – V
91 Introduction
91 Agencies for conducting Preliminary Enquiry / Investigation
92 Consultation with CBI
92 allegations difficult to segregate
92 Parallel investigation by Departmental Agency and the CBI
93 referring matter for investigation
94 Competency to refer matter to CBI
95 Preliminary Enquiry by Departmental agencies
99 enquiry against officers on deputation
99 enquiry against officers under suspension / close to retirement
100 resignation by officers pending investigation/ inquiry
100 Grant of immunity / pardon to approvers
CHAPTER – VI
103 Evolution
103 Jurisdiction of CBI vis-à-vis State police
104 Superintendence and Administration of CBI
106 Appointments in CBI
107 Enquiry / Investigation by CBI
110 Forwarding copies of FIr / pe
112 Action on CBI Report
112 Cases where Action by Department recommended
113 Cases where prosecution recommended
114 Previous sanctions for launching Prosecution
115 Guidelines for sanctioning authorities
117 Commission's advice in sanction of prosecution
118 reconsideration of Commission's advice
119 resolving difference of opinion
119 reference to DopT
120 Grant of Immunity / pardon to approvers
120 Assistance and Co-operation to CBI in enquiry/ Investigation
121 Inspection, seizure & examination of records and providing documents to DA
128 Close liaison between CBI and theAdministrative Authorities
128 Assistance in preparation & maintenance of Agreed List
129 assistance in preparation & maintenance of list of Officers of Doubtful Integrity (ODI)
129 Joint Surprise Check
129 List of Undesirable Contact Men
129 Agreed list of points & places of corruption
130 Appreciation reports
131 List of unscrupulous contractors, etc.
CHAPTER – VII
133 Introduction
133 Disciplinary rules
135 penalties
139 Authority competent to initiate proceedings
139 Authorities competent to initiate proceedings against lent or borrowed officers
139 Check-list for forwarding cases IaS officers to Dopt under Single Window System
140 Institution of formal proceedings
141 Common proceedings
142 Special procedure in certain cases
143 Consultation with CVC not required in conviction cases
143 Dispensation of inquiry under rule 19(iii) of CCS (CCA) rules, 1965
144 prosecution vis-à-vis Departmental proceedings
147 Procedure for obtaining Commission's First Stage Advice
149 Information to be submitted for obtaining Commission's first stage advice
150 Timeline for submission of cases involving public servants due to retire shortly
150 Commission's advice in Composite cases
151 Making available a copy of CVC's first stage advice to the concerned employee
151 Difference of opinion between CVO and Chief Executive, etc.
151 reconsideration of Commissions' First Stage Advice
152 Initiation of Disciplinary proceedings for Minor penalties
154 Initiation of Disciplinary proceedings for Major penalty
156 Articles of Charge
160 Action on receipt of the written statement of defence
161 Consultation with DoPT in cases of difference from / non acceptance of CVC advice
162 Amended / Supplementary charge-sheet
163 Appointment of Inquiring Authority
164 CDI as Inquiring Authority
164 panel of retired officers for appointment of IOs
165 procedure for empanelment of retired officers as IO and grant of honorarium
166 appointment of a presenting Officer
167 honorarium to pO
167 Assistance to CO
169 Documents to be forwarded to the inquiry officer
170 holding oral inquiry
171 Disciplinary Proceedings through Video Conferencing
172 responsibilities of IO
174 responsibilities of pO
175 Monitoring of performance of Presenting officer
175 Stay of disciplinary proceedings
176 Handling of Legal / Court matters
178 ex-parte proceedings
178 Invoking rule 19(ii) of CCS (CCA) rules,1965
178 Action on Inquiry report
179 Further Inquiry
180 Making available a copy of CVC's second stage advice to the concerned employee
180 Procedure for obtaining Second Stage Advice of the Commission
181 Advice in Composite Case
182 Second stage Consultation with CVOs in disciplinary cases of Category 'B' officers
183 No reconsideration of Second Stage advice of Commission
183 procedure for dealing with cases of disagreement between Disciplinary Authority and CVC — instructions regarding consultation with UpSC
184 Issue of final order on the report of Inquiring authority
187 Communication of order
187 Difference of opinion with CVC advice
188 Defect in proceedings after the inquiry will not invalidate earlier part of the proceedings
188 reconsideration of a decision by successor Disciplinary Authority
189 Action for past misconduct in previous employment
189 Appeals, revision and reviews
189 Orders against which appeal lies
189 Appellate Authority (rule 24)
190 period of limitation for appeals (rule 25)
191 revision (rule 29)
192 Orders by the revising Authority
192 procedure for revision (rule 29)
192 review by the president (rule 29-A)
193 Deviation case to be reported to Commission
194 petitions, memorials addressed to the president
194 Suspension
195 Suspension on the recommendation of CBI
195 Action against pensioners
196 Imposition of penalty of withhold or withdraw pension as a result of Minor penalty proceedings
198 Action in cases in which Departmental proceedings had been initiated before retirement
198 Action in cases in which a Government servant had retired from service
199 Judicial proceedings
199 Disciplinary action against retired pSU employees
200 Consultation with UpSC in Disciplinary Matters
201 Matters in which consultation with UpSC is necessary
201 Where U.p.S.C. advice is obtained at second stage, consultation with Commission not required (para 7.46.3)
201 Adherence to time limit in conducting Departmental Inquiries
204 Model time-limit
205 time limits for finalisation of Departmental Inquiry proceedings
206 Timely completion of proceedings is prime responsibility of DA
207 Delay in decision-making to be construed as misconduct
207 responsibility for delay – shift from vigilance to personnel Department
207 CVO to pursue implementation of advice within a month
208 DopT OM No. 1012/17/2013-estt (A) dated 02.01.2014 – consolidated instructions on suspension (Annexure I)
CHAPTER – VIII
219 Introduction
219 Vigilance angle in Public Sector Banks
220 Fixing staff accountability
221 Consultation with the Commission in respect of retired officers of public Sector Banks
222 Determination of Vigilance angle in Public Sector Banks
223 role of CVO of public Sector Banks
223 Vigilance administration in regional rural Banks (RRBs)
224 Frauds
225 Loan Frauds
226 CVC Analysis of 100 Top Frauds
227 Cyber Crimes and Frauds in the banking sector
228 Credit Card fraud
228 preventive measures to check cybercrimes and frauds
228 enhancing security of card transactions
229 Technology related fraud prevention
229 Vulnerability & red Flags
231 Preventive Vigilance in Banks
233 KYC / KYe / KYp
233 Know your customer
233 Know your employee
234 Know your partner
234 Fraud risk and governance
235 Reporting of fraud cases
235 reporting to CBI / police
236 reporting in respect of large value frauds
236 Constitution of Advisory Board for Banking and Financial Frauds (ABBFF)
237 Fraud reporting to Commission
238 Forensic scrutiny of irregularities
239 Forensic audit and vigilance investigations in Banks
240 Vigilance angle in insurance related transactions
242 Preventive Vigilance in insurance sector
242 Underwriting Check points
245 Claims
247 Motor Accident Claim Tribunal (MACT) & Other Legal Claims
248 Accounts
250 Appointment of Surveyors
250 empanelment of TpA / hospitals / Brokers in health Insurance
250 Internal Advisory Committee
251 posting of officers on sensitive post(s)
251 protection Against Cyber Frauds/ Cyber Crimes
251 Digital Insurance policies
251 Guidelines on filing of Iprs & Mpr
252 DFS Letter No. 4/5/2014-Vig. dated 13.05.2015- (Annexure A)
256 CVC Circular No. 06/06/17 (007/VGL/050) dated 14.06.2017 – reporting of fraud to police (Annexure B)
CHAPTER – IX
257 The Organisation
258 Role & Functions
259 Intensive Examination
260 Submission of Quarterly progress report by CVO
260 Monetary limits for reporting in Qpr
262 Selection of procurement Cases for Intensive examination
263 process of Intensive examination
264 SOp for dealing with Intensive examination
267 Schedule of time limits for Ie
269 Intensive examination report
269 projects funded by World Bank, etc.
270 Follow up Action on the Ie report
271 Flow diagram showing stages of Ie process
272 CTE Type Intensive Examination by CVO
272 Selection of procurement cases forIntensive examination
272 Documents / records for examination
274 Check points to carry out Intensive examination
276 Intensive Examination Report
276 Follow up Action on CTE Type IE Report
277 Public Procurement
278 Important Ingredients of public procurementprocess
278 procurement Manual
279 Scope of Work / Time perspective
279 Administrative Approval & expenditure Sanction (A/A & e/S)
280 Consultancy
281 Detailed project report (Dpr) / Detailed estimate
282 Design and Drawings
282 Tender Documents
284 pre-qualification / Bid eligibility Conditions
284 Notice Inviting Tender
285 Tender evaluation and Award of Contract
286 Contract Agreement
288 payment to the Contractors
290 release of Guarantee / Security Deposits
290 Completion report
291 Integrity Pact
291 Modes of Tendering
292 Open Tender
293 Limited Tender
294 Single tender / Nomination
294 Spot purchase / tender
295 Leveraging Technology
295 e-procurement
296 e-Sale
297 reverse Auction
297 Swiss Challenge
299 Common Irregularities in Public Procurement
303 relevant instructions from Ministry of Finance
303 Managing Conflict of Interest in procurement
CHAPTER – X
309 Recommendations of Santhanam Committee
311 The Concept of preventive Vigilance
312 Causes of corruption
312 potential Areas of Corruption
313 Preventive Vigilance Measures
317 Integrity Pact
318 Adoption of Integrity pact – Standard Operating procedure; Independent external Monitor
320 CVC Circular dated 03.06.2021 – SOp on Integrity pact (Annexure I)
CHAPTER – XI
331 Standard Operating procedure regarding Legal Cases where Commission has been made respondent
334 Procedure for Obtaining and Grant of Vigilance Clearance
337 right to Information Act, 2005
341 International Cooperation against Corruption
341 United Nations Convention Against Corruption (UNCAC)
343 International Criminal Police Organization (INTERPOL)
345 CoSP (Conference of States Parties) to the UNCAC
346 Implementation Review Group (IRG)
347 Implementation Review Mechanism (IRM) of UNCaC
348 G20 (Group of Twenty)
349 G20 ACWG (anti-Corruption Working Group)
350 BRICS
351 BRICS WGAC (Working Group on anti-Corruption Cooperation)
352 Details of efforts made by Commission towards International Cooperation
353 public participation in promoting Integrity and eradicating Corruption
354 encouraging ethical conduct
355 Integrity pledge
355 Fundamental Duties
355 participation of Institutions
358 Observance of Vigilance Awareness Week
359 Forensic Science as a Tool for enquiry/ Investigation
360 Computer Forensics
362 Training in Forensic Science
362 Managing Conflict of Interest of public Servants
367 Format of Integrity pledge for citizens and organisations (Annexure I)
CHAPTER – XII
371 Background
372 Issues Faced
374 Proactive Measures
378 Internet of Things (IOT)
Click here to view/download the Vigilance Manual (Updated 2021) (Compressed)