FORM 1 – Certificate of verification of Service for Gratuity: CCS (Payment of Gratuity under NPS) Rules, 2021
FORM 1
Certificate of verification of Service for Gratuity
[See rule 21]
No. …… …… …… …… …… …… …… …… ……
Government of India
Ministry of …… …… …… …… …… …… ……
Department/Office …… …… …… …… ……
Dated D D M M Y Y Y Y
Certificate
It is certified, in consultation with the Accounts Officer, that Shri/Smt./Km. …… …… …… …… …… …… …… …… …… …… (Name and Designation) has completed a qualifying service of …… years …… months …… days as on …… …… …… (date), as per details given below. The service has been verified on the basis of his service documents and in accordance with the rules regarding qualifying service in force at present. The verification of service under sub rules (1) and (2) of rule 21 of the Central Civil Services (Payment of Gratuity under National Pension System ) Rules, 2021, shall be treated as final and shall not be re-opened except when necessitated by a subsequent change in the rules and orders governing the conditions under which the service qualifies for gratuity.
DETAILS OF QUALIFYING SERVICE
S.

No.

Name of Ministry/Department /Office
From
To
Length of qualifying service
1.
2.
3.
Signature and stamp of Head of Office
To
Shri …… …… …… …… …… ……
(Name and Designation)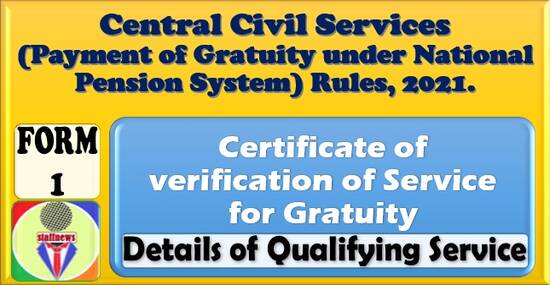 FORM 1 – Certificate of verification Hindi/English PDF