Engagement of a dependent of deceased Gramin Dak Sevaks on compassionate grounds if she/he does not possess requisite educational qualification – Review of the scheme
No.17-01/2017-GDS (Vol-I)
Government of India
Ministry of Communications
Department of Posts
(GDS Section)
Dak Bhawan, Sansad Marg,
New Delhi-110 001
Dated: 09.02.2022
OFFICE MEMORENDAM
Subject: – Review of the scheme for engagement of a dependent of deceased Gramin Dak Sevaks on compassionate grounds-reg.
Kindly refer to this office letter No. 17-01/2017-GDS dated 30.05.2017 and letter of even number dated 12.11.2021 on the above mentioned subject.
Read also: Time limit for finalization of the compassionate engagement within 2 months of the death of GDS
2. Present guidelines on compassionate engagement does not provided engagement of dependent of deceased GDS, if she/he does not possess requisite educational qualification at the time of death of the Sevak or while applying for engagement on compassionate grounds.
3. In this context, several references were received form Service Unions. The matter has been examined by the Competent Authority and approved that only for the post of Dak Sevaks can considered and may be given considerable time upto maximum 3 years for acquiring of minimum required educational qualification as prescribed with the following terms and conditions: –
She/he will be at the minimum of TRCA. Annual increment shall not be allowed until acquiring the minimum required educational qualifications and until regularization of engagement.
Engagement shall be provisional subject to provisions under Rule-8 of GDS (Conduct and Engagement) Rules, 2020 in the case of not acquiring minimum required educational qualification.
Transfer shall not be considered before regularization of engagement.
4. This OM comes into effect from the date of issue.
Read also: Grameen Dak Sevaks (GDS) – Working Strength, Service benefits & Welfare Schemes
5. This issues with the approval of the Competent Authority.
Yours sincerely
(D. K. Tripathi)
Assistant Director General (GDS/PCC)
Tel. No. 011-23096629
Email:-adggqds426[at]qmail.com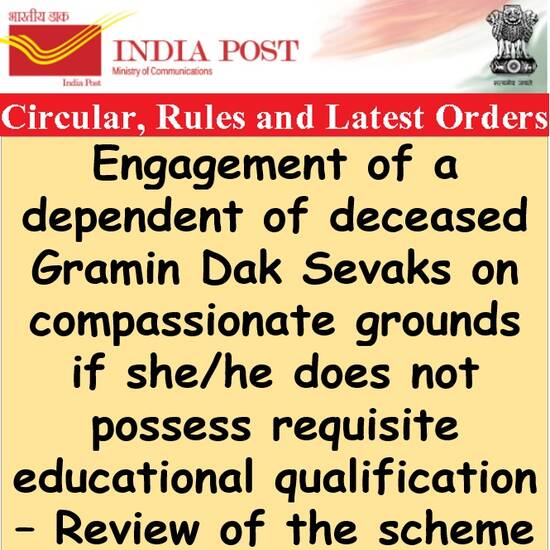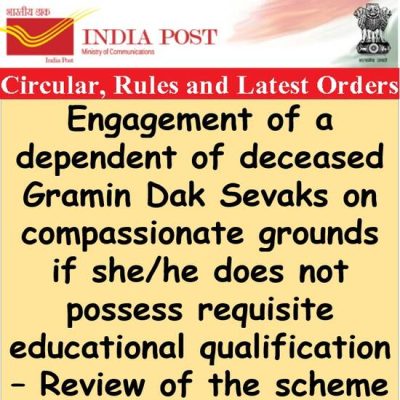 Source: Click here to view/download PDF