Postal Employee population for multi pronged activities of the Government schemes of various departments
GOVERNMENT OF INDIA
MINISTRY OF COMMUNICATIONS
LOK SABHA
UNSTARRED QUESTION NO: 100
ANSWERED ON: 02.02.2022
Postal Employees
D. M. Kathir Anand
Will the Minister of COMMUNICATIONS be pleased to state:-
(a) whether the Government has any plans to use the existing post offices and postal employee population for multi pronged activities of the Government schemes of various departments;
(b) if so, the details thereof;
(c) the effective steps taken by the Government to use the existing infrastructure and lands belonging to postal department; and
(d) the details of the total employees in postal department, State-wise along with the asset value?
ANSWER
MINISTER OF STATE FOR COMMUNICATIONS (SHRI DEVUSINH CHAUHAN)
(a) The existing Post Offices are being used for providing various citizen centric services in addition to Mail/Parcel, Savings Bank and Insurance Services.
(b) Post offices are providing various citizen centric services relating to other departments viz. Aadhaar enrolment and updation facilities, passport application processing through Post Office Passport Sewa Kendras, Government to Citizen and Business to Citizen services through "Common Service Centres" set up in Post offices, Digital Life Certificates, Railway Passenger Reservation system, Pradhan Mantri Jeevan Jyoti BimaYojna (PMJJBY), door to door banking services through India Post Payment Bank etc.
(c) The existing infrastructure and land of the Department of Posts is used for providing various Citizen Centric Services and constructions of postal buildings including parcel hubs, transshipment centres subject to availability of funds.
(d) The details of employees in the Postal Department is annexed. No data is maintained in respect of asset value.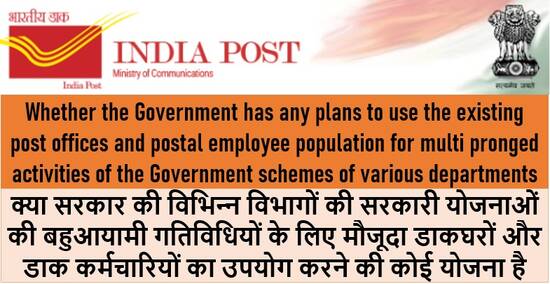 Source: Lok Sabha PDF