Issue of full Liquor Quota on producing Smart Card from any Canteen Across Country: Army HQ Order
Army Headquarters
Quartermaster General's Branch
Dy Dte Gen Canteen Services
New Delhi-110001
No. 96301/D/DDGCS
31 Mar 2022
Headquarters
HQ Southern Command/Q (Ops)
HQ Eastern Command/Q (Ops)
HQ Western Command/Q (Ops)
HQ Central Command/Q (Ops)
HQ Narthern Command/Q (Ops)
HQ South Western Command/Q (Ops)
Army Training Command/Q (Ops)
HQ Andaman & Nicobar Command/Q
Air Headquarters (Die of Org)
Naval Headquarters (DPS)
Coast Guard Headquarters
SUB : ISSUE OF FULL LIQUOR QUOTA ON PRODUCING SMART CARD FROM ANY CANTEEN ACROSS THE COUNTRY
1, This HQ is receiving complaints from various quarters stating that some of the URCs we not giving full quota of liquor as authorized to an individual on smart card, Also it has been intimated by troops that URCs are not giving liquor on the smart card when they go on leave temporary duly. It is reiterated that all personnel of armed forces are authorized to draw their full liquor quota from any URC in the country on producing the smart Card.
2. This is a facility extended to all ranks of Armed Forces. No URC will deny this facility to any authorized customer. Necessary action may be initiated against the defaulting URCs in future.
3. Naval HQs have intimated that dependent members of their family are not being given canteen stores without smart card, as already informed, Naval HQs is in the process of implementation of CIMS, till such time canteen facilities may not be denied to them.
4, HQ commands are requested to issue necessary instructions to call concerned on the above issues.
5. Naval HQs only. This disposes off your query on the subject.
(R S Khatri)
Lt Col.
Jt Dir CS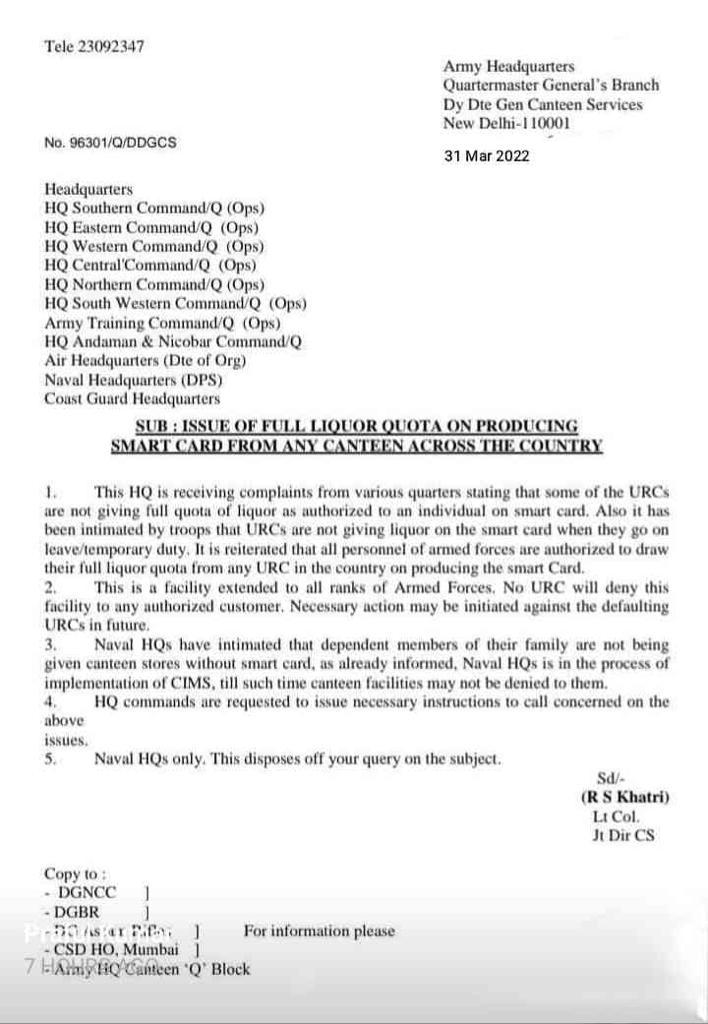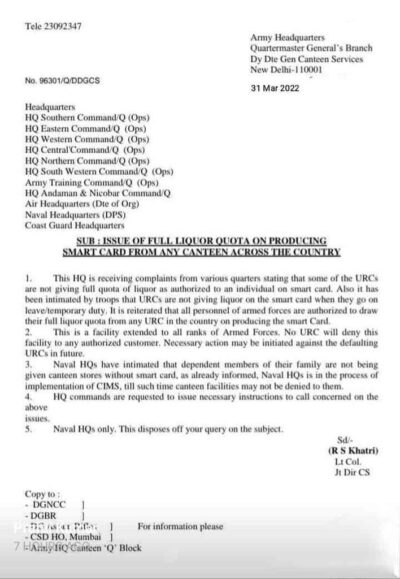 Source: https://tsewa.org/archives/9257