Reservation for Persons with Benchmark Disabilities – Clarification with regard to the concept of own merit: DoP&T OM dated 27.09.2022
No.36035/02/2017-Estt(Res)
Government of India
Ministry of Personnel, Public Grievances and Pensions
Department of Personnel and Training
North Block, New Delhi.
Dated Sept. 27, 2022
Office Memorandum
Subject: Reservation for Persons with Benchmark Disabilities – Clarification with regard to the concept of own merit.
The undersigned is directed to refer to Para 4.2 of the OM of even number, dated 15.1.2018 and Para 7.2 of OM No. 36012/1/2020-Estt(Res.-II), dated 17.5.2022, which, inter alia, states that the Persons with Benchmark Disability (PwWBD) selected without relaxed standard, along with other
unreserved candidates, will not be adjusted against the vacancies reserved for them and that the vacancies reserved for PwBDs will be filled up separately from amongst the eligible PwBD candidates who are lower in merit than the last unreserved candidate in merit list but otherwise found Suitable for appointment, if necessary, by relaxed standard.
2. Queries have been received in this Department, from time to time, on the following three aspects: –
Whether PwBD candidates who have qualified on their own merit without any relaxed standard should be appointed against the vacancies not reserved for PwBDs, i.e., against the unreserved vacancies which will be in addition to the vacancies earmarked for PwBD category candidates;
Whether the facility of a scribe availed by a PwBD candidate, along with the compensatory time, shall be treated as relaxed standard; and
Whether the disability a PwBD candidate is suffering from, shall be treated as relaxation in medical standard, which will disable him from being treated as own merit Category.
3. In this connection, it is also pertinent to mention that this Department had constituted a Committee which deliberated upon the above three aspects, particularly in respect of Civil Services Examination (CSE), and recommended, inter-alia, the following: –
the 'own merit' concept for PwBD category candidates Should be implemented in CSE, in accordance with Establishment (Reservation) Division's OM No.36035/2/2017-Estt(Res), dated 15.01.2018.
The facility of scribe, extra-time and relaxation in medical standards available to PwBD category candidates should not be treated as 'relaxed standard'.
4. Accordingly, the following clarifications are issued: –
5. All the Ministries/Departments of the Government of India are requested to bring the above instructions to the notice of all the appointing authorities under their control to provide the benefit of 'own merit' to the PwBDs, in accordance with these guidelines.
6. This is being issued after having consultation with the Department of Empowerment of Persons with Disabilities and the Department of Legal Affairs.
7. This issues with the approval of Secretary (P)
(S.P. Pant)
Director (Res-II)
Ph.23093074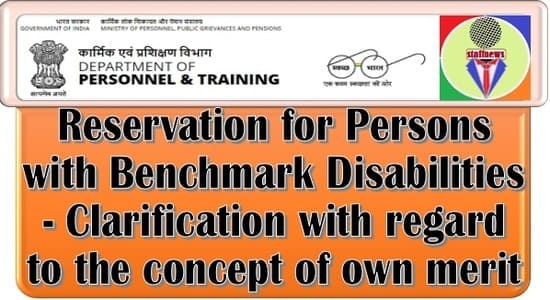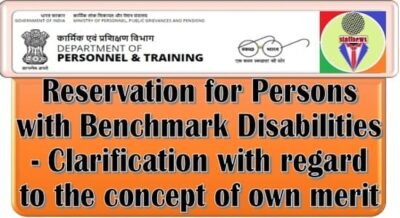 Click here to view/download the PDF