Filling up of vacancies in Railways in a mission mode – 1,52,713 direct recruitment and 1,48,000 promotions upto March/April 2023
GOVERNMENT OF INDIA
MINISTRY OF RAILWAYS
RAILWAY BOARD
No. E(NG)I1/2019/RR-1/6Pt.
New Delhi, Dated 03rd Oct, 2022
The General Manager,
All Zonal Railways/Production Units
Sub: Filling up of vacancies in Railways in a mission mode- regarding
As you might be aware that DOP&T vide O.M. dated 12.09.2022 has directed filling up of vacancies including promotional vacancies in mission mode. DOP&T has specifically sought regular uploading of data regarding offers of appointment issued and ready to be issued against direct recruitment quota vacancies.
As has been repeatedly emphasized there has to be a constant monitoring of filling up of promotion quota vacancies and the monthly targets in this regard which have been furnished earlier by the Zonal Railways need to be achieved to fulfill the overall target approximately 1,48,000 promotions, upto March 2023.
RRBs have already furnished panels against additional indents and isolated categories and have completed the examination process for CEN 01/2019 (NTPC) and the CBT of CEN RRC-01/2019 (Level-1) is nearing completion. Accordingly, the Zonal Railways/Units are required to complete the empanelment process and also be ready with offers of appointment for all the approximately 1,52,713 direct recruitment intake by March/April, 2023. Further this process has been projected suitably staggered month-wise for readiness of offers of appointment and promotions finalized.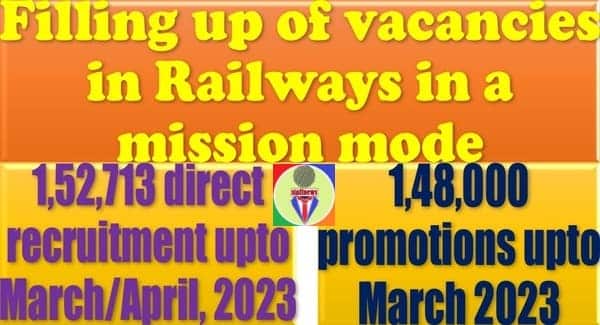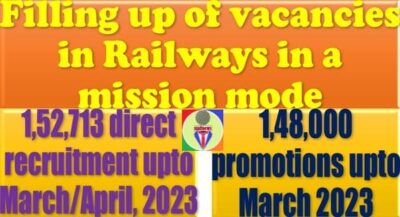 Zonal Railways are advised to gear up their machinery in all aspects to ensure timely Physical Efficiency Test (PET), Document Verification (DV), Medical Examination and appointment formalities for all their candidates expected from RRBs and RRCs. Especially regarding Level-1, on release of the CBT results by RRBs within Dec, 2022, the examination process would have to be taken to conclusion by the RRCs of the respective Railways. This would entail conduct of PET as early as January, 2023 and completion of Document Verification and Medical Examination within Feb, 2023 so as to thereafter be ready with offers of appointment by March/April, 2023. Thus Railways would have to cover a minimum of 4000 candidates per day for PET and 500 candidates per day for DV and Medical Examination.
Kindly direct your Departmental Heads especially PCPOs & PCMDs to liaise effectively, plan in advance, coordinate with DRMs, and make all necessary arrangements for enabling this targeted exercise to be successful.
The PCPOs have already been briefed in this matter and instructed to ensure weekly/monthly submission of correct data, both for recruitments and promotions, in the prescribed formats. 'Further, details of all appointment offer letters already issued and further in readiness will have to be consolidated at Zonal Headquarters for making available for Unified Integrated Digital Issuance as directed by DOP&T.
(Aruna Nayar)
PED/STAFF,
Railway Board
Click here to view/download the PDF