Facilities extended by O/o PCDA (O) to Veteran Officers – CTG on re-employment, Access to Website, CEA & Stepping up of pay: Message by RODRA
Retired Officers Digital Records Archive
FACILITIES EXTENDED BY O/o PCDA (O) TO VETERAN OFFICERS
1. Composite Transfer Grant (CTG) on Re-employment. For officers proceeding On re-employment, claim of CTG to new duty station will be admitted if the officer desires to Prefer the claim for new duty station instead of SPR.
2. Access to PCDA (O) Website. Veteran officer have now been granted log-in access to their account in PCDA (O) website for one year after retirement instead of the earlier time limit of six months.
3. Children Education Allowance (CEA). Post retirement, CEA can be claimed by a veteran officer at the end of the academic year as per entitlement.
4. Stepping up of pay. Pay anomaly between senior promoted in 6th CPC regime And junior promoted in 7th CPC regime will be resolved by PCDA (0), suo-motto as per instructions issued by MoD vide letter dated 01 Jul 2022. In case of revision in basic pay Before retirement, revised PPO will be issued.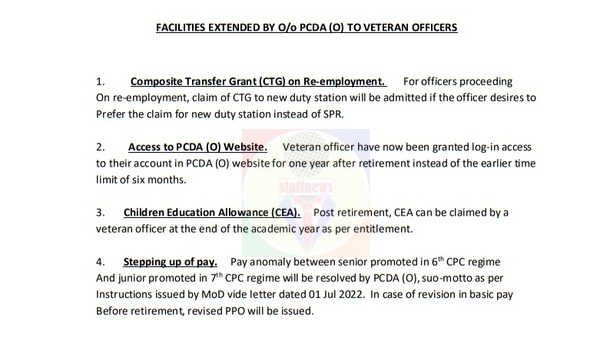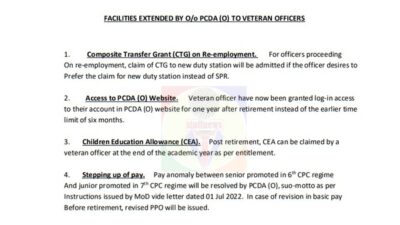 Click here to view/download the PDF