Treatment of CGHS pensioner beneficiaries and others at Post Graduate Institute of Medical Education and Research (PGIMER), Chandigarh
F No Z.16025/12/2023/CGHS-III
Govt. of India
Min. of Health & Family Welfare
Department of Health & Family Welfare
Directorate General of CGHS
CGHS Bhawan, RK Puram -13, New Delhi.
Dated the 30th June, 2023
OFFICE MEMORANDUM
Subject: Treatment of CGHS pensioner beneficiaries and others at Post Graduate Institute of Medical Education and Research (PGIMER), Chandigarh – regarding.
With reference to the above subject the undersigned is directed to state that Post Graduate Institute of Medical Education and Research (PGIMER), Chandigarh shall provide treatment on cashless basis to CGHS pensioner beneficiaries and other entitled class of beneficiaries as per the detail given below:
a) CGHS Pensioners and other beneficiaries entitled for cashless treatment like ex-MPs , ex-Governors, former Judges of Supreme Court of India , former Judges of High Courts, Freedom Fighters, etc., holding a Valid CGHS Card are eligible for cashless treatment at PGIMER, Chandigarh.
b) Entitled CGHS beneficiaries shall present their CGHS Card for verification at CGHS Help Desk. They shall submit a self attested copy of CGHS Card. In case of treatment of a dependent family member copies of the CGHS card of self and family member shall b submitted.
c) Help Desk at PGIMER refers the beneficiaries to OPD / Investigations / Indoor treatment as the case may be.
d) Bills in physical form along with copy of CGHS card shall be submitted by PGIMER, Chandigarh in the last week of month to the office of Addl. Director, CGHS, Chandigarh.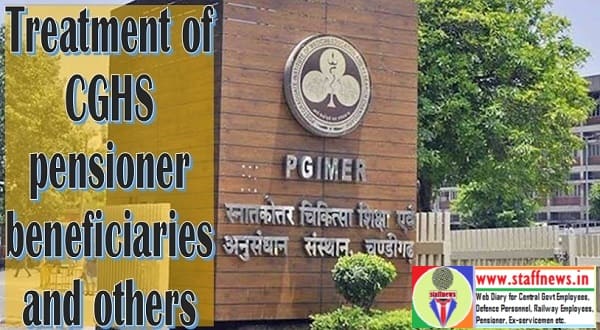 e) For room rent bills shall be raised as per PGIMER rates. If, PGIMER rates are not available, then CGHS rates for empanelled hospitals would apply. For other treatment procedures / investigations, PGIMER shall send bill to CGHS as per PGIMER rates.
f) Ward entitlement of CGHS beneficiaries at PGIMER shall be as per their ward entitlement at CGHS empanelled hospitals.
g) PGIMER shall create a separate Bank Account for CGHS beneficiaries to reimburse the bills by CGHS.
h) Additional Director, CGHS, Chandigarh shall process the bills expeditiously and payment shall be credited into the Bank Account created by PGIMER for CGHS.
i) No preferential treatment shall be provided to CGHS beneficiaries.
j) PGIMER shall provide implants available at the Institute and the beneficiaries shall not have option to choose Specific Implants of their choice.
k) Medicines prescribed by PGIMER's doctors for OPD treatment or at the time of discharge from PGIMER will be collected by the beneficiaries through CGHS.
l) CGHS pensioners and others eligible for cashless treatment can avail treatment without any mandatory referral from CGHS.
m) Additional Director, CGHS, Chandigarh shall contact PGIMER, Chandigarh for the seamless implementation of this initiative.
(Dr. Manoj Jain)
Director, CGHS
View/Download the PDF