Ex-Servicemen Contributory Health Scheme (ECHS) Application form for Membership (Rev 2015)
Central Organisation ECHS
Adjutant General's Branch
Army Headquarters
Maude Lines .
Delhi Cantt- 110 010
3/49711 /AG/ECHS
18 Feb 2015
EX-SERVICEMEN CONTRIBUTORY HEALTH SCHEME (ECHS) APPLICATION FORM FOR MEMBERSHIP (REV 2015)
1. Ref Central Org ECHS letter No Bl49711/AG/ECHS dt 15 Jan 2015.
2. The application form as fwd vide the letter under ref may please be treated as cancelled. A fresh application form is fwd herewith and the inconvenience caused is regretted.
3. Application form (Revised 2015) for ECHS Smart Card in case of fresh applicants has been modified with additional details. The format for the same is enclosed herewith. The format of the application has also been uploaded on our website www.echs.gov.in. The same may be downloaded.
4. It is mandatory for all applicants to provide details of Aadhar card incl those of dependents. Aadhar card details for NBC ESM is not mandatory.
5. The old application form be discontinued wef 30 April 2015 and the new revised form be implemented wef 01 May 2015.
6. It is requested that the above be given wide publicity and disseminated to all concerned under your jurisdiction.
(D Rajaram)
Lt Col
Offg Dir (Stats & Automation)
for MD ECHS
Encls :- As above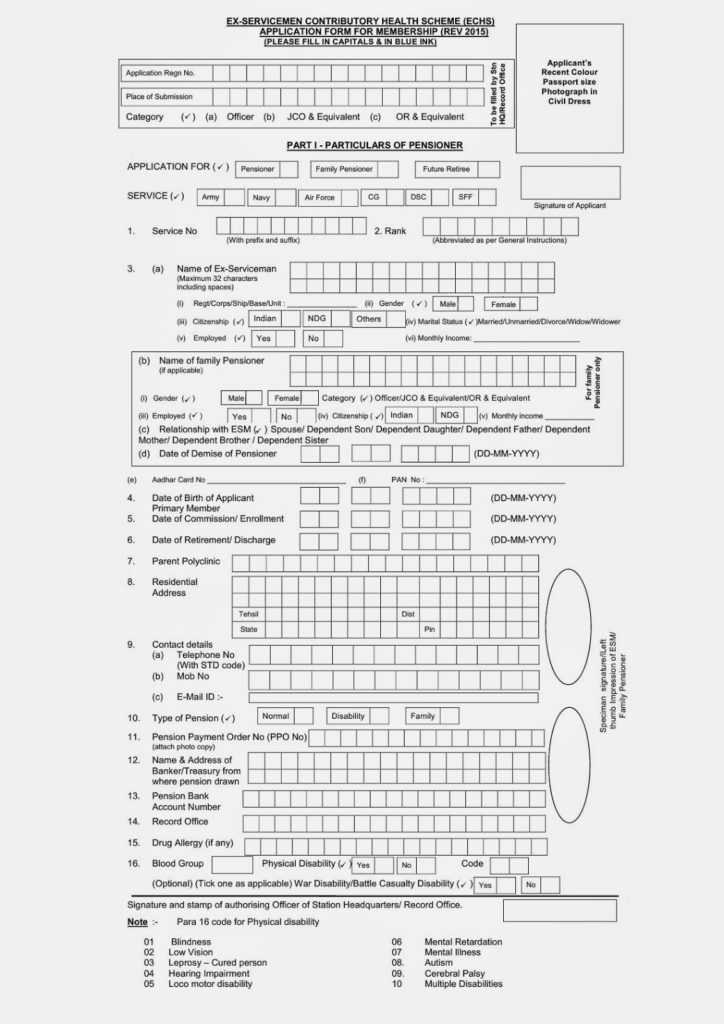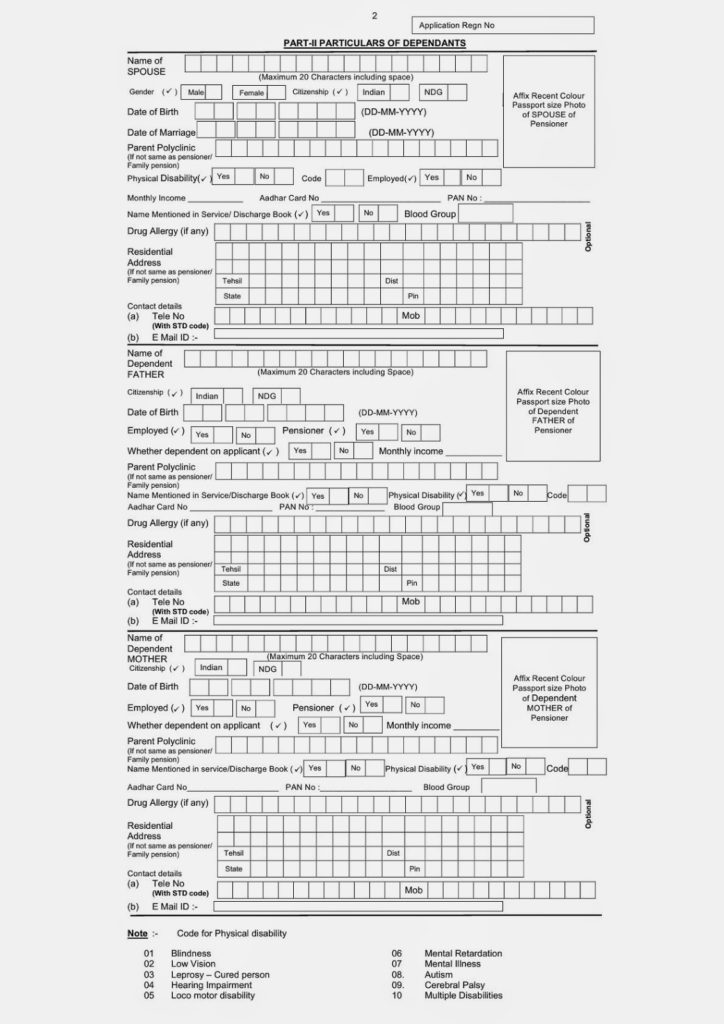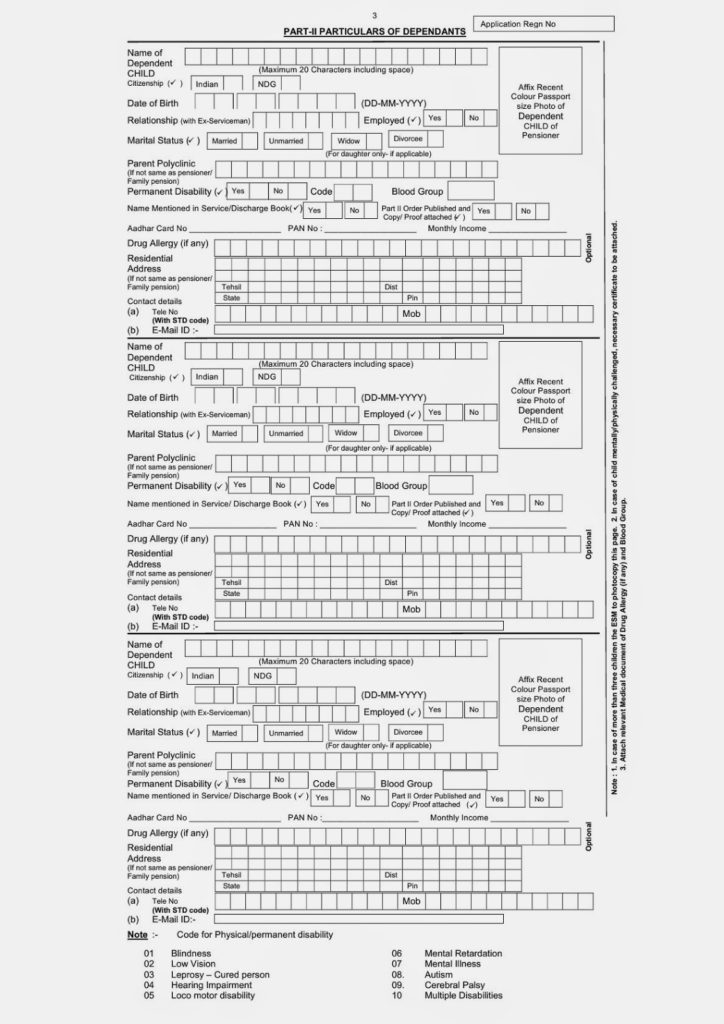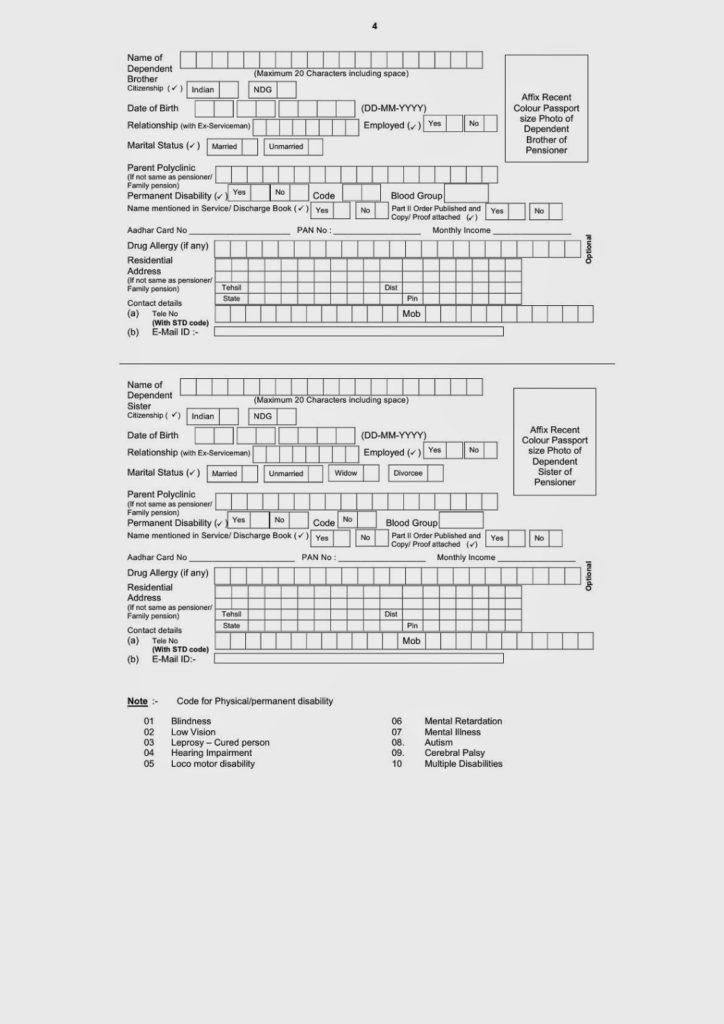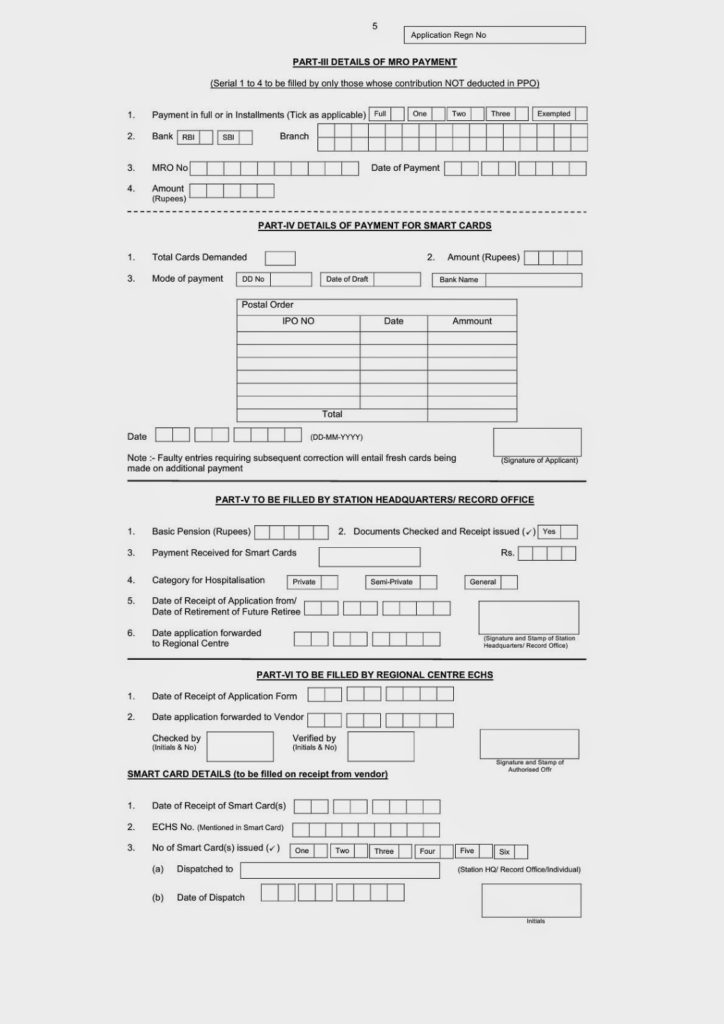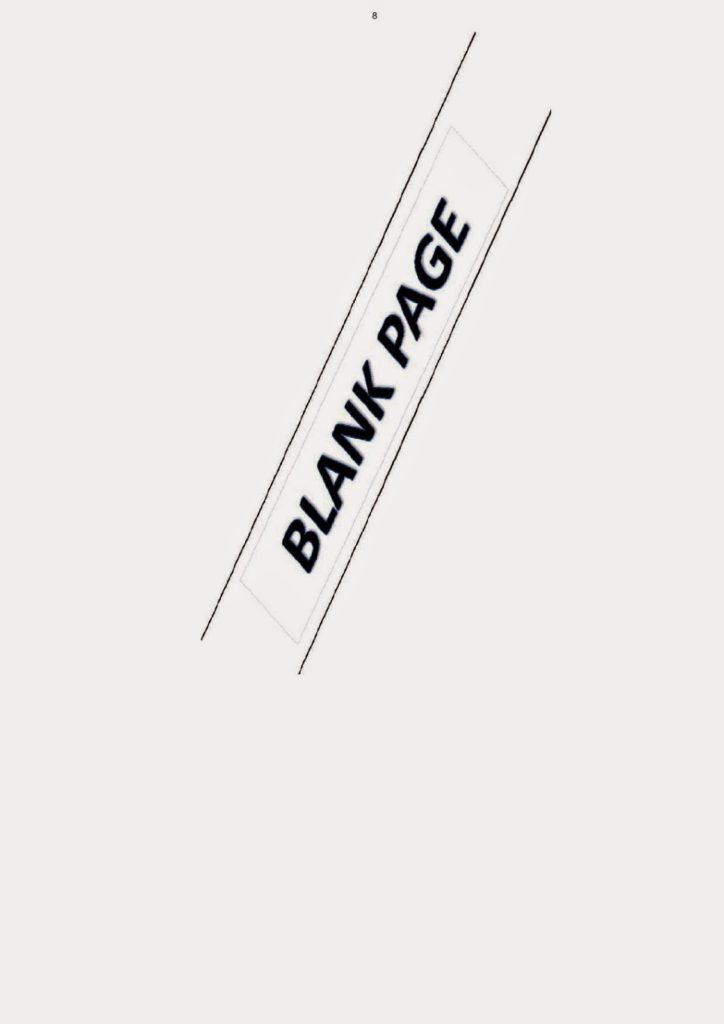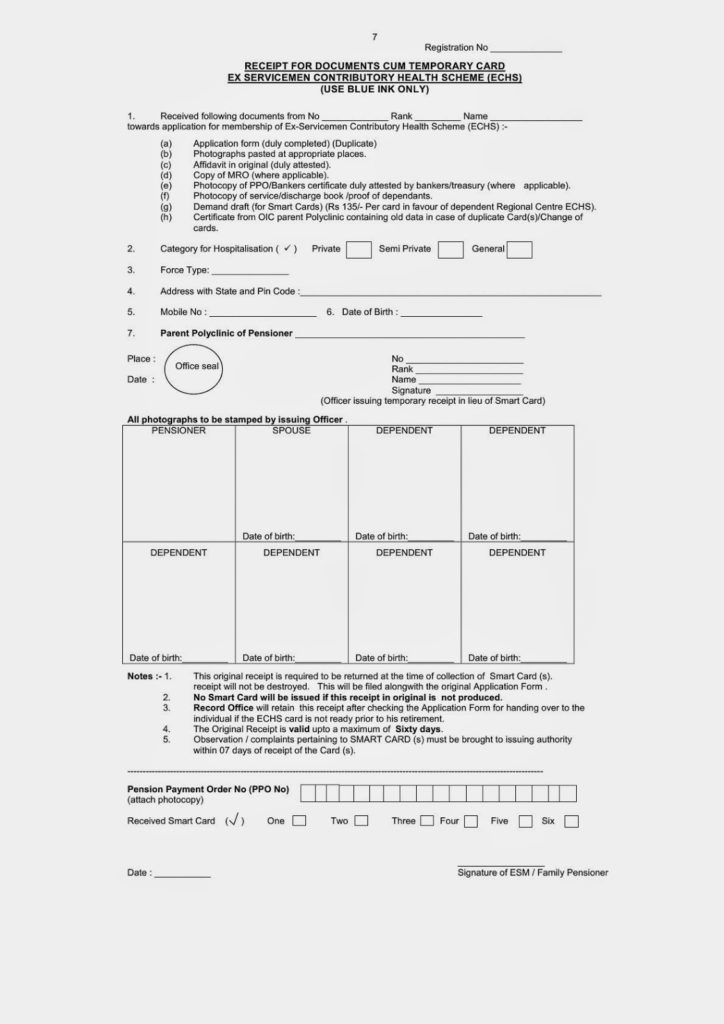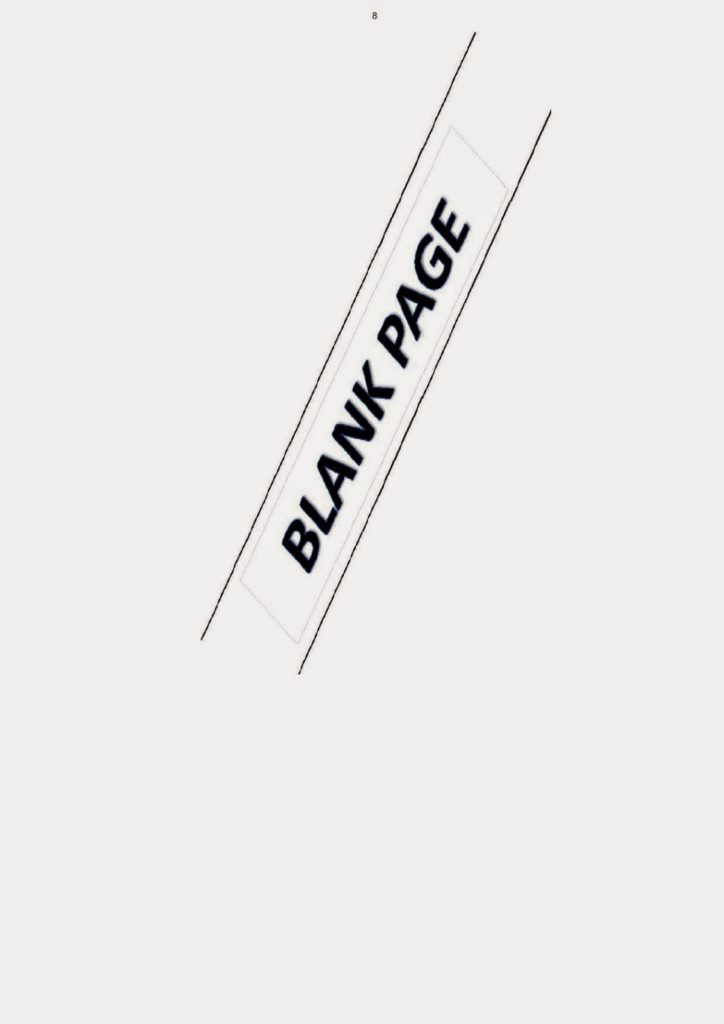 DETAILED INSTRUCTIONS FOR FILLING APPLICATION FORM
1. Eligibility
(a) Should be an Ex-Serviceman and drawing pension/disability pension/family pension from Controller of Defence Accounts including Indian Coast Guard personnel.
(b) War Widows (Veer Naris) / NOK of Battle causalities. (c) Personnel disabled in Operations.
(d) Recruits medically boarded out during training and in receipt of disability pension.
Notes : (i) Ex-Servicemen not drawing pension are NOT eligible.
(ii) To take benefits of ECHS you CAN NOT be drawing benefits of any other Government medical Scheme.
2. Dependents.
(a) Spouse including legally more than one spouse. (b) Unemployed Son(s) up to 25 years of age.
(c) Minor brother(s) upto the age of becoming a major.
(d) Unemployed/unmarried Daughter (s) / Sister including widow / legally divorced irrespective of age. (e) Physically/ Mentally handicapped child / brother / sister for life.
(f) Wholly dependent Parents whose combined monthly income from all source does not exceed Rs 3500/- plus DA and are generally residing with the member.
(g) Parents of deceased soldier can be eligible, subject to meeting dependency criteria.
(h) If both husband and wife are Defence Personnel, parents of both members are eligible if both pay subscription, subject to meeting dependency criteria.
Notes : (i) Widow after remarriage in receipt of family pension is eligible for ECHS membership alongwith her children from first marriage. However, her present Husband and children born later are not entitled. (ii) Grandparents are not entitled.
(iii) Grandchildren of widowed/separated daughters of primary beneficiary upto the age of becoming a major. (iv) Part II Orders endorsement by service Headquarters/respective Records for marriage/children born after retirement alongwith birth certificate.
(v) Please attach relevant medical documents of Drug Allergy (if any) and Blood Group.
3. ECHS Contribution.
(a) Ex-Servicemen Retired Prior to 01 Apr 03.
(i) Should deposit one time ECHS contribution in Govt treasury/Nationalised bank through MRO as per rates of subscription.
(ii) Four copies of MRO in Original to be prepared.
(b) Ex –Servicemen Retired/Retiring After 01 Apr 03. Subscription is being deducted directly by CDA (P) and reflected in PPO.
(c) Rates of Contribution w.e.f 01 Jun 2009 are as under (Subject to Revision by Govt) :-
| | |
| --- | --- |
| Grade Pay drawn at the time of retirement | RATES OF Contribution |
| Rs 1800/-, Rs 1900/-, Rs 2000/-, Rs 2400/- and Rs 2800/- per month | Rs 15,000/- |
| Rs 4200/- per month | Rs 27,000/- |
| Rs 4600/-, Rs 4800/-, Rs 5400/- and Rs 6600/- per month | Rs 39,000/- |
| Rs 7600/- and above per month | Rs 60,000/- |
(d) Category of Ward :-
Officers -Private ward
JCO & Equivalent -Semi Private ward
ORs & Equivalent -General ward
Notes :- (i) War Disabled Pensioners/War Widows/NOK of Battle Casualties are exempted from paying ECHS subscription.
(ii) Fixed medical Allowance will be stopped from date of ECHS membership.
(iii) All pensioners who have retired prior to 01 Jan 1996 are exempted contribution.
(iv) Nb Sub to Sub Maj including Hony Ranks of Lt/Capt and Equivalent are authorized Semi Private ward.
(v) Sep to Hav including Hony Ranks of Nb Subedar and Equivalent are authorized General ward.
4. Smart Cards
(a) One card per beneficiary will be issued wef 01 Jun 2010. (b) White Card for disabled beneficiary as per eligibility.
(c) War disabled/Battle Casualty disabled veterans will be provided with white card. (d) Demand draft @ Rs 135/-per card drawn in favour of :-
(i) Submission After Retirement . Regional Centre ECHS in whose jurisdiction the application is being submitted.
(ii) Submission Before Retirement. For Officers Regional Centre ECHS, Delhi Cantt and for PBOR in favour Regional Centre ECHS with which the Record Office of the pensioner is affiliated. List of Affiliation is at page 11.
5. Filling & Submission of Forms
(a) Membership After Retirement
(i) Collect form from nearest Stn HQ, Polyclinic or download from internet (Website : www.echs.gov.in.)
(ii) Prepare affidavit on Rs. 10/- Non- judicial stamp as per specimen given at Page 12.
(iii) Attach bankers certificate/DPDO certificate showing details of pension being drawn, MRO (2 Copies), PPO copy, dependency certificate, proof of identity and demand draft for cards.
(iv) Carry service/discharge book in original for verification.
(b) Membership Before Retirement (future Retiree).
(i) Form to be collected and filled alongwith pension documents. (ii) Copy of PPO, Bankers Certificate & MRO are NOT required.
(iii) Submit completed Application Form alongwith affidavit as follows:
(aa) Army Headquarters/AG's Branch MP 5/6 for Non-AMC-Army Officers.
(ab) Army Headquarters/AG's Branch MPRS(0) – for AMC, ADC & MNS Officers.
(ac) Concerned Records Office (refer Page 11) – for all JCOs or OR of the Army
Including DSC Personnel.
(ad) Naval Headquarters/Director of Personnel (DOP) – for Naval Officers. (ae) Commodore Bureau of Sailors (CABs), Mumbai – for Naval PBOR.
(af) Air Headquarter/DPP & R, through last posted unit – for Air Force Officers. (ag) Air Force Reocrds Office (AFRO), Delhi Cantt – for Air Forces PBOR.
(ah) Coast fuard Headquarters – for Officer and PBOR.
(c) Retirement at Short Notice
ECHS Membership Application Form is generally required to be submitted to concerned Record Office 5-6 months prior to the date of retirement. However, in case of an Officer/PBOR proceeding on retirement at short notice, he/she is permitted to submit his/her ECHS Membership Application Form to concerned Record Office any time prior to the date of retirement or Even after retirement if he/she is not possession of PPO. ECHS Membership Application Form can only be submitted at nearest Stn/HQ Regional Centre by a pensioner if it is supported by PPO and all other mandatory documents.
Deduction of contribution by the CDA is no guarantee for grant of membership. Issue of Smart Card after verification documents at ' Regional Centre/ respective Records will be considered as acceptance of membership'.
Notes: (i) Data field, as UID, PAN No, e-mail id, drug Allergy and Blood Group details may be filled up if available.
(ii) Smart Card will be dispatched to the Station HQ nearest to the residential address.
(iii) Pre 1986 retirees need not deposit copy of PPO/copy of Discharge Book/pension Book giving name of spouse and bankers certificate to be submitted with application
MUST KNOW POINTS
1. Smart Card will be issued on production of original receipt of application Form.
2. Validity of receipt is for 60 days only. In case of non receipt of Smart Card validity can be further extended upto 90 days extension by the Stn HQ. Regional Centre can accord or arng further extension till receipt of card on case to case basis.
3. The member and bonafide dependants should activate upgraded Smart card at any Polyclinics preferably at parent Polyclinic on receipt by giving thumb impression at the earliest.
4. Any false declaration/misuse of benefits will entail cancellation of membership. Central Organisation, ECHS will be the final authority for cancellation of membership
5. Ensure safe custody of Smart Card.
6. To avail treatment facilities, the ECHS member or his /her dependent is required to go to ECHS Polyclinics with the membership Card.
7. In case further treatment or investigations are required ,the polyclinics doctors will refer the patient to Service Hospital/Lab/Dental Centre or Empanelled civil facility.
8. In Military Stations patients will be referred to service Hospital only. Referrals to empanelled civil medical facilities will only be provided if Service Hospital do not have capacity
9. A list of Empanelled Hospital/Nursing Home(s), Diagnostics Centre and Dental Clinics/Centers will be available in the polyclinics for the guidance of patients. The patient will be required to report to the empanelled facility of his choice along with his ECHS membership card and referral form from ECHS Policlinic. On Completion of treatment/diagnostics procedure, he/she is not required to make any Payment, bill will be cleared by ECHS.
10. In an emergency situation, the ECHS member may not be able to follow the normal referral procedure. He can report to the nearest/most convenient Hospital, preferably a service Hospital or an Empanelled Hospital. In Such cases ,no payment is required to be made and the bill of empanelled Hospital will be cleared by ECHS. In case a member goes to a non-empanelled hospital he/she has to pay the bill and submit a claim for reimbursement to the ECHS Polyclinics subsequently. In all cases of emergency admission, the nearest ECHS Policlinics must be informed within 48 hrs. of admission. The reimbursement will be limited to approved CGHS rates as applicable.
11. In case of any incorrect entry in the Smart Card .It should be brought to the notice of the issuing authority within 07 days from the receipt of Card. If brought out later Card will not be replaced free of cost.
12. In case any complaint /difficulty in availing medical facilities at ECHS Policlinics, please liaise/refer your correspondence (brief and to the point) to the Stn HQ in whose jurisdiction the Polyclinic is functioning.
13 On receipt please activate your card as soon as possible preferably at parent policlinic.
14 The following additional documents will be attached with the application form for the following dependents:-
(a) Abandoned/Divorced/Widowed daughter/sister
(i) Court order of divorce decree alongwith an affidavit of current address and employment status.
(ii) Death Certificate of late husband alongwith birth certificate of dependent children (i.e grandchildren of primary beneficiary).
(iii) Financial documents for past three years to incl IT returns, PAN Card and bank statement of past one year duly certified by the concerned bank.
(iv) Affidavit for abandonment by spouse alongwith present address and employment status.
(b) Disabled child:- Med certificate from a Service Hospital duly signed by the concerned specialist regarding the eligibility of the disability. Disability will be decided as per persons with Disability (PWD) Act 1995.
11. Some important DO's & DON'Ts for availing treatment are as tabulated below:
DO'S
DON'T'S

DO CARRY YOUR REGISTRATION SLIP AND IDENTIFICATION DOCUMENTS/SMART CARD WHEN VISITING ECHS CLINICS
DO AVAIL ALL DIAGNOSTICS AND THERAPEUTIC FACILITIES IN THE POLYCLINICS .
DO EXERCISE YOUR OPTION OF BEING REFERRED TO EMPANELLED FACILITY OF YOUR STATION BUT ONLY WHEN REFERRAL IS ADVISED BY POLYCLINICS .
DO CARRY YOUR REFERRAL FORM AND SMART CARD. ECHS REGISTRATION SLIP TO THE EMPANELLED FACILITY.
DO TRY TO CHOOSE A SERVICE. EMPANELLED HOSPITAL IN AN EMERGENCY. YOU WON'T HAVE TO PAY.
DO INFORM YOUR POLICLINIC WITHIN 48 HRS WHEN ADMITTED DIRECTLY TO EMPANELLED OR NON-EMPANELLED HOSPITAL IN AN EMERGENCY
DO FOLLOW SOME TIME TO THE POLICLINIC TO PROCURE SUPER SPECIALTY DRUGS PRESCRIBED FOR YOU, IF NOT READILY AVAILABLE

DO NOT PAY BILLS IN EMPANELLED HOSPITALS-ECHS WILL CLEAR YOUR BILLS
DO NOT INSIST FOR REFERRAL FOR FACILITIES AVAILABLE IN THE POLICLINIC. IT IS NOT AUTHORIZED.
DO NOT INSIST ON PARTICULAR BRAND NAME OF DRUG FROM POLYCLINIC. YOU MAY BE ISSUED DIFFERENT BRAND BUT WITH SAME PHARMACOLOGICAL COMPOSITION.
DO NOT PURCHASE DRUGS YOURSELF AND ASK FOR REIMBURSEMENT. IT IS NOT AUTHORIZED
DO NOT ACCEPT SUB-STANDARD TREATMENT AT EMPANELLED HOSPITAL-REPORT TO YOU POLICLINIC.
AFFILIATION OF SERVICE HQS & RECORDS OFFICERS WITH ECHS REGIONAL CENTRES
Regional Centres
Affiliated Section at Service HQs & Records office

Delhi Cantt

Army HQs/AG's Branch MP 5/6 and MPRS (O) – for Army officers : Naval headquarters.

DOP – for Naval Officers;;CGHQ-For Coast Guard officers /PBOR, RAJPUTANA RIFLES, Air Headquarters/ DPP & R – for Air force Officers; Air Force Records office (AFRO) – for all Air Force PBOR.

Pune

Armourd Corps; Regiment of Artillery; Army Air Defence; Mechanised Infantry; Bombay Engineer Group (BEG), Intelligence Corps; Army Physical Training Corps (APTC),

Patna

BIHAR Regiment;

Lucknow

RAJPUT Regiment; SIKH Light Infantry Regiment; 11 GORKHA RIFLES; Army Medical Corps (AMC);

Hyderabad

Army Ordnance Corps (AOC), Electronic and Mechanical Engineers (EME).

Jabalpur

Corps of Signals; GRENADIER Regiment; MAHAR Regiment; Jammu & Kashmir Rifles (JAK RIF);Army Education Crops (AEC),

Jammu

Jammu & Kashmir Light Infantry (JAK LI); LADAKH SCOUTS.

Guwahati

ASSAM Regiment; 5&8 GORKHA RIFLES.

Chandimandir

1 & 4 GORKHA RIFLES.

Dehradun

Bengal Engineer Group, GARHWAL RIFLES, Strategic Fighting Force Records.

Bareilly

JAT Regiment, KUMAON Regiment, Remount & Veterinary Corps (RVC).

Allahabad

3&9 GORKHA RIFLES, DOGRA Regiment.

Ranchi

PUNJAB Regiment, SIKH Regiment.

Nagpur

Brigade of Guards, Army Postal Service (APS).

Mumbai

CABS Mumbai.

Bangalore

MARATHALI, Madras Engineers Group (MEG), PARACHUTE Regiment, Army Service Corps (South), Army Service Corps (AT), Corps of Military Police (CMP), Pioneer Corps.

Trivandrum

Defence Security Corps (DSC).

Coimbatore

MADRAS Regiment.
SAMPLE OF AFFIDAVIT (For initial application)
AFFIDAVIT ON Rs. 10/- NON JUDICIAL STAMP PAPER and TO BE ATTESTED BY MAGISTRATE/NOTARY PUBLIC DECLARATION

I Service No ________________ Rank ________ Name _____________________ (Unit) ______________, solemnly affirm and declare as follows:-
or
I, ________________ wife/Father/Mother/Daughter/Son Service No_______________ Rank____________ Name__________________________ of (unit) ________________ solemnly affirm and declare as follows:-
1.
That I am/will be drawing pension vide PCDA Pension Payment Order
No______________________________dated___________________
2.
That I have the following legal dependent(s) whose photograph(s) is/are affixed below on this Affidavit :-

| | | | | |
| --- | --- | --- | --- | --- |
| Name | Relationship | Age | Date of Birth | Part II Order No/CRD/SD/POR No |
| | | | | |

| | |
| --- | --- |
| | |
| Signed Photo of Dependent giving name, Relationship and Identification mark | Signed Photo of Dependent giving name, Relationship and Identification mark |

(Photographs(s) to be pasted and signed across by the Applicant)

3.
(a) That the combined monthly income (from all sources including income accruing from house/other immovable property/fixed deposit etc) of my dependant father and /or dependent mother is less than Rs 3500/- plus DA.
(b) That is hereby certified that my parents (father/mother or both) do not draw any pension from Central Govt/State Govt/PSUs/any Private Organisation and are physically residing with me.
4.
That my child/ children is/are dependant on me and is/are NOT earning more than Rs. 3500/- plus DA per month, & that my daughter(s) is/are NOT married.
5.
I shall inform the ECHS immediately of his/her/their employment of earning more than Rs 3500/- plus DA.
6.
That in case of any change in the status of my dependants (due to death, marriage, employment), I will inform Station Headquarters, ECHS Cell at the earliest and will stop use of ECHS facilities. I will refund in full, the cost of any treatment that my dependent may have received after he/she became ineligible. I shall be liable for civil/criminal action should I fail to do so.
7.
(a) That I am NOT a member of any other medical scheme funded by Central Govt, PSU or any other Govt undertaking.
(b) That my spouse is NOT a member CGHS or any other Govt Scheme.
8.
I understand that in case I have submitted any incorrect information, or if any ECHS Membership Card is misused or used by any unauthorised person, my membership will be cancelled without any notice or further hearing. In addition, I will forfeit my contribution and I will pay the entire cost of expenditure incurred on such unauthorised person(s). I will also be liable for legal action by the ECHS Organisation. I will also immediately report the loss of my ECHS membership card to the nearest Station Headquarters.
9.
That in case of any misuse of Smart Cards(s) or tampering with bills or attempt to defraud, once I become a member, I will forfeit my membership automatically.
10.
I undertake that in case of any misbehavior, on my part with Polyclinic Staff, my membership may be suspended/cancelled/ terminated.
11.
I understand that the contribution I am making is a one time token amount and is not refundable even if I do not make use of any ECHS facility or opt out of ECHS Scheme.
VERIFICATION
I, the deponent above named, do hereby solemnly declare and verify that the contents of the above affidavit are true to the best of my knowledge and belief, and nothing material has been concealed or suppressed therefrom. Verified at (place)———————–on this (date)—————–day of (Month)—————————Year———–
Signature of Deponent
ATTESTATION
Certified that the above statement is declared before me at (Place)———on this ————day of (Month)———-Year——–by DEPONENT Service No —————-Rank———–Name—————————-Who is identified by Name—————————————S/O (Father's name of Identifier)———————————- and witnessed by Name—————————————S/O (Father's name of first witness)& Name————————————- S/O (Father's name of second witness).
WITNESS
| | |
| --- | --- |
| | |
| Signature of Witness No.1 | Signature of Witness No.2 |
| 1. (Name in Block Capitals) (Full Postal Address) | 1. (Name in Block Capitals) (Full Postal Address |
ATTESTED BY
MAGISTRATE/NOTARY PUBLIC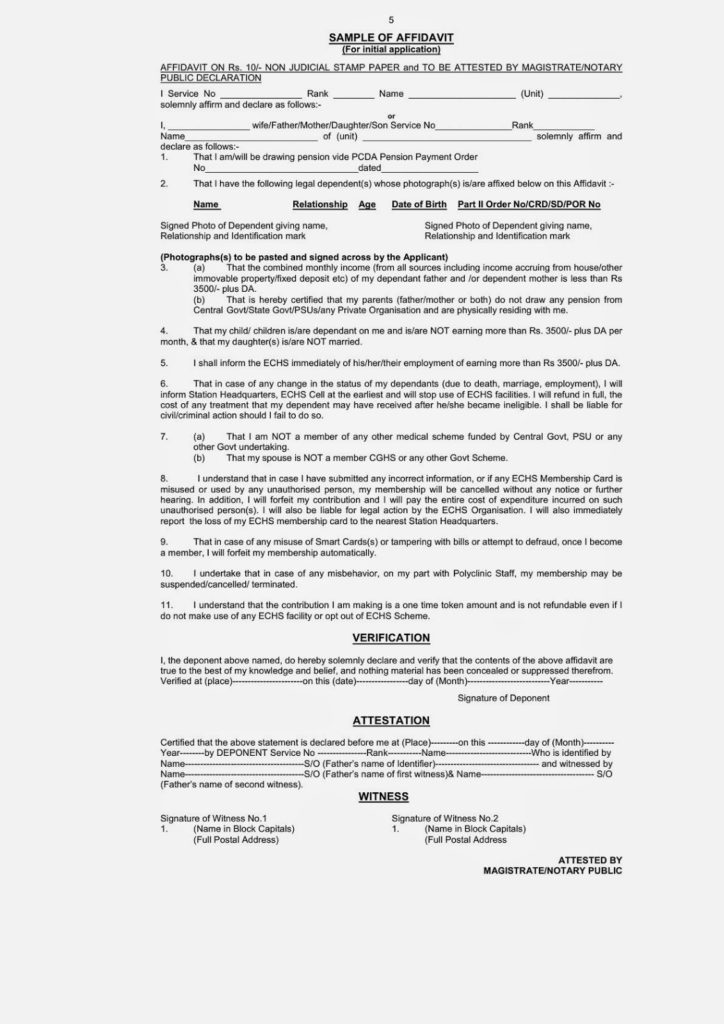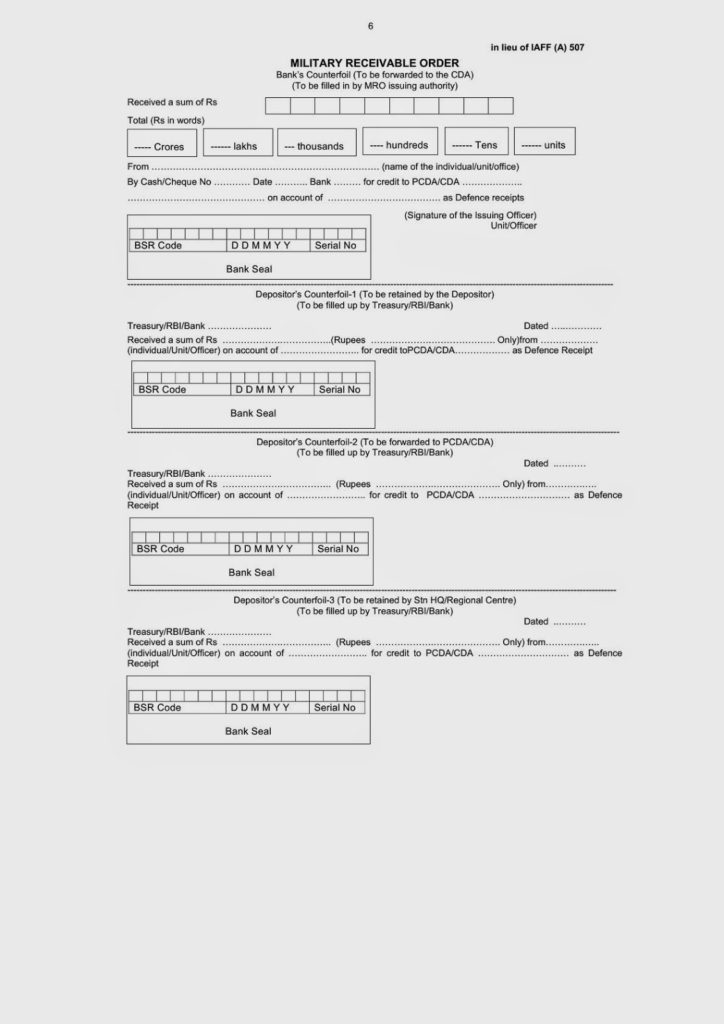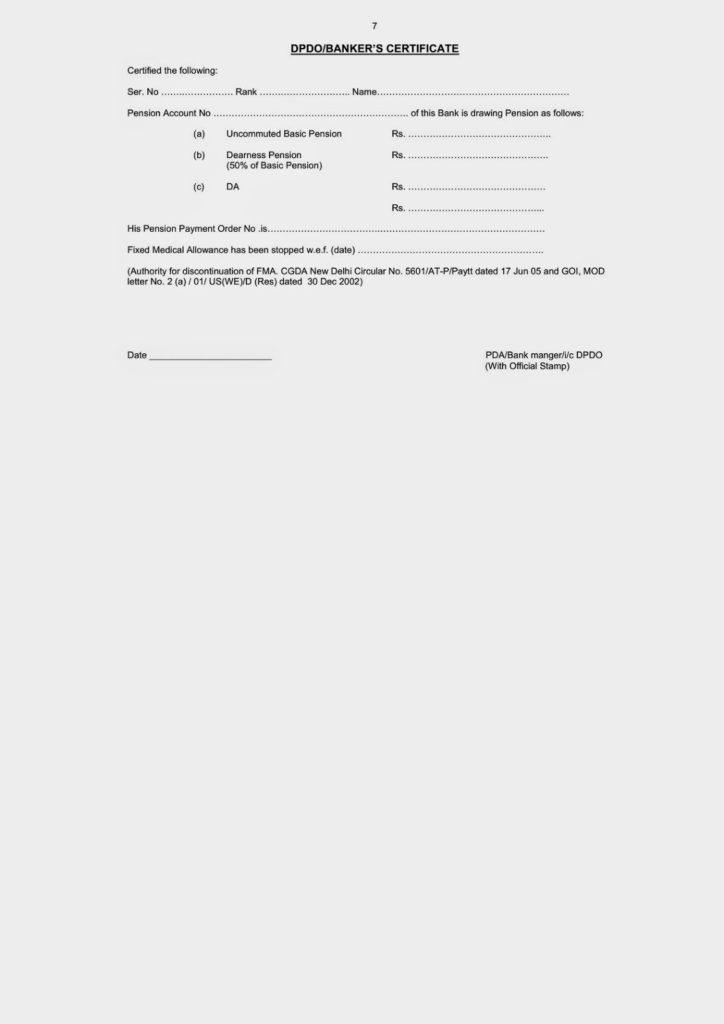 INSTRUCTIONS FOR MILITARY RECEIVABLE ORDER (MRO)
Controller General of Defence Accounts (CGDA) has nominated the following Army Principal Controllers of Defence Accounts (PCsDA)/ Controllers of Defence Accounts (CsDA) for accounting the contribution made in their areas of jurisdiction.
| | | | |
| --- | --- | --- | --- |
| Ser No | Regional Centre | Polyclinic under jurisdiction of Regional Centres | Name to be Entered in MRO Army PCDA CDA |
| 1. | Jammu | Bakloh, Akhnoor, Baramulla, Baribrahmna, Doda, Jammu, Junglot(Kathua), Leh, Pathankot, Poonch, Rajouri, Samba, Shahpur, Srnagar, Talwara, Uchi Bassi, Udhampur, Nagrota (Gujroo),Yol, Mandi, Chamba, Palampur, Kullu, Deragopipur,Kanabal | PCDA (NC) Jammu |
| 2. | Delhi West | Delhi Cantt (BHDC), New Delhi (Lodhi Road), Gurgaon, Shakurbasti, Nuh, Gurgaon(Sohan Road), Khanpur | PCDA (WC) Chandigarh |
| 3. | Delhi East | Noida, Timarpur, Faridabad, Ghaziabad(Hindon),Greater Noida, Palwal | PCDA (WC) Chandigarh |
| 4. | Chandimandir | Chandigarh, Chandimandir, Ropar, Sarkaghat, Mohali, Ludhiana, Jagraon, Sangrur, Patiala, Fatehgarh Sahib, Samana, Nabha, Barnala, Nawansahar, Shimla, Rampur | PCDA (WC) Chandigarh |
| 5. | Jaipur | Alwar, Behror, Hindaun City(Dist Karauli), Mahendragarh, Narnaul, Rewari, Dharuhera, Bharatpur, Bhuwana, Chirawa, Dausa, Jaipur, jhunjhunu, Nim Ka Thana, Sikar, Vidhyadhar Nagar(Sanganer), Kota | PCDA (SWC) Jaipur |
| 6. | Pune | South Pune(Lohegaon), Sindhudurg, Panaji, Sholapur, Ahmednagar, Beel, Latur, Osmanabad, Saugor, Karad, Kolhpur, pune, Orai, Jhansi, Morena, Gwalior, Bhind, Miraj (Sangli), Khadki (Pune), Buldana, jalgaon, Dhule, Devlali, Bhopal, Amravati, Akola | PCDA (SC) Pune |
| 7. | Lucknow | Akbarpur Matti (Kanpur Dehat), Unnao, Barabanki, Hardoi, Lakhimpur(UP), Lucknow, Raebareli, Etawah, Fatehgarh, Kanpur, Agra, Mainpuri, Etah, Barilly, Badaun, Sarsawa, Mathura, Meerut, Aligarh, Muzaffarnagar, Baghpat, Shahjanpur, Moradabad, Hathras, Bijnore, Bulandshshir, Firozabad, Rampur | PCDA (CC) Lucknow |
| 8. | Patna | Ara, Danapur(Patna), Darbhanga, khagaria, Madhubani, Motihari, Munger, Muzaffarpur, Samastipur, Sitamarhi, Siwan, Chhapra, Vaishali, Bhagalpur, Gaya, Sasaram, Buxar | CDA Patna |
| 9. | Jabalpur | Bilashpur, Raigarh, Indore, Mhow, Jabalpur, Satna, Raipur, Rewa, Jagdalpur,Pachmarhi | CDA Jabalpur |
| 10. | Hyderbad | Guntur, Secunderbad, Chittor, Giddalur, Golconda, Ananthapur, Cudapah, Eluru, Golconda, Karimnagar, khammam, Kurnool, Mehbubnagar, Nellore, Secunderabad2(Bownpally), Vijaywada | CDA Secunderabad |
| 11. | Chennai | Avadi, Chennai, Chennai(island Ground), Cuddolore, Kanchipuram, Thiruvannamalai, vellore, villupuram, Puducherry, Krishnagiri, Kumbhkonum, Nagapattinam, Thanjavur, Tambram | CDA Chennai |
| 12. | Kochi | Alleppey, Kottayam, Kunnamkulam, Thrissur, Iritti, Kalpetta, Kanhaged, Kannur, Perintalmanna, Kozhikode, Kochi, Moovattupuzha, Painavu, Palakkad | JCDA(Navy)Kochi |
| 13. | Guwahati | Agartala, Aizwal, Along, Lunglei, Bongaigaon, Dhubri, Churachandpur, Imphal(Leimakhong), Dibrugarh, Tinsukia, Dimapur, Goalpara, Gawahati, Jorhat, Mokokchung, Lakhimpur, Lanka, Masimpur, Misamari, shillong | CDA Guwahati |
| 14. | Allahabad | Allahabad, Pratapgarh, Fatepur, Banda, Azmgarh, Faizabad, Gonda, Sultanpur, Ballia, Ghazipur, Jaunpr, Mirzapur, Varanasi, Basi, Deoria, Gorakhpur, | PCDA (CC) Lucknow |
| 15. | Ambala | Ambala, Gohana, Kaithal, Karanal, Kharkhoda, Nrayangarh, Khurkshetra, Panipat, Sonepat, Yamunanagar, Nahan | PCDA (WC) Chandigarh |
| 16. | Coimbatore | Coimbatore, Dindigul, Madurai, Srivilliputur, Theni, Tiruchirapalli, Salem, Sivagangai, Wellington | JCDA (Air force) Nagpur |
| 17. | Dehradun | Almora, Bageswar, Ranidhet, Banbasa, Dehradun, Dharchula, Vikasnagar, Uttarkasi, Haldwani, Rudrapur, Hempur, Joshimath, Karanprayag( Gopeshwar), Rudraprayag, Kotdwara, Landsdowne, Pauri Garhwal, pithoragarh, Raiwala, Tehri, Roorkee | PCDA (CC) Lucknow |
| 18. | Hissar | Abohar, Bahadurgrah, Bhiwani, Charki Dadri, Didwana, Fatehabad, Hissar, Jhajjar, Jind, Kosli, Lohara, Meham, Narwana, Rohtak, Sampla, Bathinda, Mansa, Bikaner, Churu, Nagaur, Rajgarh, Siirsa,Sriganganagar, Suratgarh | PCDA (SWC) Jaipur |
| 19. | Nagpur | Amla, Nagpur, Wardha, Amravati, Akola, Yavatmal | JCDA (Air force) Nagpur |
| 20. | Visakhapatam | Angul, Balasore, Bhubneswar, Dhenkanal, Puri, Kakinada, Srikakulam,Vishakapatnam, Ramnathapuram, Port Blair | ACDA (Navy) Visakhapatanam |
| 21. | Mumbai | Mumbai, Chiplun, Mahad, karwar, Mumbai(Upnagar), Thane (Nerul), Vasco-da-gama, COD Kandivali | PCDA (Navy) Mumbai |
| 22. | Kolkata | Barrackpore, Salt lake, Midnapur, Kolkata, Baruipur, Howrah, Benguri, Bankura, Cooch Behar, Gangtok, Kalimpong, Katihar, Krishananagr, Katihar, Krishnanagar, Behrampur, lebong(Darjeeling) | CDA Guwahati |
| 23. | Ahmedabad | Ahmedabad, Ajmer, Barmer(Jalipa), Bhuj, Jaisalmer, Jamnagar, Jodhpur, Shergarh, Pali, Rajsamand, Dungarpur, Vadodra, Surat, Udaipur | PCDA (Air force) Dehradun |
| 24. | Bangalore | Bangalore, Hassan, Belgaum, Bijapur, Dharwad, Gulbarga, Bidar, Tumkur, Yeahanka(Bangalore), Kolar, Madekeri, Manglore, Shimoga, Virarajendrapet, meg Banglore, Mysore | JCDA (Air force) Nagpur |
| 25. | Barilly | Agra, Etah, Firozabad, Bagpat, Bijnor, Muzaffarnagar, Mainpuri, Meeurt,Hathras, Aligarh, Mathura, Moradabad, Rampur, Badaun, Barilly, Bulandshahar, Saharanpur(Sarsawa), Shahjanpur | PCDA Meerut |
| 26. | Jalandhar | Ajnala, Amritsar, Batala, Gudaspur, Beas, Bilaspur, Faridkot, Moga, Muktsar, Ferozpur, Garhshankarn (Mahalpur), Hamirpur, Una, Suranassi, Hoshiarpur, Ghumarvin, Barsar, Jalandhar,Kapurthala, Nawansahar, Phagwara, Sultanpuri Lodhi, Jogindernagar | PCDA (WC) Chandigarh |
| 27. | Ranchi | Behrampur, Bhawanipatna, Koraput, Sambalpur, Chaibasa, Dalatganj, Gumla, Ranchi, Dhanbad, Deogarh, Jamshedpur | CDA Patna |
| 28. | Trivandrum | Changanacherry, Kilimanur, Kottarakara, Mavelikara, Nagarcoil, Pathanamthitta, Ranni, Trivandrum, Trivandrum (Med College), Tuticorin, Quilon (Kollam), Tirunelvli | PCDA Chennai |
ABBREVIATED RANKS
OFFICERS



AR

MY

Abbreviation

NAVY

Abbreviation

AIR FORCE

Abbreviation

Indian Coast Guard

Abbreviation

General

Gen

Admiral

Adm

Air Chief Marshal

ACM

–

–

Lieutenant General
Lt Gen
Vice Admiral/ Surg Vice Admiral
V Adm/ Surg V Adm
Air Marshal
Air Mshl
Director General

DG

Major General
Maj Gen
Rear Admiral/ Surg Rear Admiral
R Adm/Surg R Adm
Air Vice Marshal

AVM

Inspector General

IG

Brigadier

Brig

Commodore/ Surg Commodore
Cmde/ Surg Cmde
Air Commodore
Air Cmde
Dy Inspector

DIG

Colonel

Col

Captain/Surg Captain
Capt (IN)/Surg Capt
Group Captain
Gp Capt

Commandant

Comdt

Lieutenant Colonel
Lt Col
Commander/Surg Commander
Cdr/Surg Cdr
Wing Commander
Wg Cdr
Commandant (JG)
Comdt (JG)

Major

Maj

Lt Commander/ Surg Lt Commander
Lt Cdr/ Surg Lt Cdr
Squadron Leader
Sqn Ldr
Dy Commandant
Dy Comdt

Captain

Capt

Lt /Surg Lt
Lt (IN)/Surg Lt
Flight Lieutenant
Flt Lt
Asst Commandant
Asst Comdt

Lieutenant

Lt

Sub Lt/Surg Sub Lt
S Lt /Surg S Lt
Flying Officer
Fg Offr

–

–


PBOR



ARMY

Abbreviation

NAVY

Abbreviation

AIR FORCE

Abbreviation

Indian Coast Guard
Abbreviati on
Honorary Captain
Hony Capt
Honorary Lieutenant
Hony Lt (IN)
Honorary Flight Lieutenant
Hony Flt Lt

–

–

Honorary Lieutenant
Hony Lt
Honorary

Sub Lieutenant
Hony Sub Lt (IN)
Honorary Flying Officer
Hony Fg Offr

–

–

Subedar Major or Risaldar Major
Sub Maj or Ris Maj
Master Chief Petty Officer1
MCPO 1
Master Warrant Officer

MWO

Pradhan Adhikari or Pradhan Sahayak Engineer
P/Adh or PSE
Hony Sub Maj or Hony Ris Maj
Hony Sub Maj or Hony Ris Maj
Honorary Master Chief Petty Officer1
Hony MCPO1
Honorary Master Warrant Officer
Hony MWO

–

–

Subedar or Risaldar
Sub or Ris
Master Chief Petty Officer 2
MCPO 2
Warrant Officer

WO

Uttam Adhikari, or Uttam Sahayak Engineer
U/Adh or USE
Hony Subedar or Hony Risaldar
Hony Sub or Hony Ris

–

–

–

–

–

–

Naib Subedar or Naib Risaldar
Nb Sub or Nb Ris
Chief Petty Officer

CPO

Junior Warrant Officer/Flight Sergeant
JWO/Flt Sgt
Adhikari, or Sahayak Engineer or Pradhan Yantrik
Adh or SE or P/Ytk
Hony Naib Sub or Hony Naib Risaldar
Hony Nb Sub or Hony Nb Ris

–

–

–

–

–

–

Havildar or Dafedar
Hav or Dfr
Petty Officer

PO

Sergeant

Sgt

Pradhan Navik or Uttam Yantrik or Yantrik
P/Nvk or U/Ytk or Ytk
Honorary Havildar or Hony Dafedar
Hony Hav or Hony Dfr

–

–

–

–

–

–

Naik or Lance Dafedar
Nk or LD

Leading

Ldg

Corporal

Cpl

Uttam Navik

U/Nvk

Lance Naik or Asst Lance Dafedar
LNK or ALD
Seaman I
Sea I
Leading Air Craftsman

LAC

Navik or Enrolled Follower
Nvk or E/F
Sepoy (Rfn, Gdsm, Swr, Spr, Sigmn,Cfn, Gnr

Sep

Seaman II
Sea II
Air Craftsman

AC

Recruit

Rect

Recruit

Rect

Recruit

Rect

–

–
Download PDF
Source: http://echs.gov.in/images/pdf/stats/stats2.pdf