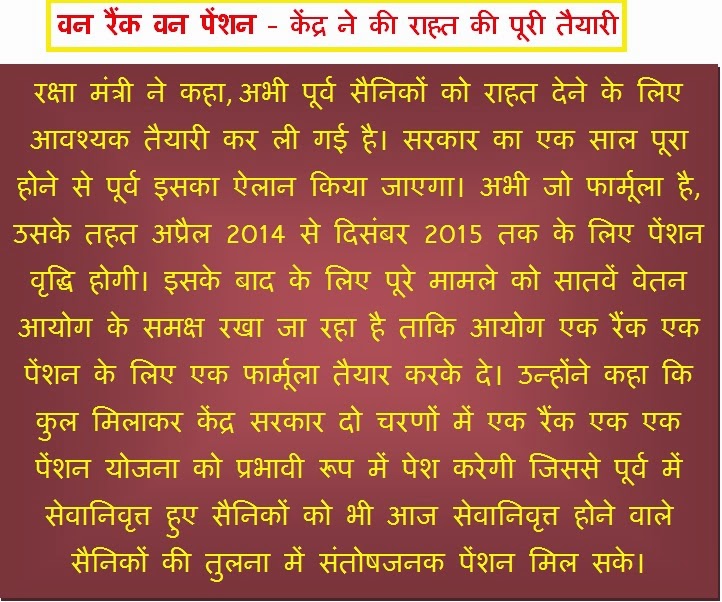 One Rank One Pension: News by Live Hindustan in Hindi – Big announcement soon and Complete OROP in 7th CPC. Defence Ministry will make a big announcement for Ex-servicemen under One Rank One Pension Scheme.
पूर्व सैनिकों को पेंशन वृद्धि का तोहफा मिलेगा
रक्षा मंत्रालय भूतपूर्व सैनिकों के लिए एक रैंक, एक पेंशन योजना के तहत जल्द बड़ा ऐलान करेगा। एनडीए सरकार की पहली सालगिरह से पहले साढ़े तेरह लाख पूर्व सैनिकों को पेंशन वृद्धि का तोहफा मिलेगा।
इस योजना का पूर्ण और प्रभावी खाका तैयार करने का जिम्मा सातवें वेतन आयोग को सौंपा जा रहा है। यानी एक जनवरी 2016 के बाद पूर्व सैनिकों को सातवें वेतन आयोग के सुझाए फार्मूले के अनुसार ज्यादा पेंशन मिलेगी जिसमें एक रैंक एक पेंशन योजना को पूरी तरह से लागू किया जाएगा। इससे कम पेंशन पा रहे पूर्व सैनिकों को फायदा होगा।
रक्षा मंत्री मनोहर पार्रिकर ने 'हिन्दुस्तान' से विशेष बातचीत में कहा, भूतपूर्व सैनिकों के कल्याण और पेंशन को लेकर सरकार बेहद चिंतित है। मैं समझता हूं कि इनके लिए पेंशन नीति सामान्य सरकारी कर्मचारियों की तुलना में अलग और ज्यादा लाभदायक होनी चाहिए। निश्चित रूप से उन्हें ज्यादा पेंशन मिलनी चाहिए। उन्होंने कहा, 17-18 साल की उम्र में सेना में भर्ती होने वाले सैनिक आमतौर पर 18 साल की सेवा के बाद रिटायर हो जाते हैं। तब उनकी उम्र 40 से भी कम होती है। उनके बच्चे छोटे होते हैं और उनकी पढ़ाई महत्वपूर्ण मोड़ पर होती है। बाकी परिवार की जिम्मेदारी भी होती है। लेकिन 18 साल की सेवा के बाद सैनिक जब रिटायर होते हैं तो उन्हें सेवानिवृत्ति के लाभ (फंड, ग्रेच्युटी आदि) उन केंद्रीय कर्मियों की तुलना में बहुत कम होते हैं जो 60 साल में सेवानिवृत्त होते हैं। पर्रिकर ने कहा, इससे भी बड़ी बात यह है कि एक सैनिक को अपने जीवन में सिर्फ एक वेतन आयोग का लाभ मिल पाता है। इसलिए सैनिकों की पेंशन नीति को बेहतर बनाए जाने की जरूरत है।
एक रैंक एक पेंशन का तर्क
चूंकि सैनिक जल्दी सेवानिवृत्त हो जाते हैं, इसलिए उनकी पेंशन कम होती है। वक्त बढ़ने के साथ उसमें अंतर बढ़ता जाता है, जबकि आज जीवन-यापन के खर्च बढ़ चुके हैं। इसलिए मांग है कि एक रैंक पर सेवानिवृत्त सभी सैनिकों को समान पेंशन मिलनी चाहिए।
सरकार की मुश्किल
एक रैंक एक पेंशन योजना पर सरकार सहमत है। पहले भी इस योजना पर काम किया गया है तथा पेंशन बढ़ाई गई है। लेकिन अब भी इसमें काफी अंतर है। जो सैनिक 1975 में सेवानिवृत्त हुए हैं, और जो आज सेवानिवृत्त हो रहे है, उसमें भारी अंतर है। वित्त मंत्रालय के अनुसार कोई ऐसा सिस्टम नहीं है जिससे इस एक समान बनाया जा सके।
कितने सैनिक
देश में 13,48,517 भूतपूर्व सैनिक हैं जो पेंशन प्राप्त कर रहे हैं। 1970 तक के सेवानिवृत्त पूर्व सैनिक जीवित हैं।
हजार करोड़ आवंटन
एनडीए सरकार ने पिछले बजट में एक रैंक एक पेंशन योजना के लिए एक हजार करोड़ का आवंटन किया था लेकिन फार्मूला तैयार नहीं हो पाने के कारण यह खर्च नहीं हो सका था।
केंद्र ने की राहत की पूरी तैयारी
रक्षा मंत्री ने कहा, अभी पूर्व सैनिकों को राहत देने के लिए आवश्यक तैयारी कर ली गई है। सरकार का एक साल पूरा होने से पूर्व इसका ऐलान किया जाएगा। अभी जो फार्मूला है, उसके तहत अप्रैल 2014 से दिसंबर 2015 तक के लिए पेंशन वृद्धि होगी। इसके बाद के लिए पूरे मामले को सातवें वेतन आयोग के समक्ष रखा जा रहा है ताकि आयोग एक रैंक एक पेंशन के लिए एक फार्मूला तैयार करके दे। उन्होंने कहा कि कुल मिलाकर केंद्र सरकार दो चरणों में एक रैंक एक एक पेंशन योजना को प्रभावी रूप में पेश करेगी जिससे पूर्व में सेवानिवृत्त हुए सैनिकों को भी आज सेवानिवृत्त होने वाले सैनिकों की तुलना में संतोषजनक पेंशन मिल सके।
Read at Live Hindustan
Stay connected with us via Facebook, Google+ or Email Subscription.
Subscribe to Central Government Employee News & Tools by Email [Click Here]
Follow us: Twitter [click here] | Facebook [click here] | Google+ [click here]
Admin