Aadhaar Seeding Week for Pensioners from 1st to 7th August, 2015: Pensioners Portal Advertisement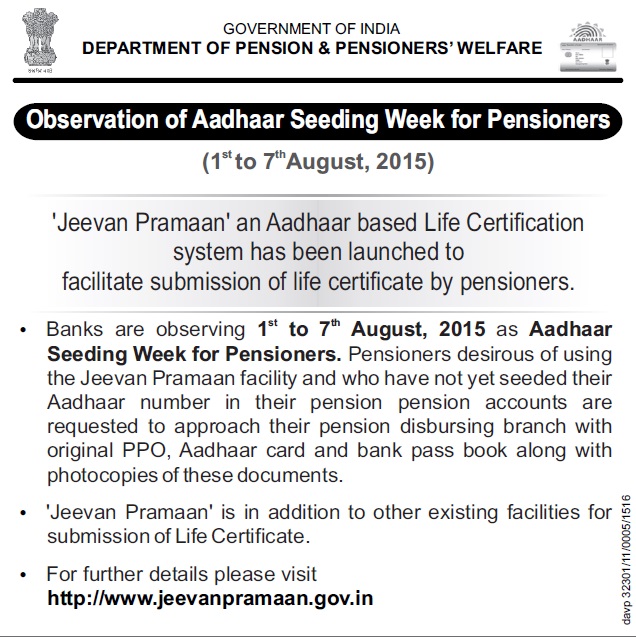 GOVERNMENT OF INDIA
DEPARTMENT OF PENSION & PENSIONERS' WELFARE
Observation of Aadhar Seeding Week for Pensioners
(1st to 7th August, 2015)
'Jeevan Pramaan' an Aadhaar based Life Certification system has been launched to facilitate submission of life certificate by pensioners.
Banks are observing 1st to 7th August, 2015 as Aadhaar Seeding Week for Pensioners. Pensioners desirous of using the Jeevan Pramaan facility and who have not yet seeded their Aadhaar number in their pension pension accounts are requested to approach their pension disbursing branch with original PPO, Aadhaar card and bank pass book along with photocopies of these documents.
'Jeevan Pramaan' is in addition to other existing facilities for submission of Life Certificate.
For further details please visit http://www.jeevanpramaan.gov.in
Source: Pensioners Portal
[http://documents.doptcirculars.nic.in/D3/D03ppw/AadhaarSeeding-01082015-English.pdf]
Stay connected with us via Facebook, Google+ or Email Subscription.
Subscribe to Central Government Employee News & Tools by Email [Click Here]
Follow us: Twitter [click here] | Facebook [click here] | Google+ [click here]
Admin