Modification in Life Certificate (Annexture- XVII): Format of Revised Life Certificate
GOVERNMENT OF INDIA
MINISTRY OF FINANCE
DEPARTMENT OF EXPENDITURE
CENTRAL PENSION ACCOUNTING OFFICE
TRIKOOT-Il, BHIKAJI CAMA PLACE.
NEW DELHI-110066
CPAO/Tech/Amdt.-Sch. Book/2015-16/1655
dated: 12.10.2015
Amendment to the Scheme for Payment of Pensions to Central Government Civil Pensioners by Authorized Banks [Fourth Edition, 3rd December, 2004)
Correction Slip-24
Modification in Life Certificate (Annexure-XVII)
ANNEXURE-XVII
(See para 15.1 page 11 of
CPAO's Scheme Booklet)
Part-A (Every year)
LIFE CERTIFICATE
(To be submitted by Pensioner once a year in November)
Certified that I have seen the pensioner Shri/Smt./Ms.
___________________________________ (Name of Pensioner) holder of Pension Payment Order No. _________________________ and that
he/she
is alive on this date.
1. Present address of the pensioner/ family pensioner.
2. Telephone/Mobile number (if any).
3. E-mail Address (if any).
Name
Place:
Designation of Authorised Officer
Date: .
Seal
ACKNOWLEDGEMENT
Life Certificate of Pensioner/Family Pensioner of Shri/Smt/Ms._______ _____________ _________ _________
(Name of Pensioner)
holder of Pension Payment Order No.___________________ has been received.
Date:-
Signature…………………..
Name
Stamp of the receiving Bank branch
sd/-
(Vijay Singh)
Sr. Accounts Officer (Tech)
CGA'S Authority No. 1(7) CPAO SCI]. Book (1)/4-th Edition/2005/TA-III/566 dated-9th October, 2015.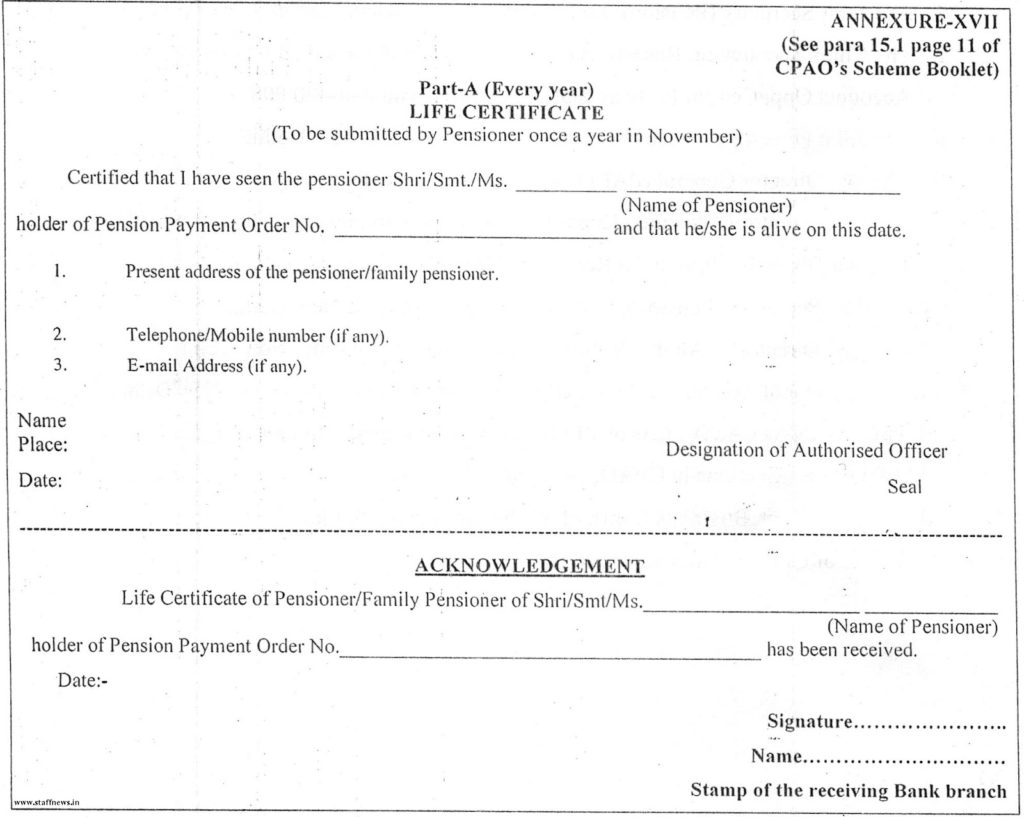 Source: http://cpao.nic.in/pdf/Modification_in_Life_certificate.pdf
Stay connected with us via Facebook, Google+ or Email Subscription.
Subscribe to Central Government Employee News & Tools by Email [Click Here]
Follow us: Twitter [click here] | Facebook [click here] | Google+ [click here]
Admin