7th Pay commission: Good news! Modi Govt likely to pay 'increased salary', arrears in July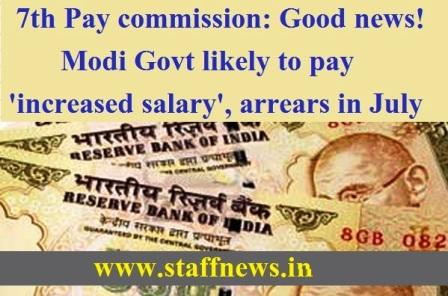 New Delhi, Mar 21: This will definitely make Central government employees happy. Reportedly, Centre will start paying 'increased salary' to Government staff from the month of July. Sources say that Government will also pay six months' arrears along with the increment.
It is being said that Government wants to complete all the formalities regarding the implementation of Sevent pay Commission till the end of the State Assembly elections.
Report say that this time Government will follow pay-fixation method while giving increment to 48 lakh employees and 52 lakh pensioners. Pay Commission in its recommendations had suggested pay-fixation method instead of pay grade.
A Finance Ministry sources was quoted by a online website as saying, "We're at the final stage for issuing the notification and 3-4 more months will be required to implement, so we hopefully say that they will get new pay and arrears in the July".
It is being believed that due to model code of conduct in place till May 21, Government will issue notification regarding pay commission in the month of June.
Elections in five states-Tamil Nadu, West Bengal, Assam, Kerala and Puducherry is scheduled from April 4. State polls will be continued till May 16.
Sources say that Modi Government doesn't want to sully its image by announcing any such decision during the poll period. At the same time, Centre also doesn't want to give Opposition extra ammo to attack it during the election time.
Read at: OneIndia News
Stay connected with us via Facebook, Google+ or Email Subscription.
Subscribe to Central Government Employee News & Tools by Email [Click Here]
Follow us: Twitter [click here] | Facebook [click here] | Google+ [click here]
Admin