Merger of 78.2% IDA with basic pension benefit to absorbed BSNL pensioners: ATR on minutes of 28th SCOVA
meeting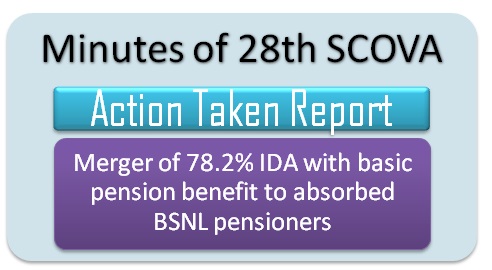 Ministry of Personnel, Public Grievances and Pensions
(Department of Pension & Pensioners Welfare)
S.No

Issue

Discussion held during previous meeting

Action Taken

6

Para 4(vi) of the minutes:-


Merger of 78.2% IDA with basic pension benefit to
absorbed BSNL pensioners.


The Department of Telecom informed that the proposal has
already been submitted for approval of cabinet.

(Action: Department of Telecom)

Department of Telecom

Consequent on approval of Cabinet, the necessary
instructions were issued to the concerned CCAs vide OM
dated 18.07.2016.