TA Rules in 7th CPC: Air Travel is Allowed for CG Employees from Level 6 and Above
Now the Air Travel is allowed for Central Government employees those who are in Level 6 (Pre Revised Rs.4200 Grade Pay) and above. It is Good News for those who are in Level 6 to 8, as the Travel entitlement for them so far is AC II by Train only. Now they are entitled to Travel By Air in Economy Class.
The Central Government published Gazette Notification for 7th CPC Allowances on 6th July 2017. The 7th CPC has recommended that 53 allowances be abolished and 37 be subsumed in an existing or a newly proposed allowances. But the Government has decided to retain 12 Allowances from that 53 Allowances and allowed 3 Allowances to continue as separate allowance from these 37 Allowances recommended to be subsumed. Finally the Committee on Allowances and ECoS after the discussion with stakeholders, recommended to Modify 34 Allowances [
See the List of 34 Allowances and Modifications
]
The 7th CPC has recommended that Travelling Allowances can be continued without any changes. [
See the 7th CPC Recommendation on Travelling Allowance and Existing Travel Entitlement
]. But the Government has decided to extend the Air Travel Entitlement to Govt Servants those who are in Level As per the Gazette Notification issued by Government of India, the Travelling allowance is rationalised to enable the Central Staffs from Level 6 to 8 to Travel by Air . The Official concerned clarified that, this Modified Travel Entitlement will be extended to LTC also.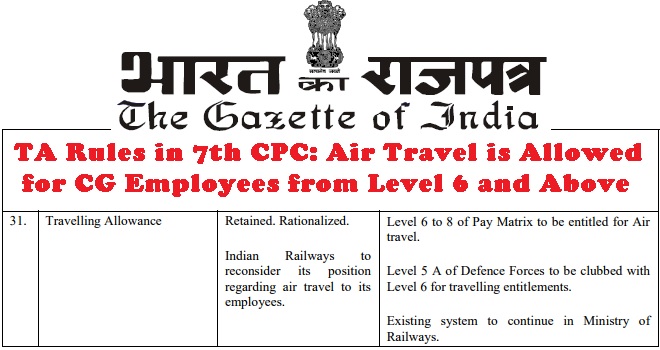 Appendix I
List of allowances recommended by the Seventh Central Pay Commission (7th CPC) along with modifications as approved by the Government of India
Sl.
Name
of
the
Allowance
Recommendation of 7th CPC
Modifications accepted by the Government
31.
Travelling Allowance
Retained. Rationalized.

Indian Railways to reconsider its position regarding air
travel to its employees.
Level 6 to 8 of Pay Matrix to be entitled for Air travel.

Level 5 A of Defence Forces to be clubbed with Level 6 for
travelling entitlements.

Existing system to continue in Ministry of Railways.
Courtesy: http://www.gservants.com