A big relief for pensioners living in abroad with their children.
Major announcement by government Gazette Notification issued. Now NRIs holding Indian passports will get Aadhar card immediately without waiting for 180 days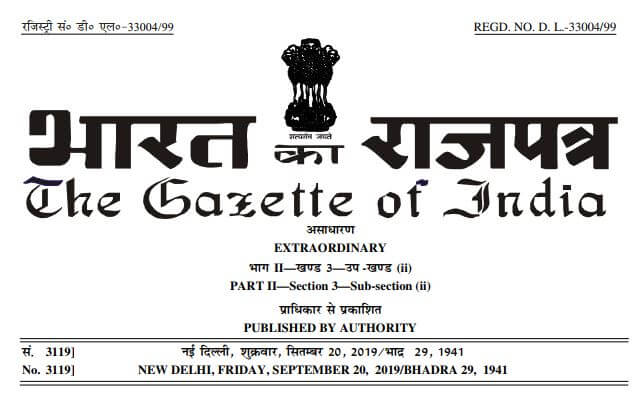 भारत का राजपत्र
Gazette of India
असाधारण
EXTRAORDINARY
भाग II – खण्ड 3 – उप -खण्ड (ii)
PART II—Section 3—Sub-section (ii)
प्राधिकार से प्रकाशित
PUBLISHED BY AUTHORITY
---
सं. 3119] नई दिल्‍ली, शुक्रवार, सितम्बर 20, 2019/भाद्र 29, 1941
No. 3119] NEW DELHI, FRIDAY, SEPTEMBER 20, 2019/BHADRA 29, 1941
---
इलेक्ट्रॉनिकी और सूचना प्रौद्योगिकी मंत्रालय
अधिसूचना
नई दिल्ली, 20 सितम्बर, 2019
का.आ. 3425(अ).–केंद्रीय सरकार, आधार (वित्तीय और अन्य सहायिकियों, प्रसुविधाओं और सेवाओं का लक्ष्यित परिदान) अधिनियम, 2016 (2016 का 18) की धारा 3 की उप-धारा (1) के परंतुक द्वारा प्रदत्त शक्तियों का प्रयोग करते हुए यह अधिसूचित करती है कि कोई अनिवासी भारतीय, उसके भारत के आगमन के पश्चात्‌ आधार संख्या प्राप्त करने का हकदार होगा ।

संजय कुमार राकेश, संयुक्त सचिव
MINISTRY OF ELECTRONICS AND INFORMATION TECHNOLOGY
NOTIFICATION
New Delhi the 20th September 2019
S.O. 3425(E).—In exercise of the powers conferred by proviso to sub-section (1) of section 3 of the Aadhaar (Targeted Delivery of Financial and Other Subsidies, Benefits and Services) Act, 2016 (18 of 2016), 4924 GI/2019 (1) the Central Government hereby notifies that a Non Resident Indian, after his arrival in India, shall be entitled to obtain an Aadhaar number.
Explanation.—For the purposes of this notification, "Non Resident Indian" means a person who is a citizen of India holding a valid Indian Passport but not a resident as defined under clause (v) of section 2 of the said Act.
2. This notification shall come into force from the date of publication in the official Gazette.
[F. No. 10(22)/2017-EG-I]]
SANJAY KUMAR RAKESH, Jt. Secy.
Source: Click here to view/download the PDF
[http://egazette.nic.in/WriteReadData/2019/212642.pdf]