Grant of 7th CPC Technical Allowance (Tier I and II) to Defence Officers – Prescribed Proforma: PCDA(O) Latest Message
GRANT OF TECHNICAL ALLOWANCE (TIER I & II) W.E.F. 01 APR 2018.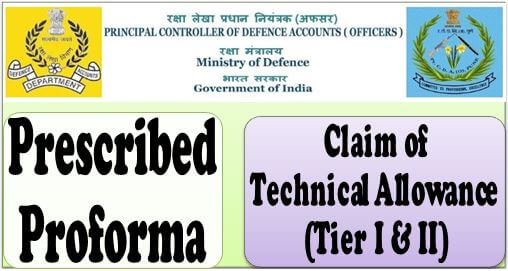 In accordance with SAPCS, ADGPS, AG's Branch letter No C/7099/Policy/SAPCS/2019 dated 10 Oct 2019 regarding grant of Technical Allowance (Tier I & II), eligible Officers may submit their claim in the prescribed Proforma with reference to the qualifications, effective from 01 Apr 2018 and listed at Appendix 'A' to GoI, MoD letter No. 15(49)/ 2017/ Tech. Allowance/D(GS.II) dated 25 Jun 2018, duly enclosing the following documents :
(i) Part II order notifying grant of Technical Allowance (Tier I & II) incorporating the certificate duly countersigned by the CO/OC of the unit.
(ii) One time certificate from the Line Dte at IHQ of MoD (Army) as mentioned at Part II portion of the Proforma is to be enclosed with initial claim.
***
Source: https://pcdaopune.gov.in/downloads/grantOfTechnicalAllowance.pdf