Revival Package for MTNL and BSNL  एमटीएनएल और बीएसएनएल के लिए पुनरुद्धार पैकेज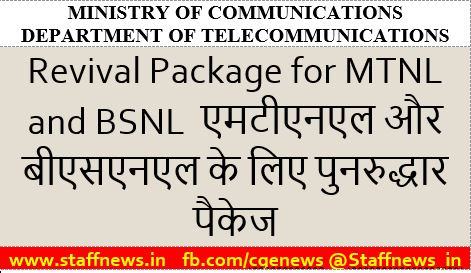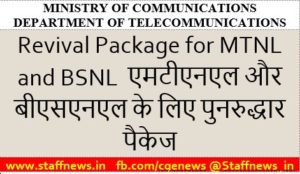 GOVERNMENT OF INDIA
MINISTRY OF COMMUNICATIONS
DEPARTMENT OF TELECOMMUNICATIONS
LOK SABHA
UNSTARRED QUESTION NO. 567
ANSWERED ON 5TH FEBRUARY, 2020
REVIVAL PACKAGE FOR MTNL AND BSNL
SHRI SUBBARAYAN K.
SHRI M. SELVARAJ
Will the Minister of COMMUNICATIONS be pleased to state:
(a) whether the revival package for the ailing Mahanagar Telephone Nigam Limited (MTNL) and Bharat Sanchar Nigam Limited (BSNL) has been finalized and announced by the Government;
(b) if so, the details thereof and the steps taken/being taken by the Government for implementation of the said plan;
(c) whether employees of these two public sector companies have been taken into confidence before finalizing the said revival package and if so, the details thereof; and
(d) whether the employees of these companies are not being paid regularly and if so, the details thereof and the reasons therefor along with the steps taken by the Government in this regard?
ANSWER
MINISTER OF STATE FOR COMMUNICATIONS, HUMAN RESOURCE DEVELOPMENT AND ELECTRONICS & INFORMATION TECHNOLOGY
(SHRI SANJAY DHOTRE)
(a) & (b) The Cabinet in the meeting held on 23.10.2019 approved the revival plan for Bharat Sanchar Nigam Limited (BSNL) and Mahanagar Telephone Nigam Limited (MTNL) which inter- alia, includes measures to reduce the staff cost through a Voluntary Retirement Scheme (VRS), Administrative allotment of spectrum for providing 4G services to BSNL/MTNL, monetisation of assets of BSNL/MTNL, debt restructuring by raising of Sovereign Guarantee Bonds and in-principle approval for merger of BSNL and MTNL.
Accordingly, VRS was offered by both BSNL and MTNL to their employees on 04.11.2019. The scheme was closed on 03.12.2019. The Voluntary retirement will be effective from 31.01.2020. A total of 78,569 employees of BSNL and 14,387 employees of MTNL have opted for the VRS.
(c) The revival plans have been prepared considering the recommendations of Indian Institute of Management, Ahmedabad for BSNL and a private consultant for MTNL, which were made by them after consultations with various Unions/Associations/employees. These revival plans were recommended by the Boards of BSNL and MTNL.
(d) Salary to the employees of BSNL/MTNL is delayed in recent past due to their poor financial condition resulting from revenue and liability mismatch. Salary up to November 2019 has been paid by both BSNL and MTNL. With the implementation of revival plan approved by the Cabinet, the financial condition of both BSNL and MTNL will improve.
भारत सरकार
संचार मंत्रालय
द्वरसंचार विभाग
लोक सभा
अतारांकित प्रश्न सं. 567
उत्तर देने की तारीख 05 फरवरी, 2020
एमटीएनएल और बीएसएनएल के लिए पुनरुद्धार पैकेज
श्री के? सुब्बारायण
श्री एम" सेल्वराज
क्या संचार मंत्री यह बताने की कृपा करेंगे कि:
(क) क्‍या रुग्ण अवस्था से जूझ रहे महानगर टेलीफोन निगम लिमिटेड (एमटीएनएल) और भारत संचार निगम लिमिटेड (बीएसएनएल) के पुनरुद्धार पैकेज को सरकार द्वारा अंतिम रूप दिया गया है और इसकी घोषणा की गई है;
(ख) यदि हां, तो तत्संबंधी ब्योरा क्या है और सरकार द्वारा उक्त योजना के कार्यान्वयन के लिए क्‍या कदम उठाए गए हैं/उठाए जा रहे हैं;
(ग) क्‍या उक्त पुनरुद्धार पैकेज को अंतिम रूप दिए जाने से पहले सार्वजनिक क्षेत्र की इन दोनों कंपनियों के कर्मचारियों को विश्वास में लिया गया है और यदि हां, तो तत्संबंधी ब्यौरा क्‍या है; और
(घ) क्‍या इन कंपनियों के कर्मचारियों को नियमित रूप से भुगतान नहीं किया जा रहा है और यदि हां, तो तत्संबंधी ब्यौरा क्या है तथा सरकार द्वारा इस संबंध में क्या कदम उठाए गए हैं?
उत्तर
संचार, मानव संसाधन विकास तथा इलेक्ट्रॉनिकी और सूचना प्रौद्योगिकी राज्य मंत्री
(श्री संजय धोत्रे)
(क) और (ख) मंत्रिमंडल ने दिनांक 23.10.2019 को आयोजित हुई बैठक में भारत संचार निगम
लिमिटेड (बीएसएनएल) और महानगर टेलीफोन निगम लिमिटेड (एमटीएनएल) के लिए पुनरुत्थान योजना अनुमोदित की थी जिसमें अन्य बातों के साथ-साथ स्वैचछेक सेवानिवृर्तती स्कीम (वीआरएस) के जरिए स्टाफ संबंधी खर्च कम करने, बीएसएनएल/एमटीएनएल को 4जी सेवाएं प्रदान करने के लिए स्पेक्ट्रम का प्रशासनिक आबंटन, बीएसएनएल/एमटीएनएल की आस्तियों का मुद्रीकरण, सॉकवरेन गारंटी बांड लाकर ऋण पुनर्सरचना और बीएसएनएल तथा एमटीएनएल के विलय का सैद्धांतिक अनुमोदन शामिल है।
तदनुसार, बीएसएनएल और एमटीएनएल दोनों द्वारा दिनांक 04.11 .2019 को अपने कार्मिकों को वीआरएस की पेशकश की गई थी। यह स्कीम दिनांक 03.12.2019 को बंद हो गई। स्वैर्चछेक सेवानिवृर्तीी दिनांक 31.01 .2020 से प्रभावी होगी। बीएसएनएल के कुल 78,569 और एमटीएनएल के कुल 14,387 कार्मिकों ने वीआरएस का विकल्प चुना है।
(ग) यह पुनरुत्थान योजनाएं बीएसएनएल के मामले में भारतीय प्रबंधन संस्थान, अहमदाबाद और एमटीएनएल के मामले में निजी परामर्शक की सिफारिशों पर विचार करते हुए तैयार की गई हैं, उन्होंने ये सिफारिशें विभिन्‍न यूनियनों /एसोसिएशनों /कार्मिकों के साथ परामर्श करने के बाद की थीं। ये पुनरुत्थान योजनाएं बीएसएनएल और एमटीएनएल के बोर्डों द्वारा संस्तुत की गई थीं।
(घ) बीएसएनएल/एमटीएनएल के कार्मिकों के वेतन में गत में विलंब हुआ है जिसका कारण
बीएसएनएल/एमटीएनएल के राजस्व और देनदारी के बीच अंतर से उद्भूत उनकी खराब वित्तीय स्थिति रही। बीएसएनएल और एमटीएनएल दोनों द्वारा नवबंर 2019 तक के वेतन का भुगतान कर दिया गया है। मंत्रिमंडल द्वारा पुनरुत्थान योजना के क्रियान्वयन से बीएसएनएल और एमटीएनएल दोनों की वित्तीय स्थिति में सुधार होगा।
Source : Eng. http://164.100.24.220/loksabhaquestions/annex/173/AU567.pdf
Hindi http://164.100.24.220/loksabhaquestions/qhindi/173/AU567.pdf