Compassionate Appointment: Procedural Guidelines – Revised delegation of Administrative Powers
File No. 1RM-V/11(07) CompassionateAppointment/ PolicyMatter/2019/Vol.III/1/478/2020
23/07/2020
कर्मचारी भविष्य निधि संगठन
EMPLOYEES' PROVIDENT FUND ORGANISATION
श्रम एवं रोजगार मंत्रालय, भारत सरकार
MINISTRY OF LABOUR & EMPLOYMENT, GOVERNMENT OF INDIA
मुख्य कार्यालय/Head Office
भविषयूव निधि भवत, 34, भीकाजी कामा प्लेस, लई दिलली-110066
Bhavishya Nidhi Bhawan, 14, Bhikaiji Cama Place, New Delhi-110066
Website: www.epfindia.gov.in, www.epfindia nic.m
To
The Addl. CPFC (HQ) / Addl. CPFC (Zones)/
Director (PDNASS)/Addl. CPFC (ASD)
All Regional PF Commissioners/OIC of Regional Offices
Guidelines for Appointment on Compassionate grounds- Revised delegation of Administrative Powers-Regarding.
Ref: (i) HO letter no HRM-V/11(7)/2019/CA Policy Matter/Vol-III/1/474/2020 Dated:23.07.2020
(ii) HO letter no. HRM-V/IV/11(7)/2015/CA Policy Matter/Vol.J/ 4563 Dated 29.06.2018.
Sir/Madam,
Please refer to HO Letter under reference (i) conveying the delegation of powers for appointment on compassionate ground of an eligible dependent family member of a deceased/missing employee or an employee retired on medical grounds. The detailed guidelines for consideration of appointment on compassionate basis are enclosed herewith, which may scrupulously be followed to ensure uniformity and transparency of procedure across the country.
(This issues with the approval of the Central P.F. Commissioner.)
Yours faithfully
Encl.: As above.
(Uma Mandal)
Addl. Central PF Commissioner (HRM)
Also check:
G.S.R.466(E): Employees' State Insurance (Central) Amendment Rules, 2020
Copy to:
Staff Officer to CPFC

FA&CAO/Chief Vigilance Officer/All ACC (HQ)

All Addl. Central PF Commissioners (HO)

Director (Audit)

All Deputy Directors (Vigilance), Zonal Offices

All Deputy Directors (Audit), Zonal Offices

RPEC (NDC) with a request to upload it on official website

Deputy Director (OL) for Hindi Version.
(Dr. Shiv Kumar)
Regional PF Commissioner-I (HRM)
---
PROCEDURAL GUIDELINES
FOR COMPASSIONATE APPOINTMENT IN EPFO
A consolidated set of instructions on compassionate appointment was issued by the Department of Personnel and Training (DoP&T) vide OM No.14014/02/2012–Estt. (D) dated 16.01.2013 as amended from time to time. In view of the statutory nature of the Employees' Provident Fund Organisation (EPFO), the said guidelines have been adopted for implementation in EPFO, subject to such delegation as deemed appropriate by the CBT, EPF and with such modification as deemed expedient by the circulars issued by the Head Office from time to time. (A list of such circulars/guidelines issued on the matter is enclosed as Annexure-I along with copies thereof for ready reference).
2. The CBT, EPF delegated the power of appointment on compassionate grounds to CPFC and the ACC (Zone) in its 226 Meeting held on 05.03.2020. To give effect to the said delegation, a detailed set of procedural guidelines is laid down herewith. These guidelines shall further be subject to such amendment as deemed necessary by the DoP&T and Head Office from time to time.
3. The object of these guidelines is to bring uniformity and transparency in the procedure of granting approval for appointment on compassionate grounds to a dependent family member of an employee of the Central Board of Trustees (CBT), who died in harness or who is retired on medical grounds, thereby leaving his family in penury and without any means of livelihood, to relieve the family of the employee concerned from financial destitution and to help it get over the emergency.
Click the below given link to view/read full Procedural Guidelines for Compassionate Appointment in EPFO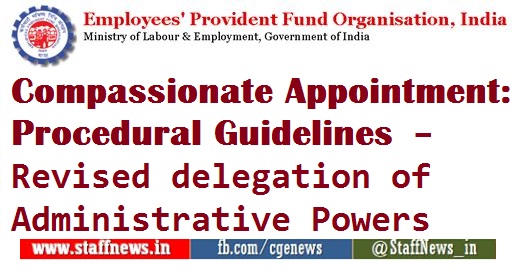 Source: https://www.epfindia.gov.in/site_docs/PDFs/Circulars/Y2020-2021/HRM_Rev_Deli_power_478_23072020.pdf